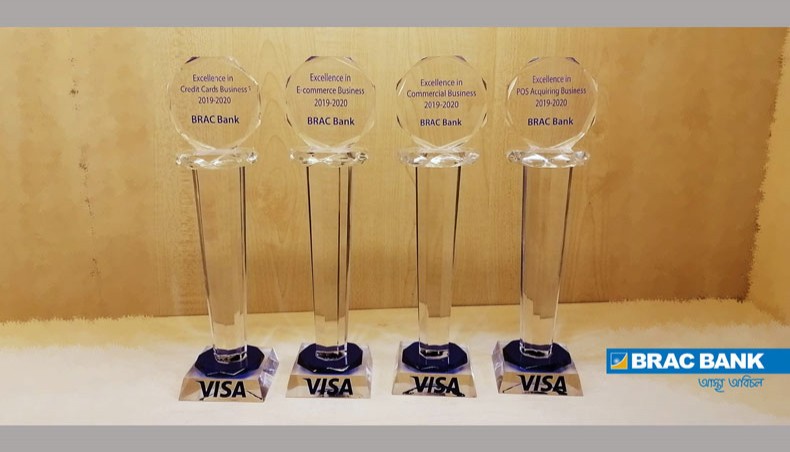 BRAC Bank received four awards for its performance in VISA cards and payment business.
The bank won the Excellence in Credit Cards Business, Excellence in POS Acquiring Business, Excellence in e-Commerce Business, and the newly introduced Excellence in Commercial Business awards from VISA, said a press release on Saturday adding that 'BRAC Bank is the first bank to have received four VISA awards in a ceremony.'
Last year, the bank won two awards.
The announcement came in the VISA Leadership Conclave held digitally on Thursday.
Each year, VISA rewards its partners and affiliates based on the payment volumes and success in different categories. This year, VISA partner organizations won awards based on the business performance for the period July 2019 to June 2020.
Commenting on this success, head of retail banking of BRAC Bank Mahiul Islam said, 'This prestigious recognition, that too four awards from VISA, shows our business strength and the service quality in the cards industry.'
Managing director and CEO of BRAC Bank Selim RF Hussain said, 'BRAC Bank is extremely proud of this achievement. The bank will continue to offer its innovative products and services to meet the evolving needs of the customers and keep up the momentum in the cards industry. We would like to thank all our customers for their unwavering trust in this impeccable journey towards greatness.'
Want stories like this in your inbox?
Sign up to exclusive daily email
More Stories from Banking