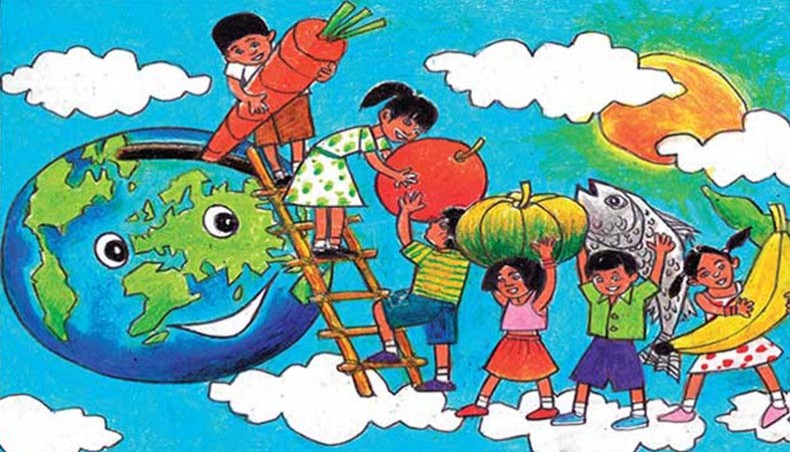 Tasbir Ul Islam marks World Food Day and argues that a multi-sector plan of action should be introduced coordinating the food, education, health, commerce, and finance ministry to provide basic education about food and nutrition to the entire population.
THIS year World Food Day will be celebrated in over 150 countries around the world to create awareness and actions for Sustainable Development Goals focusing on food security, improved nutrition, ending hunger and sustainable agriculture. Bangladesh has become a part of this global vision since SDG's inception back in 2015.
The country will be celebrating the day when it is making consistent progress towards the goals, and still remaining in front of colossal threats of malnutrition and food insecurity at the same time. Moreover, the ongoing coronavirus pandemic is winding the fire. Within these historical hours, the demand for an urgent ethical up-rise for food and nutrition at the national level is crucial.
The Food Safety Act, 2013 of Bangladesh reinterprets the definition of food. It says any substance that is unable to provide nutritional support for human survival is not food at all. So, is it ethical to continue to advocate for the non-food products as food alternatives?
Bangladeshi population is entangled in different dimensions of malnutrition and outcomes of food insecurity like wasting, stunting, and obesity among the children and adolescents; anaemia among the pregnant women; low birth weight among the new-born babies; and the age-specific complexities among different age groups.
These challenges often translate into the promotional language of business to promote and sell supplementary 'food' products. These kinds of products include baby food, micronutrient supplementations and different kinds of clinical foods. These products may be necessary for the children who are suffering from acute malnutrition or for the patients of non-communicable diseases with specific cases.
But we observe gross generalised promotion of these products, and influence to buy them at any cost. These 'food' products have transcended from the means of exception to the statement of the aristocracy. But it must be kept in mind that without specific circumstances and recommendations from registered consultants, taking these supplementations may lead toward catastrophic consequences.
In Bangladesh, many post-graduates with a public health degree practice as professional nutritionists and dieticians without having any legal ground. Most of these practitioners gradually make themselves advocates of some milk, edible oil, or other food companies and sign contracts with them to preach their 'food' products — which may not be 'food' at all — with the same pen they use for writing diet lists as a consultant.
Bangladesh government, Bangladesh National Nutrition Council and National Nutrition Service along with Institute of Public Health, Institute of Nutrition and Food Science of Dhaka University and Bangladesh Medical & Dental Council can collaborate to create a legal structure for the practising nutritionists, train and aware them about the sensitivity of food. Moreover, IPHN can use its authority to make a plea to the court for taking legal actions against the unethical practice regarding food and nutrition.
A legal body for the nutritionists and the dieticians is very important because they are specialised professionals for providing scientific knowledge about food and nutrition to the population. It is very important to understand that, all food products are not food for all. If we think about iodine salt, it helped to eradicate the threats of goitre, especially in the rural and sub-urban areas of Bangladesh. But the same iodine salt can be lethal for patients with cardiovascular diseases.
A recent study shows that Bangladesh has the highest prevalence of CVD risk factors among the South Asian countries. In Bangladesh, 99.6 per cent of males and 97.9 per cent of females are exposed to at least one established CVD risk factors. Then, whose responsibility is this to inform the people who are exposed to cardiovascular risk factors — from the grass-root level to the capital — about the safe limit of taking iodine salt?
The obesity rate is increasing in the urban areas of Bangladesh among the adolescents — especially in the metropolises — at a steady pace, further increasing the threats of NCDs. The excessive consumption of trans-fat with popular fast-foods is one of the major reasons for this growth of obesity. Whose responsibility it will be to develop recipes for healthy burgers or healthy pizzas and promote them at the national level to make it popular among the youngsters? Of course, apart from all the individuals, it is an authorised moral responsibility of the nutritionists and the dieticians to take a lead in this futuristic venture.
Baby-Friendly Hospital Initiative was started in 1993 in Bangladesh to ensure nutrition security for the children. If any hospital tries to be baby-friendly, one of the essential criteria is to promote exclusive breastfeeding and to strongly discourage the consumption of breast milk substitutes. This program has been carried out with the assistance of the Ministry of Health and Family Welfare, UNICEF, and Bangladesh Breastfeeding Foundation.
After 27 years from its inception, it is time to take the BFHI programme to the next level. Every hospital or healthcare centre — whether it is government or non-government — has to be baby-friendly, otherwise, it should not be regarded as a hospital or healthcare centre at all. If this can be done, it would have been regarded as a milestone in nutrition security for the children of Bangladesh.
From a global perspective, countries in Western Europe and Northern America have some real success in securing nutrition and safe food for their people. We believe the Netherlands Embassy, the German Embassy, CIDA USAID, DFID, European Union, World Bank and other development partners working in Bangladesh will assist in the initiatives to be taken against the unethical practices regarding food to secure health and nutrition of the Bangladeshi people.
First of all, the unethical practice of the nutritionists and the dieticians should be address nationally. Secondly, a legal body should be formed to instruct, monitor, and evaluate the practising nutritionists and dieticians. Thirdly, 'Food Ethics' should be added to the curriculum of the Institute of Nutrition and Food Science of Dhaka University to create an ethical base for future professionals. Fourthly, an act for digital food marketing should be developed to stop the unethical promotion of sub-standard 'food' products. And finally, a multi-sector plan of action should be introduced coordinating the food, education, health, commerce, and finance ministry to provide basic education about food and nutrition to the entire population.
Importance should be given to the promotion of natural food and the socio-economic development of the farmers all over the country who produce those foods. Taking these steps can slowly but surely change the course of destination of the entire generation, and will lead us towards an effective celebration of World Food Day.
Tasbir Ul Islam is an assistant coordinator of Eminence, Bangladesh.
Want stories like this in your inbox?
Sign up to exclusive daily email
More Stories from Mindspeak