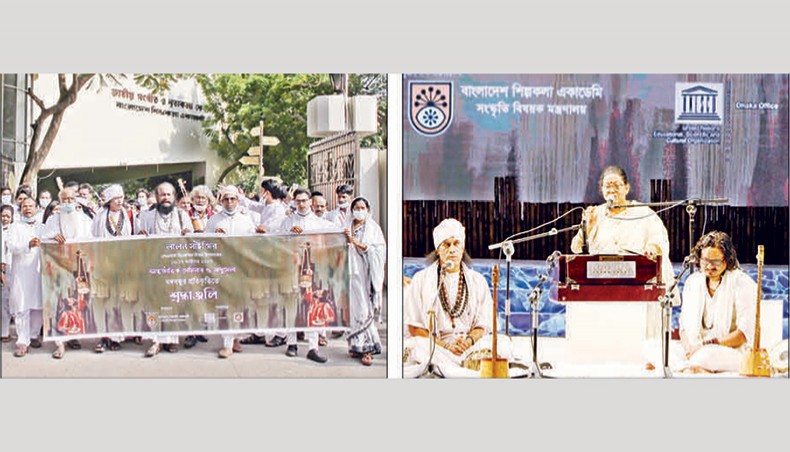 Bangladesh Shilpakala Academy lifted the curtain on a two-day programme titled Antarjatik Seminar O Sadhumela 2020 marking the 130th death anniversary of Fakir Lalon Shah on Friday.
The academy has organised the programme in association with UNESCO Dhaka office.
The event is featuring workshops, seminars, music shows and more. The programme commenced with a procession, which was brought out at 7:30am by Bauls from Bangladesh Shilpakala Academy. It ended after reaching Father of The Nation Bangabandhu Sheikh Mujibur Rahman Memorial Museum in Dhanmondi-32.
A workshop on baul songs and baul philosophy was held at the National Theatre Hall of Bangladesh Shilpakala Academy at 9:00am.
Besides, an international seminar titled Bishow Manobotar Muktite Lalon Darshan was held at the National Theatre Hall of the academy in hybrid format at 3:00pm.
State minister for cultural affairs KM Khalid attended the event as chief guest and formally inaugurated the two-day event. BSA secretary Nowshad Hossain delivered the welcome speech. BSA director general Liaquat Ali Lucky presided over the programme.
Council for Social Development president Muchkund Dubey presented the key note paper at the seminar. Besides, Inalco University professor Jérémie Codron, deputy secretary general of Bangladesh National Commission for UNESCO Shohel Imam Khan and others attended the seminar.
'Lalon was a philosopher, humanist, bard and more. His verses can easily touch the souls of simple-minded music lovers. His songs have gained popular across the world. I have been working on Lalon for a long time. I have translated 120 songs penned by him. His teachings and ideology can steer any nation towards enlightenment,' said Muchkund Dubey.
'Lalon celebrated devotion, humanity, nature and more in his songs. UNESCO has recognised his songs as masterpieces of intangible oral heritage of humanity. He penned songs to inspire change in society. Our government has been working to promote his works and ideologies among people from all walks of life,' said KM Khalid.
'Lalon's folk songs are part of our national identity. Bangladesh Shilpakala Academy has taken several initiatives to promote Lalon songs. Every year the academy arranges a three-day programme marking his death anniversary across the country. BSA has been regularly arranging a training programme for bauls since 2016 in Kustia. Besides, the academy has also formed a baul troupe in 2017 and has been organising Sadhumela featuring folk songs every month since 2019,' said Liaquat Ali Lucky.
Following the seminar, Fakir Nahir Shah, Farida Parveen, Samir Baul, Keith E Cantú, Deborah Jannat rendered Lalon songs.
Besides, bauls entertained music lovers performing folk songs on BSA premises in the evening.
The event will end today. The concluding day will feature a workshop at 9:00am and a hybrid format international seminar at 3:00pm at the National Theatre Hall of the academy. Besides, bauls will entertain music lovers performing Lalon songs in the evening at BSA.
Bangladesh Shilpakala Academy will also organise programmes at its district branches marking Lalon's death anniversary today.
Want stories like this in your inbox?
Sign up to exclusive daily email