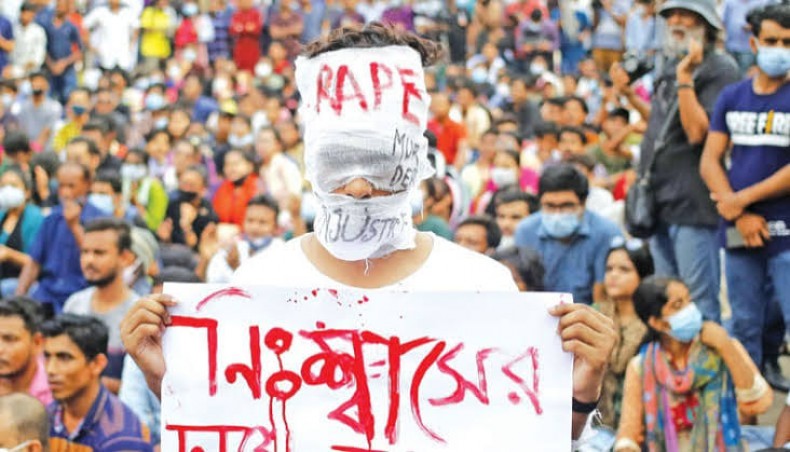 Students and different sociocultural organisations that began Dhaka-Noakhali long-march against rape and impunity Friday morning under the banner of 'Bangladesh against rape and impunity' to press home their nine-point demands reached Cumilla without any hindrance.
About 500 marchers began their march at about 10:45am for Noakhali from capital's Shahbagh, where they held a rally demanding the end of rape, sexual harassment and violence against women and an end to the culture of impunity.
The protesters advanced towards Noakhali, about 160km southeast of Dhaka, sometimes by bus and trucks and sometimes on foot and held rallies at Chasara and Sonargaon in Narayanganj and Chandina in Cumilla and at Town Hall Maidan in Cumilla city.
The rally at Cumilla city began at about 6:00pm before the marchers headed for Feni, where they were scheduled to spend the night, Bangladesh Students' Union general secretary Anik Roy said.
He said that Friday's march would begin after holding a rally in Feni district town and they would also hold rallies at Dagonbhuiyan and Choumuhoni before ending the rally at Noakhali district headquarters Maijdi on Saturday afternoon.
Their nine point demands include speedy justice, exemplary punishment for offenders involved in rape and violence against women, end to sexual and social oppression on ethnic minority women living in the plains and hills, scrapping all the laws and traditions discriminatory to women, ensuring safety and security of the victims and considering village arbitration on rape incidents as a punishable offence to end such crimes.
The demands also include removal of the home minister, the creation of cells against violence against women in all educational and public-private institutions, the inclusion of criminology and gender experts in the Women and Children Repression Prevention Tribunals and an end to the mental oppression on the victims during investigation.
The protesters also demanded that the section 155(4) of the Evidence Act 1872 should be scrapped as it stipulates 'when a man is prosecuted for rape or an attempt to ravish, it may be shown that the prosecutrix was of generally immoral character'.
They carried posters and chanted slogans 'silence is unjust, when humanity is affected', 'end culture of impunity', 'rape and crossfire are the government's weapons', 'say no to victim blaming', 'we want resignation of the failed home minister', 'crash the hands of rapists', 'get your eyes checked to see whether it is day or night', 'we want a rape-free country, punishment of rapists', etc.
The Shahbagh rally was addressed by Bangladesh Juba Union general secretary Khan Asaduzzaman Masum, Bangladesh Chhatra Union president Mehedi Hasan Nobel, former president Luna Nur, Samajtantrik Chhatra Front general secretary Nasir Uddin Prince and Sima Dutta of Nari Mukti Kendra.
Shahbagh area has been the epicentre of the movement for 12 days in Dhaka,
Bangladesh Udichi Shilpigosthi, Charan Sangskritik Kendra, Bangladesh Nari Mukti Kendra, Bangladesh Chhatra Union, Bangladesh Chhatra Federation, Bangladesh Juba Union, Samajtantrik Chhatra Front were among the organisers there.
The anti-rape agitation spread across the country after a video of a gang-assault on a 37-year-old woman in Noakhali's Begumganj upazila went viral on social media on October 4, nine days after a newly-married woman was gang-raped by Bangladesh Chhatra League activists at MC College Hostel in Sylhet on September 25.
Want stories like this in your inbox?
Sign up to exclusive daily email
More Stories from Country