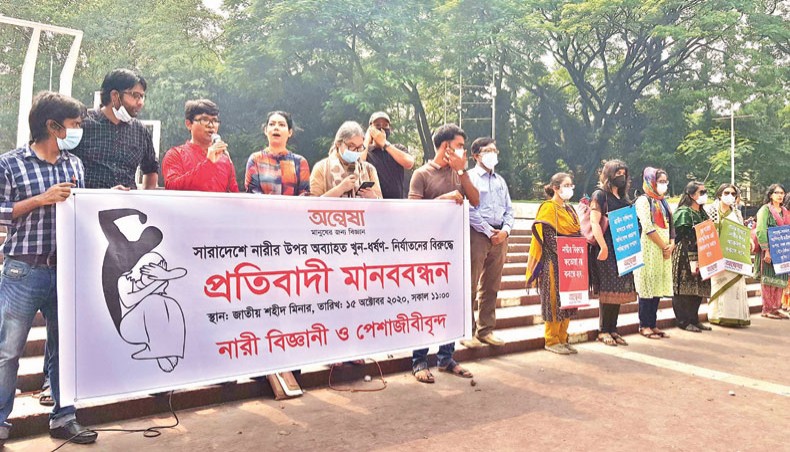 Feminists Across Generations, a platform of feminist activists, on Thursday opposed the death penalty provision for rapists, saying that it would not save women from gender-based violence.
The activists, at a press conference at the Nasreen Huq auditorium of Naripokkho, declared gender-based violence as a national emergency and demanded effective government and private measures to stop sexual violence across the country.
They placed a 10-point demand, including end to giving rapists shelter in home, school and workplace, swift action against all those who are weaponising cyber tools to commit violence against women and mandatory comprehensive sex education in schools.
Activists Kamrun Nahar, Samia Afrin and Abdullah Anbar Anan Titir, among others, spoke on their charter of demands.
Activist Shireen Huq said that violating human rights mandate, the government in an ordinance introduced the death penalty provision for rapists.
'There is no evidence that the death penalty ends gender violence,' she said.
She suspected that due to the introduction of the severe punishment, many rape incidents might be unreported and many rape victims might be killed after rape as both were equal crime as per the latest punishment provision.
Saraban Tahura Zaman demanded development of state mechanism in a responsible manner where police, lawyer and the entire trial system would not harass any victim.
Activists Umama Zillur, Swatil Binte Mahmud, Padmini Chakma, Nazma Akter, Aleya Akter, Joya Shikdar and Najia Nuray Jarin, among others, read the 10-point demand.
They said that the victim blaming was acute in the society which caused suffering to rape victims instead of rapists.
They demanded reform to existing rape laws to recognise and criminalise marital rape, irrespective of the age of a victim who was subjected to rape by her spouse.
Want stories like this in your inbox?
Sign up to exclusive daily email
More Stories from Country