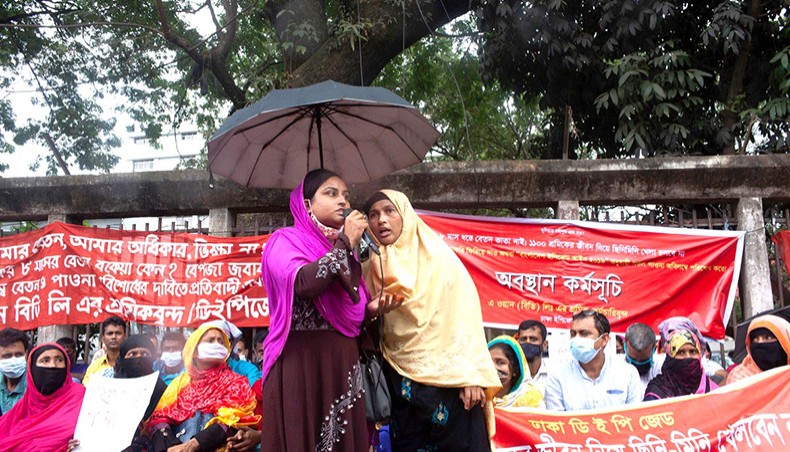 THE COVID-19 pandemic has affected and will be affecting the world including both developing and developed countries. Countries of the world have responded differently to this pandemic since the impact has been variable across the globe. Scholarly literature on COVID-19 frequents internet academic world and is mostly concerned about the impact of this pandemic on global and regional economic and health sectors. There are country specific studies too. Studies analysing the impact of COVID-19 pandemic on Bangladeshi politics, society and economy (especially the manufacturing industry) also have a prominent place. Based on Bangladesh Peace Observatory's data on the pandemic, the total confirmed cases of COVID-19 patients were 32,097,561 worldwide, with 981,968 people succumbing to it till September 25, 2020. Under such circumstances, Bangladesh as a developing country has a lot of challenges to deal with too. I explore what, according to scholarly studies and anecdotal experiences of activists, is happening in Bangladesh around COVID-19 pandemic preparedness and management.
In Biswas, Huq, Afiaz and Khan's (2020) research, published in the Journal of Evaluation in Clinical Practice, we find that pandemic preparedness of Bangladesh is not so good and transition to the new reality will have challenges. Using data sourced from published reports from the government, non-governmental organisations, and mainstream media up to June 15, 2020, their qualitative analysis suggests that Bangladesh severely lacked the preparedness to tackle the spread of COVID-19 with both short- and long-term implications for public health, the economy, and good governance. They identified that an absence of planning, coordination, resource allocations, infrastructure, risk communication, good leadership and coherent decision-making have led to a precarious situation with dire ramifications causing many uncertainties. They identified an urgent need to respond to the desires of the community in order to manage the pandemic and recommended that a development of dynamic decision-making mechanism based on regular feedback from the community is required for a smooth transition to the new COVID-19 reality in Bangladesh.
In such a state of ill-preparedness and after the first wave of the pandemic had hit this country, working-class families suffered more for the loss of their income and livelihood than for the disease itself. During the difficult months of 'lockdown', survival became the only motivator for the poorer sections to defy the ban in search of food or employment. Even many of the employed could not keep their jobs. According to BPO's data, the government faced about 292 protest incidents in April–September. Among these incidents, about 46 per cent protests were against mass layoff, closure and pay cuts (13 per cent) and for unpaid salaries and Eid bonuses (33 per cent) by workers. Female workers in the apparel sector appear to be one of the most vulnerable groups.
Kabir, Maple and Usher's (2020) study, published in the Journal of Public Health, affirms the vulnerability of the readymade garment workers in Bangladesh during the pandemic. The government declared 'general holiday', a state of lockdown in reality (closure of all public and private offices), in the country from March 26 to May 30, 2020 to curb the spread of the COVID-19 outbreak. The Bangladesh Garment Manufacturers and Exporter Association closed their factories, and clothing shipment processes became suspended due to lockdown in destination countries. Ten million workers including apparel workers, returned to their home towns from Dhaka. Unfortunately, during the return journey of this huge crowd of workers, safety measures such as safe physical distance in social gatherings were not maintained which put them in risk of contagion. In longer term, cancellation of clothing orders from the international brands/buyers (for up to $3 billion) has the potential to create joblessness, irregular wage payment and more unsafe working conditions.
Treatment facilities, already under pressure from a burgeoning number of patients with insufficient facilities to manage a health emergency, may not be accessible to the vulnerable, including the apparel workers of Bangladesh. Unfortunately, such a lack of preparedness was also observed before the re-opening of the apparel factories: while facilities were insufficient to protect the workers from potential health risks, owners' profit motive has been the major driver for reopening. The state and factory owners, it seems, have chosen to protect their 'livelihood' over the 'lives' of their workers.
Even during the lockdown, the apparel workers had to go out of town and return and then again to return home. Such chaotic mobility of workers indicates a discrepancy between the owners' pledge to ensuring safety for workers and their actions in reality. It also points to the fact that to the owners as well as the state, workers' lives are not as important as profit. There is also no substantial initiative meant only for the welfare of the workers. Besides, functioning labour unions that could take initiatives to support workers do not exist.
Now, I present two cases to provide empirical evidence in support of my argument that neither the owners nor the government cared about workers' rights. The first case is of A-One Garment where workers have not been paid for the last eight months. They organised a rally in front of the national press club on September 22. They wanted their wages and benefits. They had to eat very cheap food though they were slandered as being paid and used by labour organisations for ruining the image of the country. Despite living very precarious lives since owners did not pay them, workers are labelled as violent conspirators against owners and are deprived of their rights for months, if not for years. Police did not leave any recourse to stop these workers from coming to the rally in Dhaka. Even after they gathered in front of the press club in Dhaka, they remained under surveillance and pressure from the law enforcers. Taslima Akhter, an activist-photographer writes:
'It was almost late afternoon when a worker's sister took out chapati and egg from her bag. She packed food to save some money. She asked me to share their food. Despite being mired in miseries, she did not forget to share. When it rained at night, we used polythene to save ourselves on the first night. On the second day, the organisers collected chada of Tk 30 from all and bought khichuri. Then they went to submit a memorandum to the honourable prime minister. After receiving verbal assurance from the prime minister that the problem would be solved, the workers hoped that they would be paid soon (author's translation)'.
The second case is of Dragon Fashion situated at Malibag, Dhaka. The factory was closed twice due to the pandemic situation and is yet not fully functional. The workers who had to leave, were refused their earlier due wages and benefits by the factory. Therefore, they were organising processions, sit-ins and leaflet distribution to get justice. They were also haggled and harassed by the police and suffered from altercations with goons. Their leaflet states:
'The Crisis Management Committee of the ministry of labour has failed to quell the situation. They met the owners six to seven times, now after wasting much time they reported that they cannot make them abide by the law (author's translation)'.
This shows how ineffective the government has become in dealing with the situation and how blatantly the owners can get away with anything — they are not held accountable even when they do not pay their workers. This is largely a fault of the government agencies that are responsible for managing and monitoring such processes. The only ray of hope lies in the fact that workers are not timid; rather they are brave and invincible as they are fighting for their rights. They are not machines or numbers that speed up the profit-making process, they are humans with feelings and emotions and, therefore, their unity will bring justice to them soon. When these workers are safe, only then can the factories and the sector be safe and profitable.
Samina Luthfa is an associate professor of the department of sociology at the University of Dhaka.
Want stories like this in your inbox?
Sign up to exclusive daily email
More Stories from 17th Anniversary Special