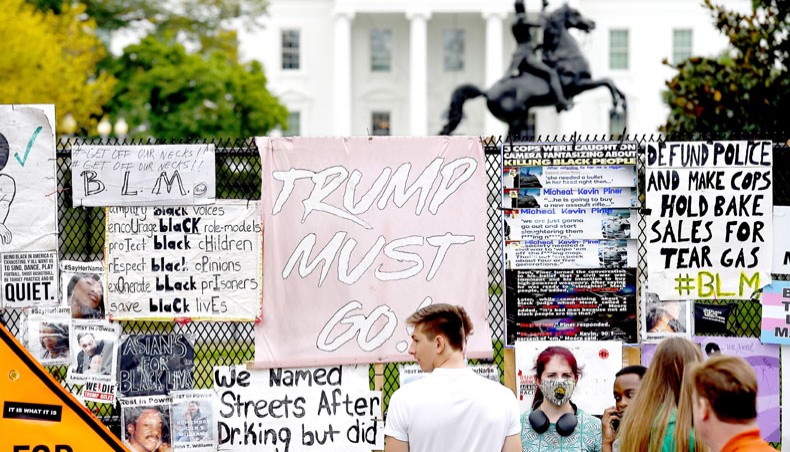 2020 marks the year of a pandemic. In addition to this, the United States — a global imperial power — witnessed a new wave of uprising to resist police brutality and racial violence against the Black community in the same year. The Black Lives Matter, a decentralised grass-roots political and social movement, emerged in July 2013 with the hashtag #BlackLivesMatter on social media after the acquittal of a white neighbourhood watch coordinator named George Zimmerman, who killed Trayvon Martin, an African American teen, seventeen months earlier. The movement gained momentum as videos and images of the killing of Black women and men by mostly white police officers started to circulate across social media platforms. In 2020, the movement gained a new height as Black Americans, along with their allies, resisted the shooting of George Floyd, a 46-year-old African American man, and countless other Black people by police and organised nationwide, demanding divesting from criminalising Black communities and investing in their education, health, and safety, and ensuring community control of the law and order institutions.
Young, educated, informed social media users in Bangladesh navigated ways to express solidarity with African Americans in the United States. Many spoke up, shared statuses, and engaged in dialogues with others criticising the historical racism and colourism that have stained the Bangladeshi society. This aspiration to find the relevance of a transnational event seeking justice for a marginalised community demonstrates how our Bangladeshi society is connected with a globalising world. The attempt is admirable and much needed but we need to move beyond just conversations on how we should be mindful of racism and colourism in our societies. We should actively investigate how various state and non-state institutions perpetuate racism, colourism, and other intersecting oppressions and organise collectively to dismantle these institutions. In fact, the remarkable initiative we saw on June 10, 2020, where twenty-seven social justice activists protested the police killing of George Floyd in the United States and Nikhil Talukder in Bangladesh — a 32-year-old farmer from Gopalganj, whose spine was broken in three places as the assistant subinspector Shamim Hasan allegedly assaulted him on May 2, 2020 (New Age, June 10, 2020) — demonstrates how we can engage in solidarity across borders and learn from social justice activists around the world.
One of the things we may learn from Black Lives Matter protests is how to organise against a police state. Let's face the fact that Bangladesh has become a powerful, militarised police state. This is not surprising for a country marked by a long history of ruling by the military and then by pseudo-democratic political parties to maintain a cozy relationship with the Bangladesh army. The military-industrial complex has grown more and more powerful in this country as the Bangladesh army has not only played a crucial role in our national politics but also has actively exerted its influence and control over private, public, and other major sectors of our national economy. A BBC report documented how, following the precedent of the Pakistan army, the Bangladesh army directly or indirectly has run banks, five-star hotels, universities, hospitals, real estate businesses, and many other small and big businesses and accumulated a fortune (BBC 2010). The Bangladesh army prides itself on serving the UN peacekeeping mission, but its continuing jingoistic presence in the Chittagong Hill Tracks, its reported repression of indigenous people, the violent suppression of indigenous activism, alleged sexual assault of indigenous women, institutional grabbing of indigenous lands, and aiding Bengali settlers, etc. sharply go against the official value of UN peacekeeping (Ahmed 2014). If we want to learn something from Black Lives Matter, we could carefully review Black grassroots organising strategies that challenged militarised institutions in the United States and start questioning the impunity that the institution of army enjoys in Bangladesh.
The recently passed Digital Security Act is another draconian example of how the police state can violently suppress voices of dissent. The regressive law fails to uphold the right to the freedom of expression and freedom of the press guaranteed by the Constitution of Bangladesh in articles 39(2) A and B. Despite the government's assurance of democratising the Information and Technology Act and specifically its section 57, which was used for suppressing critical voices, the Digital Security Act has expanded the scope of section 57 of the Information and Communication Technology Act (Amnesty International, 2018). All news portals have been instructed to register with the government. Ruling party supporters recently disrupted an event addressing extrajudicial killings organised by the Drik Picture Library in September 2020. A good number of activists and journalists have faced attacks and forcible 'disappearances' (Civicus 2020). Bangladesh has been ranked 151 out of 180 countries in the world by the World Press Freedom index in 2020 (Reporters without Borders, 2020).
The infamous extrajudicial killing, which is commonly known as 'crossfire,' is another epitome of how the police state and its powerful law-enforcement agencies enjoy a culture of impunity. In 2018, the extrajudicial killing that spiked in the guise of the 'war on drugs' resulted in the death of at least one person per day. The Rapid Action Battalion, a paramilitary unit of Bangladesh Police that works in close connection with other security and law enforcement agencies of the state had allegedly been actively involved in the extrajudicial killings. In many cases, the organization in question did not even bother to arrest the victims and put them on trial. The victims simply 'disappeared' after they were abducted from their homes, and their bullet-ridden dead bodies were later discovered by their relatives. Even the National Human Rights Commission of Bangladesh seems unwilling to address the recent series of extrajudicial killings as the chair of the commission said, 'There are many other issues of rights violation other than extrajudicial killings. But this is the only thing we are asked about all the time' (Dhaka Tribune 2020). Amnesty International has recently published a detailed report called 'Killed in 'Crossfire': Allegations of Extrajudicial Executions in Bangladesh in the Guise of a War on Drugs' examining Bangladesh's obligations under international laws, some notable cases of extrajudicial killings, patterns of extrajudicial executions, and recommendations (Amnesty International 2019).
The military-industrial complex, the draconian Digital Security Act, the series of extrajudicial killing, or the normalisation of a problematic institution like RAB are just a few examples demonstrating the power of the police state of Bangladesh. How can we resist? Black Lives Matter organising has demonstrated the potential of a decentralised, bottom-up grassroots organising and civil disobedience by ordinary people. The contexts in the United States and Bangladesh are very different. We need to be mindful of not replicating an organising strategy that worked in the Global North without understanding the local context of the Global South. Nevertheless, social justice activists in various parts of the world have widely explored what they could learn from Black Lives Matter organising strategies to address concerns in their local contexts.
In a police state like Bangladesh, institutions like human rights organisations and NGOs are easy targets of repressive authorities. Therefore, a leaderless and institution-less movement like Black Lives Matter that does not rely on one specific person or a group of individuals might offer creative strategies for mobilising the mass. Moreover, the symptoms we are experiencing — such as draconian laws or extrajudicial killing — result from a larger, complex, multilayered military-industrial complex in a police state. Resistance from a single group, such as journalists or human rights activists, will not be enough. We do not afford to rely on a linear leadership model. A widespread grassroots campaign that creatively utilises Black Lives Matter organising strategies can bring together voices from various communities, such as indigenous activists, journalists, human rights activists, workers, and other marginalised groups suppressed by the police state, and work collaboratively to devise solutions.
We have seen Palestinian activists sharing tips with Black Lives Matter protestors on how to survive tear gas during a confrontation with the police. Perhaps in an era of the Digital Security Act, it might be helpful for Bangladeshi organisers to learn how Black lives Matter protesters followed creative strategies to avoid state surveillance and maintain privacy. Techniques such as using encrypted and disappearing messages through apps like Signal for communication, using a strong passcode rather than biometric unlocking methods such as fingerprint or face unlock, not sharing 'metadata' such as timestamps and location information on social media are some of the strategies Black Lives Matter protesters have widely used. Social media has emerged as a productive avenue for mobilising communities around social justice issues in Bangladesh, as we have seen in a number of recent organising initiatives such as the road-safety protests in 2018. An collective resistance against the police-state will need to make the most creative use of digital spaces and social media platforms along with street demonstrations and civil disobedience. As the Bangladesh government continues what Privacy International (2018) has described as 'spytech shopping spree' and acquires sophisticated surveillance technologies such as location-based social network monitoring system software or IMSI catcher or Wi-Fi interceptor, social justice activists also need to up their games and learn from Black Lives Matter and other social justice organisers around the world.
Black Lives Matters in the United States is now actively trying to correct the historical erasure of Black women, Black queer, and Black transgender communities and promote leadership by Black people from the margin. This movement perhaps reveals that an anti-police state organising can't thrive if it is only led by educated, urban, elite intellectuals and remains disconnected from on-the-ground struggles of communities who bear the brunt of suppression by a police state. Our survival from the police state depends on whether the cultural, left, liberal, urban, elite human rights proponents are willing to find a way to engage in solidarity with communities on the ground who may not have access to sophisticated vocabularies and robust international solidarity networks, develop a common language, and organise together to bring transformative changes.
Nafisa Tanjeem is an assistant professor of gender, race, and sexuality studies and global studies at Lesley University in the United States.
Want stories like this in your inbox?
Sign up to exclusive daily email
More Stories from Opinion