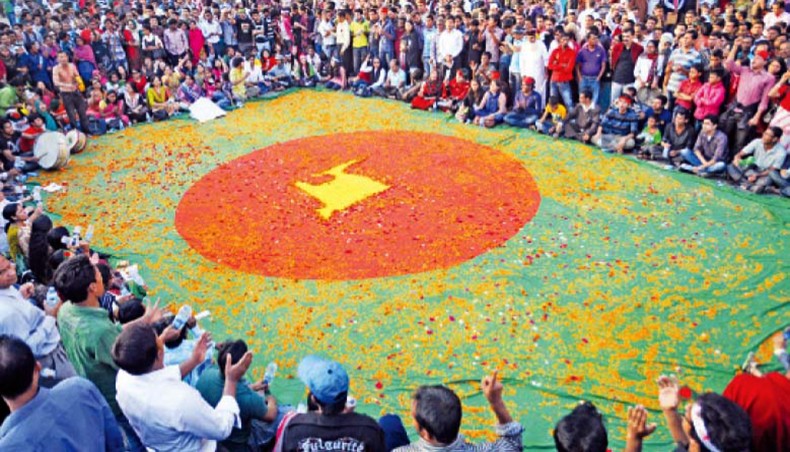 SINCE the end of the cold war, Bangladesh has gained greater importance to US military strategists than in the early years of its independence. Among others its geographic location is a vital factor that has been counted by US defence establishment. Being situated between South Asia and Southeast Asia, its importance is felt from both geo-strategic and geo-maritime considerations. It is to be noted that the importance has changed due to a change in the global situation. The expanding Chinese role in South and Southeast Asia has become a serious concern for the United States and added importance to countries which were not once very much relevant to US interests. In the changed situation, the American pre-eminence over the global arena is also challenged by the Chinese.
The Bangladesh foreign policy pursued till 1975 was more value-laden with principles like non-alignment, anti-imperialism, disarmament, and non-interference in the internal affairs of other countries. Though these principles are still there in the constitution, in reality, they have been significantly modified or left inoperative. With a radical shift in domestic policy in the late 1970s, its leadership took a new approach in foreign policy. Economics has become the driving force in foreign relations instead of any political ideology. Security considerations have influenced the defence strategy though there is criticism that the country lacks a defence policy. Along with traditional sources of threat, Bangladesh is now concerned with new sources like terrorism, maritime security, peacekeeping and natural disaster, cyber security, etc. Its Forces Goal 2030 is designed to make a modern defence establishment.
Over the years, one may notice a bigger effort of the US in building up the defence capabilities of Bangladesh. The rationale behind this is to draw Bangladesh in the broader US global security structure. Following the devastating flood in 1998 in Bangladesh, the US government proposed a Status of Forces Agreement which would have allowed entry of US troops in Bangladesh without passports and visas and without requiring declaration of military hardware. The proposal was criticised as an infringement of country's sovereignty.
The US support to Bangladesh military sector includes mostly training of defence personnel, and joint exercises of two forces. The US Pacific Command maintains regular engagement with Bangladesh Armed Forces. Last month, the US defence Secretary Mark Esper called on Bangladesh prime minister Sheikh Hasina and discussed among other issues military cooperation between two countries. According to the US department of defence, 'the two leaders discussed their shared commitment to a free and Open Indo-Pacific that ensures the sovereignty of all nations, and specific bilateral defense priorities.'
A very significant aspect of defence cooperation is the annual security dialogue. In 2012, a strategic dialogue agreement was signed which provided for an annual dialogue between them, alternately meeting in each other's venues. The US side noted that the positive and substantial exchanges in the meeting reflected the 'depth and strength' of bilateral defence relationship. The agenda of the dialogue is generally fixed on security partnership, defence cooperation, civilian security cooperation, humanitarian assistance and disaster relief, and counterterrorism. Beginning from 2013 until last year, there have been seven rounds of the dialogue. In June 2019 dialogue, the two governments underscored the shared vision of a 'free, open, inclusive, peaceful and secure Indo-Pacific region.'
In later part of 2019, Bangladesh and the US were discussing about the conclusion of two 'foundational Defense Agreeements' — General Security of Military Information Agreement, and Acquisition and Cross Servicing of Agreement. GSOMIA is a legally binding agreement that ensures governments understand and commit to protect classified military information. And, ACSA will allow two forces procure and pay for common type's supplies and services. It would cover everything form food, water, clothing, transportation, training, petroleum, ammunition, maintenance to medical services.
In 2017, the concept of a Free and Open Indo-Pacific has been conceived by the US to materialise its Indo-Pacific Strategy. It looks at Pacific and India Ocean as a single and integrated geo-strategic area and Indo-Pacific basin as a global trade and commerce hub. The growing rise of China in this region, especially in South China Sea is a warning signal for the US, Japan, Australia and India's economic and military interests. Other states of this region have equally been worried by the Chinese posture.
Claiming itself an Indo-Pacific nation, the US argues that a free and open Indo-Pacific is a requirement for sovereign independent nations to prosper in independence and peace. On the other the Chinese believe that the geopolitical changes that is associated with China's rise is the main reason behind such a planning to boost Indo-Pacific alliance. Moreover, it is intended to contain Chinese foreign and security policies. An important focus of IPS is to build the capacity to counter trans-national crimes like illicit trafficking, terrorism and violent extremism, cyber crime, illegal, unregulated and unreported fishing and other crimes. The Americans call for freedom of navigation and other lawful use of the sea so that all nations can access and benefit from the maritime commons. They have been raising the issue of Bangladesh's participation in it at many levels.
The pertinent questions: how Bangladesh fits into the IPS? Which of the three elements of the strategy — economics, security and governance — can be more beneficial for Bangladesh? There is no doubt that the US wants Bangladesh to join for its geo-strategic and geo-maritime importance. Bangladesh being an Indian Ocean littoral state can play a role for the benefits the American policy-makers are counting. For modernisation of Bangladesh defence forces, the US offered to sell military equipments. Recently the sale of two Apaches helicopters and unspecified missile systems was on the agenda of their discussion.
The security aspect is clearly at the top of the strategic cooperation. It should be mentioned that the Americans take the lead in raising any such issue with Bangladesh. Security would have more weightage compared to other two. And IPS was formulated to involve the regional countries in protecting the capital flow across the Indo-Pacific region. Although the Americans deny but in the backdrop of Chinese strategic moves IPS can be bulwark against China.
How far Bangladesh can associate itself with IPS? It has already laid a strong foundation of relationship with China. Its military shopping list from China is very impressive. Chinese engagement with its infrastructure projects is increasing. Bangladesh has already expressed its readiness to join Chinese Belt and Road Initiative. Judging from these counts it would be a difficult choice to accept IPS. It needs careful consideration cost-benefits before taking any decision. 
Akmal Hussain is a professor of the department of international relations at the University of Dhaka and a member of the Committee against Fascism and Imperialism.
Want stories like this in your inbox?
Sign up to exclusive daily email
More Stories from 17th Anniversary Special