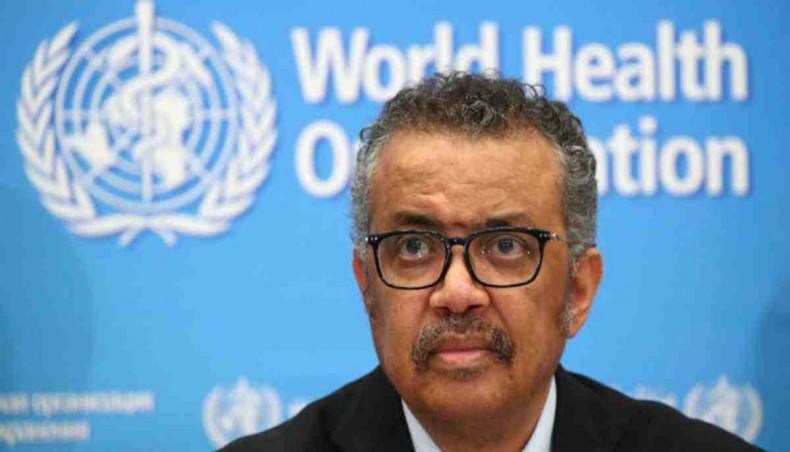 China rushed Tuesday to test an entire city of nine million within days after a minor coronavirus outbreak, as the WHO warned that letting the pathogen run free to achieve herd immunity was 'scientifically and ethically problematic'.
In the absence of a vaccine, governments are wary of allowing the virus to spread unchecked, with China launching a sweeping drive to test all residents of Qingdao after a handful of cases were detected on Sunday.
'As of 8 am... our city has taken 3.08 million samples for nucleic testing,' the city's health commission said Tuesday, adding that no new positive samples were found.
Chinese officials intend to test the entire city — around 9.4 million people — by Thursday.
In opposition to economically painful lockdowns and social distancing, there have been proposals in some countries to let the coronavirus circulate in the population to build up 'herd immunity' — where so much of the population has been infected there are insufficient new victims for the virus to jump to.
But the World Health Organisation said such plans were unworkable, and required mass vaccinations to work.
'Herd immunity is achieved by protecting people from a virus, not by exposing them to it,' WHO chief Tedros Adhanom Ghebreyesus said Monday, describing the idea as 'scientifically and ethically problematic'.
'Allowing a dangerous virus that we don't fully understand to run free is simply unethical. It's not an option.'
Further illustrating the challenge, a study published in The Lancet Infectious Diseases journal indicated that exposure to the virus may not guarantee future immunity -- and the second infection could come with even more severe symptoms.
COVID-19 patients may experience more severe symptoms the second time they are infected, according to research released Tuesday confirming it is possible to catch the potentially deadly disease more than once.
A study published in The Lancet Infectious Diseases journal charts the first confirmed case of COVID-19 reinfection in the United States — the country worst hit by the pandemic — and indicates that exposure to the virus may not guarantee future immunity.
The patient, a 25-year-old Nevada man, was infected with two distinct variants of SARS-CoV-2, the virus that causes Covid-19, within a 48-day time frame.
The second infection was more severe than the first, resulting in the patient being hospitalised with oxygen support.
The paper noted four other cases of reinfection confirmed globally, with one patient each in Belgium, the Netherlands, Hong Kong and Ecuador.
Experts said the prospect of reinfection could have a profound impact on how the world battles through the pandemic.
In particular, it could influence the hunt for a vaccine — the currently Holy Grail of pharmaceutical research.
'The possibility of reinfections could have significant implications for our understanding of Covid-19 immunity, especially in the absence of an effective vaccine,' said Mark Pandori, for the Nevada State Public Health Laboratory and lead study author.
'We need more research to understand how long immunity may last for people exposed to SARS-CoV-2 and why some of these second infections, while rare, are presenting as more severe.'
Want stories like this in your inbox?
Sign up to exclusive daily email
More Stories from Miscellany