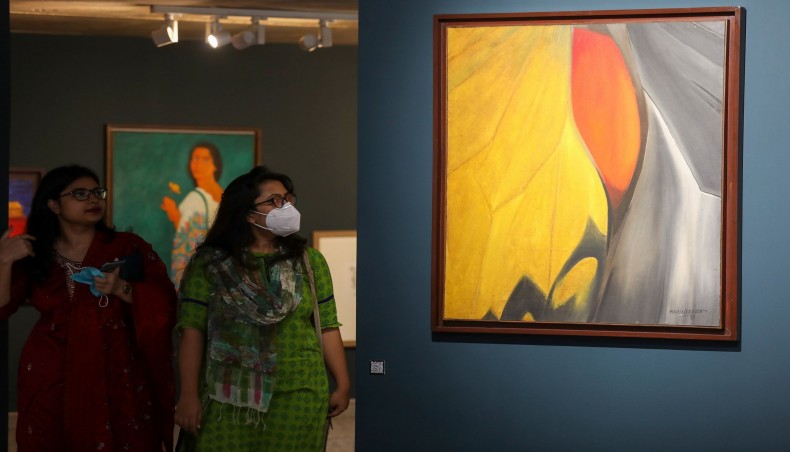 An art exhibition focused on the late Independence and Ekushey Padak-winning artist Murtaja Baseer's diverse array of works began on Monday in the capital's Dhanmondi area.
The exhibition titled 'Baseer: An Eloquent Mind' is going on at Quamrul Hassan Exhibition Hall of Bengal Shilpalay.
The three-month long exhibition features around 150 collected works representing some of the most influential series of the artist. The works testify to the artist's penchant for diverse forms exploring oil, photography, lithography, acrylic, ink, woodcut, among others.
The exhibition amasses paintings representing Murtaja Baseer's four well-known series – 'Wall', 'Epitaph for the Martyrs', 'Wing' and 'The Kalima Tayeba. It also brings under one roof numerous drawings and prints under the heads, 'Figurative' and 'Self-portrait'. Some of the most celebrated works done during the language movement of 1952 are also part of the exhibition.
The exhibition also showcases books penned by the artist, painted match boxes, catalogues of various exhibitions, a dairy, the film titled Nari O Nadi, for which he wrote the script and was involved as an art director, a commemorative art note of Tk 40 marking the 40 years founding anniversary of Bangladesh, and photographs of terracotta works he documented as part of his research on temples in West Bengal.
The artworks address women in rural Bengal, 1952 language movement, 1971 liberation war, poet Shamsur Rahman, artist Aminul Islam, butterflies, last self portrait of Murtaja Baseer, and others.
The exhibition will remain open until January 16, 2021.
Want stories like this in your inbox?
Sign up to exclusive daily email
More Stories from Exhibition