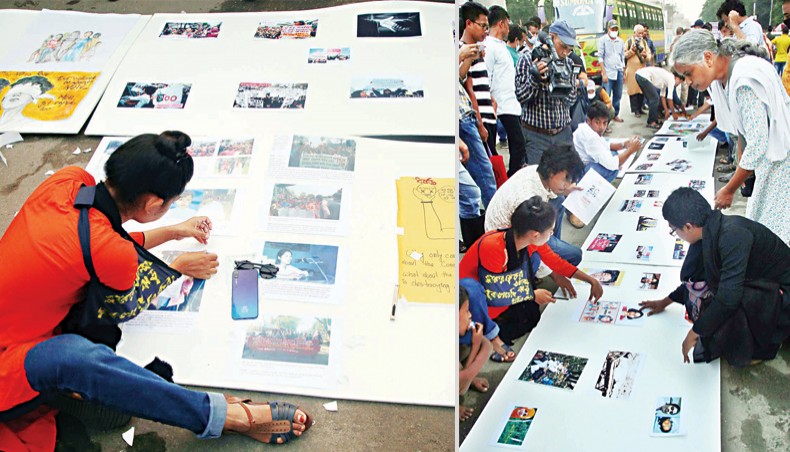 An exhibition featuring photographs and paintings condemning the recent spike in rape and violence against women was organised in front of Bangladesh National Museum on Sunday.
The displayed works gave the viewers a glimpse into the incidents of rapes and violence occurring across the globe alongside women's rights movements held in different countries.
The exhibition was organised as part of the on-going seven-day protest programme organised by 16 different organisations including cultural and left-leaning students, youth and women organisations such as Bangladesh Chhatra Union, Bangladesh Chhatra Federation, Bangladesh Juba Union, Samajtantrik Chhatra Front, Bangladesh Udichi Shilpigosthi, Charan Sangskritk Kendra, Bangladesh Nari Mukti Kendra and others.
The exhibition featured around 100 works including photographs, newspaper clippings and paintings by both local and international photographers and artistes.
A few works featured different slogans which served as a reminder of the culture of impunity and the demand made by the public for justice.
A work titled Ei Mrityur Shesh Kothay featured photographs of different rape incidents. While a photograph revisits a location next to the Dhaka-Mymensingh Highway where a Dhaka University student was sexually assaulted, many others portray the murdered victims, including Shohagi Jahan Tonu.
Most of the photographs were sourced from different international media outlets.
Photographs depicting protest rallies in different countries, including a rally condemning violence against women in India in 2012, a protest programme that took place in Pakistan in 2020 against the gang-rape of a woman on a highway, protest rally held in the United States in 2018, protest rally held in Mexico in 2019 were displayed at the event.
Upcoming artist Shahreen Prokritee painted an image of the goddess Durga. She believes that women should be aware about their rights and have the courage to fight for their rights.
'The rape spree has broken my heart. I am here because I want to fight for my rights in this patriarchal society. I urge the government for ensuring safety of women so that all women can participate in the national development,' said Shahreen Prokritee.
Want stories like this in your inbox?
Sign up to exclusive daily email
More Stories from Exhibition