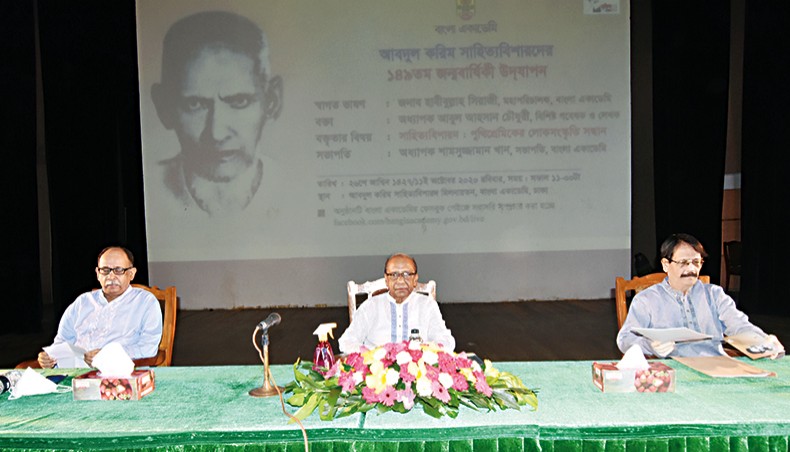 Bangla Academy recalled renowned writer and historian Abdul Karim Sahitya Bisharad organising a programme on Sunday.
The programme was organised marking the 149th anniversary of birth of Abdul Karim Sahitya Bisharad.
Bangla Academy director general Habibullah Siraji delivered the welcome speech at the programme where noted researcher Professor Abul Ahsan Chowdhury presented a keynote paper titled Sahityabisharad: Puthipremiker Lokosangskriti Sandhan. Bangla Academy president professor Shamsuzzaman Khan presided over the event.
'Bangla Academy paid homage to great writer and historian Abdul Karim Sahitya Bisharad by naming an auditorium after him. The academy has been remembering him by publishing his essays, speeches, biography and other works since its inception. We are looking forward to publishing a research work on the life and achievements of Abdul Karim Sahitya Bisharad on his 150th anniversary of birth,' said Habibullah Siraji.
'Abdul Karim Sahitya Bisharad did not confine himself to collecting and researching puthis, but also delved into history, theology, linguistics, literary criticism and modern literature. He was a collector of folk art. He went on to study folklore, searching for traditional elements found in rural culture as well as locating his motherland in reference to those elements. We can say that for him collecting puthis and having discussions on them were part of his folk cultural practice,' said Abul Ahsan Chowdhury in his keynote speech.
'Abdul Karim Sahitya Bisharad was a gem of Bengal. He will be remembered for his position in favour of Bangla before the movements to establish Bangla as the mother language got underway. Besides, the development of Bengali self-identity has been fully recognised by Sahitya Bisharad through his pursuit of collecting puthis, indexing folk cultural practices and his life-style,' said Shamsuzzaman Khan.
Abdul Karim (1871-1953), also known as Sahitya Bisharad, had made immense contribution to the literary scene of the country by collecting and preserving folk literature, especially puthis and traditional oral tales on kings, deities and heroes. He collected more than 2,000 puthis, among which more than 1,000 were written by Bengali Muslims. No other person or organisation had collected such an astounding number of puthis before him.
Karim's literary works were first published in the monthly Naba-Nur (1903–06) and have been included in the curriculum of secondary, higher secondary and graduation level institutions in Bangladesh.
Want stories like this in your inbox?
Sign up to exclusive daily email
More Stories from Literature