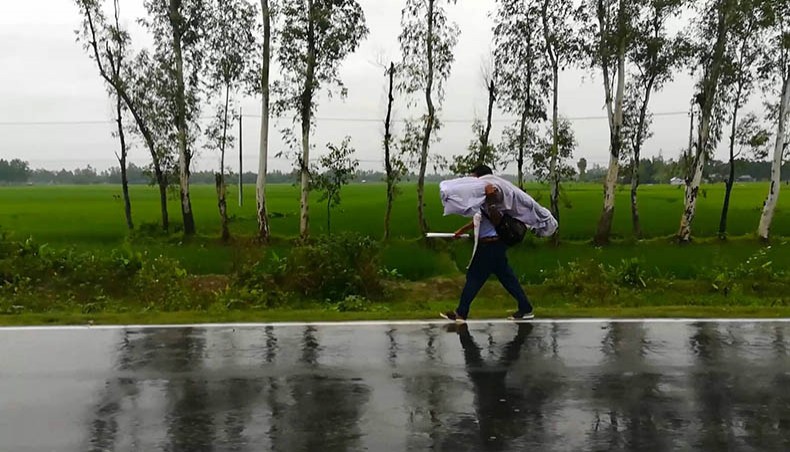 Hanif Bangladeshi is involved in different campaigns, protests and movements sometimes with a group but mostly alone. On September 11, he began a march from Dhaka towards Kurigram district demanding an end of the border killings carrying a symbolic corpse. During an interview with Nasir Uz Zaman for New Age Youth, Hanif talks about his protests
New Age Youth: What is the story of becoming Hanif Bangladeshi from Hanif?
Hanif Bangladeshi: From a very young age, I am involved in different campaigns, protests and movements sometimes with a group but mostly alone. As a citizen of Bangladesh, I believe that I have the right to raise my voice against irregularities for the sake of the nation and its people. When I found something wrong, I never wait for anything or anyone to protest against that. For such activities, people know me as Hanif Bangladeshi.
My journey as Hanif Bangladeshi began in 2002 with a campaign against abortion, particularly against the killing of the foetus when it is fully developed or near to be fully developed. At that time, some reports about recovering dumped foetus from drains made me upset. So, I started a campaign against foetus killings and demanded from the state to ensure the social safety of the mother so that no one had to kill the foetus.
Later, I was involved in the public toilet movement from 2008 to 2010. There were not many toilet facilities in urban settlements even though a lot of people travel there for a variety of reasons. I held sit-in protests in front of the then Dhaka city corporation building holding a plastic pot demanding enough public toilets in Dhaka city.
New Age Youth: Recently, you have marched from Dhaka to Kurigram carrying a symbolic corpse. What prompted you to do that?
Hanif Bangladeshi: Actually, it is the situation in the border areas, the continued border killings of Bangladeshi citizens by India's Border Security Force left me no choice but to protest. As a form of protest, I began a march on September 11 from Dhaka towards Anantapur border of Kurigram district demanding an end of the border killings. Throughout the march, I was carrying a symbolic corpse of a border killing victim.
BSF always says that the victims of border killing were involved in smuggling or cattle-trafficking. But if the victims were truly involved, they should be brought under justice according to law. There are internationally accepted border control protocols and none of which approves a shoot-to-kill policy.
In many directorate-general level meetings, India has agreed to use the non-lethal weapons to stop trespass or to pacify the violators. But, India continues to use lethal forces and kill Bangladeshi citizens.
As a citizen of a sovereign country, I want an end to the border killings and that is why I marched towards Anantapur border where Felani Khatun was shot and killed in 2011 by BSF and the dead body was hung on a border fence.
New Age Youth: What is lacking in the government's efforts to prevent border violence?
Hanif Bangladeshi: There are lacks in the Bangladeshi and Indian government's effort to prevent border violence. Though India agreed to use non-lethal weapons to stop trespass, they are using lethal weapons. Indian government must take effective measures to control the use of lethal weapons by BSF. On the other hand, the Bangladeshi government needs to hold a strong position to stop the border killings.
But, since independence, successive governments are maintaining an asymmetric diplomatic relationship with the neighbouring country, as well as other countries to maintain their position in power. In the process, our national interest is compromised and border killings continue.
New Age Youth: Is this march to Kurigram your first protest against border killings?
Hanif Bangladeshi: No. In January 2020, I marched from the Press Club, Dhaka to the High Commission of India, Bangladesh to give a memorandum to the Indian prime minister Narendra Modi protesting against national Register of Citizen, Citizenship (Amendment) Act 2019 and also the border killings.
Without accepting the memorandum, I was handed over to the police and taken to the Gulshan thana. An official from the High Commission came at the police station and asked me why I am anti-Indian? I replied to the official that I was not anti-India but against Indian aggressive policy. I was released from custody after eleven hours.
New Age Youth: Would you like to talk about your previous protests?
Hanif Bangladeshi: The national elections of 2018 were questionable. So, two days after the election, I stood in front of the Dhaka Press Club with a tag line that reads, 'In the 11th national elections, not only Parul (a rape victim following the 2018 elections) faced physical violence for exercising her voting rights but the voting rights of the people were also violated, but also the democracy of the country was violated.'
People are the owners of the country. To confirm the ownership, voting rights of the people must be ensured. But in the national elections of 2013 and 2018, people could not exercise their voting rights. I walked on foot from Teknaf to Tetulia demanding the voting rights from March 12 to April 16, 2019.
On May 6, 2019, I held a sit-in protest in front of the Bangladesh Election Commission building demanding the immediate resignation of the chief election commissioner as the commissioner failed to ensure people's voting rights.
Protesting the corruption in the country, I gave a memorandum to the deputy commissioners of 64 districts' from September 22 to November 4, 2019. In front of the DC offices, I also showed a red card to the corrupted officials.
In December 2019, I also gave a memorandum to the vice-chancellor of Jahangirnagar University saying that she should prove the corruption allegation against her as false or should resign from the post.
New Age Youth: For your protest activities, did you face any pressure?
Hanif Bangladeshi: While continuing the protests, I faced some obstacles. I was taken to police custody while giving a memorandum at the Indian High Commission and also while giving another memorandum to the DC of Manikganj. Police officials seised my banner and did not allow me to stand in front of the Dhaka Press Club while demanding voting rights.
New Age Youth: Most of your protest activities are about giving memorandum to the authorities and holding a march. What do you hope from your protests?
Hanif Bangladeshi: We are living in a culture of fear. Nowadays, protests are limited to social media platforms or Press Club or Shahbagh. People, particularly the youths, are also far away from recognising and demanding their rights. For any change, the involvement of the mass people is crucial. With the marches, I want to reach to the mass people and encourage them to raise their voices against injustice and to demand their rights.
Nasir Uz Zaman is a member of the New Age Youth team.
Want stories like this in your inbox?
Sign up to exclusive daily email