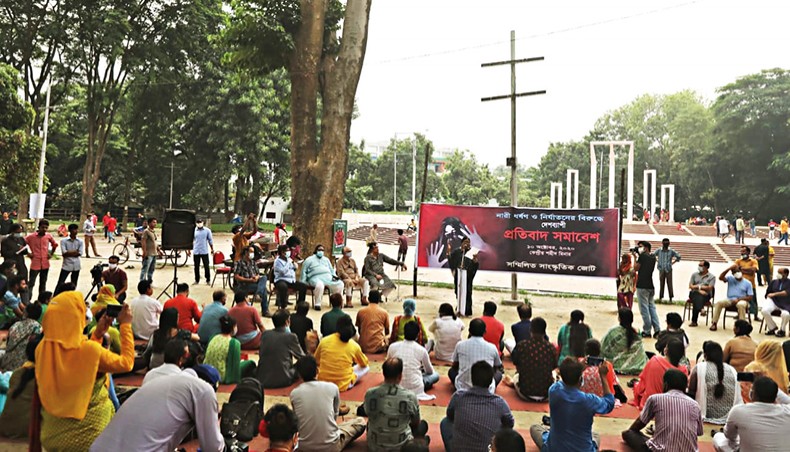 Sammilita Sangskritik Jote will organise protest programmes featuring street plays, music, dance performances and others to condemn the rise in the incidents of rape, sexual harassment and violence against women across the country every Saturday.
The announcement was made by SSJ president Ghulam Quddus at a programme organised on Central Shaheed Minar premises on Saturday.
Cultural activist and thespian Ramendu Majumdar, senior journalist Abed Khan, renowned recitation artiste Rezina Wali Lina, popular actor-director Tropa Majumder, leading actor Nader Chowdhury, SSJ general secretary Hasan Arif, Bangladesh Ganasangeet Samannay Parishad general secretary Manjar Chowdhury Sweet, Bangladesh Group Theatre Federation vice-president Jhuna Chowdhury and others were present at the programme, which was organised by SSJ protesting at rape, violence against women. Besides, SSJ organised protest programmes across the country on Saturday.
Speakers discussed different social issues including sexual harassment and violence against women, violation of people's rights, corruption and others.
'SSJ has organised protest programmes in more than 45 districts across the country today. We will hold cultural programmes protesting at rape, violence against women, corruption and others every Saturday from now on,' said Ghulam Quddus.
'Bangladesh's founding president Sheikh Mujibur Rahman declared independence to ensure the basic rights of the country's people. The continued rapes, violence against women, corruption and injustices committed by a group of people have tarnished the country's image. I urge the government to ensure justice for victims and award capital punishment to those responsible,' said Ramendu Majumdar.
Senior journalist Abed Khan urged the government to ensure rights of victims and take action against those responsible.
'Even after a long journey since independence, we have failed to establish a proper social system, as a result we are moving into an area of darkness and are facing various social crimes like rape, harassment and others. It's time to take an initiative to ensure the rights of the people,' said Abed Khan.
Actor Nader Chowdhury said, 'The government cannot deny its responsibility and I urge the law enforcement authorities to play a neutral role regarding these issues.'
Want stories like this in your inbox?
Sign up to exclusive daily email
More Stories from Miscellany