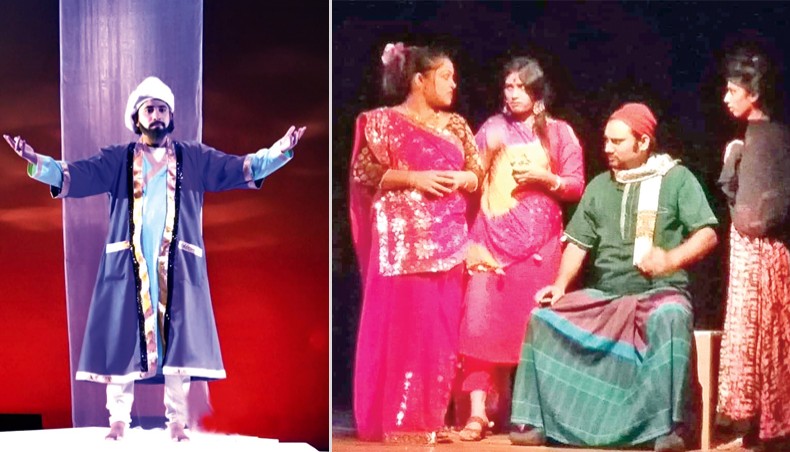 A two-day theatre festival titled Bhoyke Joy Kore Natak, that aimed at inspiring theatre troupes return to stage and protest at the continued rape, violence against women across the country, ended on Saturday at Donia Studio Theatre Hall in capital's Jatrabari area amid COVID-19 outbreak.
The festival was organised by Donia Studio Theatre Hall in association with Donia Sangskritik Jote and Donia Pathagar.
'Theatre activists could not perform on stage for the last seven months due to the COVID-19 outbreak. We organised the festival to encourage troupes to resume their activities and protest at the continued rape, violence against women across the country,' Mohammad Shahnawaz, director of Donia Studio Theatre Hall, told New Age.
'We didn't allow more than 30 spectators per show and the audience had to wear masks at the venue. We are happy because the festival went smoothly amid COVID-19 outbreak,' added Shahnawaz.
Bhoyke Joy Kore Natak featured eight plays. Each day four plays were staged at the festival from 5:00pm to 8:00pm.
Chandrakala Theatre staged its play Sheikh Saadi at 6:00pm at the festival on Saturday. The play, written by Apurba Kumar Kundu and directed by HR Anik, was staged after a seven-month hiatus due to COVID-19 crisis.
Sheikh Saadi gives the audience a glimpse into the society of Sheikh Saadi's time where leading intellectuals were often invited to the royal courts by monarchs.
The play opens with Balban, the prince of Delhi, inviting leading poets of his time to a literary conference. He invites Sheikh Saadi to attend the conference as the chief guest. Saadi's friend poet Amir Khusro writes the invitation letter on behalf of the prince and the play moves forward.
General secretary of Chandrakala Theatre H R Anik played the character of Sheikh Saadi in the play.
'This was the 8th show of Sheikh Saadi and the play's first show amid COVID-19 outbreak. We really enjoyed performing at the festival, which received immense response from the theatre lovers. I urge the organisers to arrange more such festivals in the coming days,' said HR Anik.
Following which, theatre troupe Natya Joddha staged selected part of its play Ausamapto at 6:30pm. The play has been written and directed by Faisal Ahmed.
'Theatre troupes across the country have been going through tough time due to COVID-19 outbreak. We were not able to stage any plays in the last seven months. We staged selected part of our play, which requires a total of 18 members, at the festival with five members to maintain social distancing on stage,' said Faisal Ahmed.
Besides, Kathak Theatre Dhaka staged Nishshabdo, written by Rohan Neyaz and directed by Shah Neyaz, at 5:00pm and Shabdo Natyacharcha Kendra staged Biranganar Bayan, written by Rowshan Jannat Rushni and directed by Debashish Ghosh, at 7:00pm.
The inaugural ceremony of the festival was held in hybrid format on Friday.
Bangladesh Shilpakala Academy director general Liaquat Ali Lucky virtually attended the inaugural ceremony as chief guest while Bangladesh Path Natak Parishad general secretary Ahmed Gias and festival convener Abu Azad, among others, were present at the venue.
Following the inaugural ceremony, Mohakal Natya Sampraday staged its production Shraban Tragedy, written by Anan Zaman and directed by Ashiq Rahman Leeon, at 5:00pm.
Sayanhik Theatre staged Basanter Kutum at 6:00pm. The play has been written by HR Anik and directed by Tarikul Islam Sabuj.
Soukhin Theatre staged Prabhat Phire Aso at 6:30pm. It has been written by Manoj Mitra and directed by Hamidur Rahman Pappu.
Maitri Theatre staged Cha Athoba Coffee at 7:00pm. The play has been written by Ramnath Ray and directed by Neyaz Ahmed.
Want stories like this in your inbox?
Sign up to exclusive daily email
More Stories from Theatre