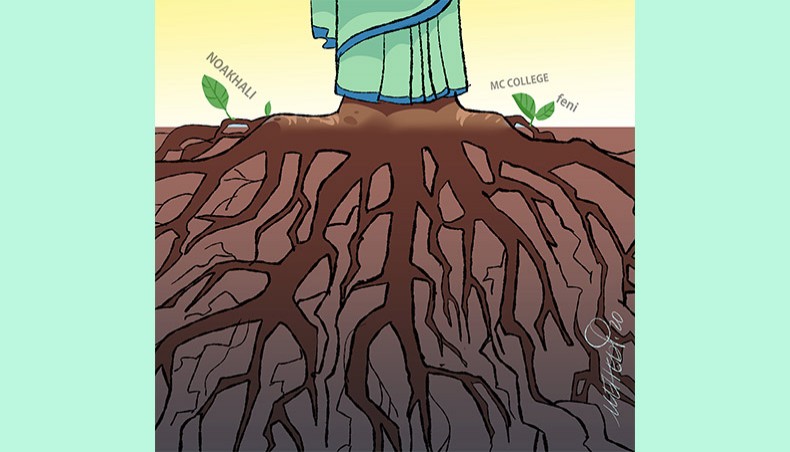 Countrywide protests erupted last week following a string of rape and sexual crimes. Students and activists have gathered at Shahbagh, Dhaka with demands of strict legal measures for rapists, re-evaluating social discourses about women and criminalising local arbitration settling rape incidents. Netizens, on the one hand, asking for increased punishments for the perpetrators, and on the other hand, demanding equilibrium of social power distribution among men and women writes Nahid Riyasad
Amidst the countrywide protests at rape and sexual violence, Bangladesh Chhatra League activists left at least five protesters injured when students brought out a procession against sexual crime in Moulvibazar on October 8.
It all started when a video of a 37-year-old woman getting sexually assaulted and tortured by a group of youths in Begumganj upazila in Noakhali went viral on social media on October 5.
The video showed that the youths stripped the woman naked, molested her and started beating and dragging her despite her cries as she kept begging for mercy holding on to one of the offender's legs in a village of Eklashpur union of the upazila.
One of the offenders grabbed the video of the whole scene on the night of September 2 and uploaded it on social media on October 4; 32 days after the incident, police officials confirmed the New Age.
Protests erupted spearheaded by students in different areas of the country including Dhaka and Moulvibazar. The demonstrators protested against the government inaction and the failure of the law enforcement agencies to stop violence against women, the involvement of leaders and activists of the ruling Awami League and its front organisations in such offences and the culture of impunity for which such incidents are continuing unabated.
Earlier, protests flared up across the country after the rape of a newly-wed woman on MC College premises by leaders and activists of Awami League's student organisation Bangladesh Chhatra League on September 25.
Ruling party's involvement in both the incidents cannot be overlooked. The accused in the Mopulvibazar case were accomplices of Dalwar Bahini ringleader Md Dalwar Hossain, who was also arrested but his name was not in the case.
Dalwar, on his Facebook wall, identified himself as a 'soldier of Bangabandhu's ideology', used the name of the ruling Awami League's youth front Bangladesh Juba League and the slogan 'Joy Bangla-Joy Bangabandhu' and urged to keep faith on 'boat', the electoral symbol of ruling Awami League.
Locals also confirmed to the New Age that Delwar was close to a local lawmaker and was frequent in ruling party programmes.
These are not the first time that activists of Awami League went rogue and commit sexual violence. In 1999, students of Jahangirnagar University staged one of the largest movements in Bangladesh against rape and sexual violence.
The movement was initiated in 1998 when Bangladesh Chhatra League activists celebrated the 100th rape of women by their leader Jasimuddin Manik, who was the general secretary of JU unit of Chhatra League. After a year-long protest, Manik and his accomplices were ousted from the campus.
No cases were filed against them by the university authority or the then ruling party Awami League.
Netizens have been debating over what should be the solution to end this culture of rape. Many have been asking for more rigorous laws and punishments for rapists and some are saying legal actions are not enough to curb the rate. According to the latter group, rape, as a crime, is more of a power assertion rather than forcefully getting sexual gratification.
New Age Youth asked a few youths who are involved in the protests or expressed their thoughts on social media platforms about what could be done to address this social crisis.
Md Shafiqul Islam a student of Jahangirnagar University sees rape a combination of two things — power assertion and disrespect towards the women. 'In the case of Nirbhaya, we have seen how the perpetrators were indifferent after hearing the death sentence. This indicates that punishments cannot change the perception of the rapists' he said.
Shafiqul also added, 'Law only comes to play when a crime is committed. So laws are of no use to stop a crime or in this case, rape. That is why this cannot be addressed using only legal tools.'
Fahmida Binte Hamid is the director of Students Community against Rape and Sexual Violence and she thinks that strict legal measures can curb crime rates. 'We have seen how the then government implemented strict measures against acid violence and those legal crackdowns on the suppliers and law violators have resulted in significantly low acid violence over the years.'
She listed several reasons for which sexual crimes happen at such frequency: improper education from the family, social tendency to view women as inferior, lack of moral education, political influence but most importantly the culture of impunity for the powerful perpetrators.
Statistics echoes her thoughts as conviction rates are significantly lower in sexual violence cases. According to the government's One-Stop Crisis Centre statistics, only 3.56 per cent of the cases filed under the Prevention of Oppression against Women and Children Act 2000 resulted in court judgement and only 0.37 per cent of the cases have ended in convictions between 2001 and 2020.
To put the number into perspective, women rights organisation Naripokkho examined reported rape cases in six districts — Jamalpur, Jhenaidah, Noakhali, Sirajganj, Joypurhat and Dhaka between 2011 and 2018. Among 4,372 cases in that given period, only five cases saw conviction and conviction in attempted rape, sexual harassment and trafficking was nil in the given districts.
According to Ain O Salish Kendra data, 975 women and girls were raped and 43 of them were killed and 12 others committed suicide between January to September in 2020.
During the same period, 161 women and girls were sexually harassed and 12 of them committed suicide after facing harassments. Meanwhile, 12 people, including nine men and three women, were killed for protesting at sexual harassments.
Nobendu Saha Joy is a director of SCaRSV and thinks that long-standing social stigmatisation and stereotyping against women are the major causes of such crimes. 'The society has set a few standards for the women and family train their younger members according to these norms. This is also another form of power practice legitimised by the social structure. So, to bring an effective change in the rape culture, re-evaluation of social values and structure is a must,' he said.
Abul Hasnat, an executive member of the organisation thinks that adequate laws, right implementation of the legal devices and proper justice dispensation system can reduce such crimes. 'Law is effective only when it does not have loopholes and facilitates a fast-tracked judicial proceeding. Although there are laws, regarding rape cases but most of the time the rape victims do not get justice because of the loopholes and interrogation system in those laws.'
He also added, 'Efficient and accountable law enforcement machinery at all levels — administration, government, police and judiciary, is needed.'
Peggy Reeves Sanday, a noted anthropologist, has studied rape-free and rape-prone cultures around the world. She found that those societies which she deemed to be rape-free had several shared characteristics: they tended to worship male and female gods or were animistic, and the women, regardless of roles, held political and economic power equal to that of men. Their voices had equal value and their participation in leadership was considered important.
Of all these societies, none were urban institutionally educated societies rather they typically were aboriginal tribes scattered around the world.
However, in the Chittagong Hill Tracts, indigenous women are frequently subjected to rape and sexual violence. In a recent incident, on September 24, a mentally unstable Chakma woman was raped and tortured by Bengali settlers.
This incident is a testament to how identity power practices within the state have legitimised power insertion within indigenous social structures. According to media reports, local political leaders have settled the incident for a mere amount denying the victim of her legal rights.
Legal statistics regarding sexual crimes are so depressing that demanding to rearrange and re-evaluate legal tools to address this issue is a must. Also, only strengthening legal structure to protect the victims will not bring result as legality is to ensure justice, not to provide security.
To curb down on the sexual crime, a metamorphosis in the perception of how we view femininity and women is a must. Bringing equilibrium in the social power structure among men and women is the only way to bring a balance in this spectrum in the long run.
Nahid Riyasad is a member of the New Age Youth team.
Want stories like this in your inbox?
Sign up to exclusive daily email