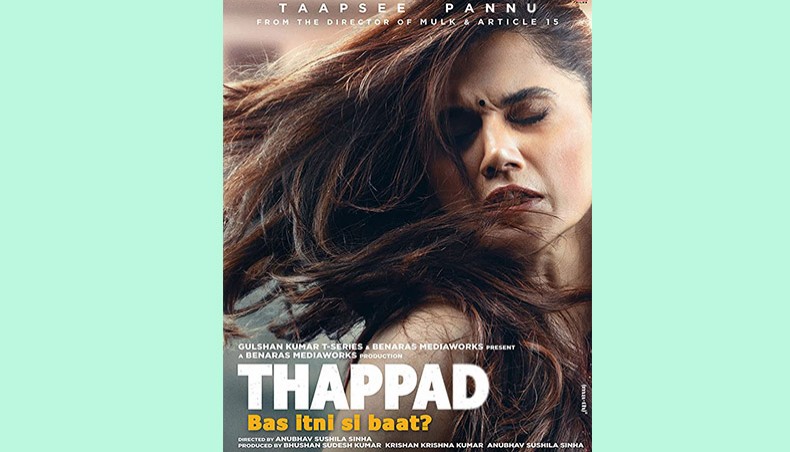 Thappad is a drama film directed by Anubhav Sinha, released in 2020. Md Talebur Islam Rupom reviews the film
THAPPAD is an Indian Hindi language movie which means slap. The film raises questions against patriarchal norms of the society. It sharply shows the society, which endorses all kinds of wrongdoings towards women under the guise of the culture and so-called social norm and defines what an ideal wife is.
There is a line between making a film on a real story and making one that tells a real story. As a powerful and impactful film, Thappad will make you angry and uncomfortable, and simultaneously it will make you to question the social norms that you willingly 'adjust to' in real life. Does 'just a slap' actually matter? If it does, then how much it does is the real question.
Taapsee Pannu as Amrita or Ammu is screened as the protagonist with her tremendous performance who resembles an 'ideal' housewife for most of the parts of the world. She is a homemaker with a comfortable life at their posh house with modern amenities. Despite being a trained dancer and having opportunity to make her career, she does not opt for the career or any other investments.
Rather, she chooses to invest her everything at home and lives a life in the same daily loop of doing chores, supervising the kitchen, taking care of her husband (Vikram) from morning coffee to connecting the printer at night while he works at home, from handing over his wallet to packing his lunch.
Additionally, she looks after her mother-in-law (Tanvi Azim) and the house. Her life goes great with her amicable and close parents. Amrita's husband is a highly ambitious and career-oriented person who is expecting a lucrative promotion with overseas posting. They are living a happy and an ideal couple life.
But one day, things have changed when they hold a party at their home on the eve of her husband's promotion. Suddenly, Vikram comes to know that he does not get the promotion and hence start quarrelling with his immediate boss in a drunken situation. Amrita tries to stop but Vikram slaps her in public. Abruptly, a slap makes her realise about all the wrongdoings she has ignored in her life.
After Vikram securing his long-conflicted promotion, his colleague justifies his action by saying, 'When you are truly in love, a little bit of beating is an expression of love.' Likewise, other dialogues of the movie will show you many regular incidents that you experience every day.
So, the director Anubhav Sinha refuses to normalise the issues that are taken for granted in a regular setup, instead he asserts and reasserts that even if it is just one slap, why and how can a man get away with it so easily? He does not do so with just Taapsee's story, but shows multiple women across strata facing the same in different forms. However, the multiple stories do not take away from the continuity of Thappad and Amrita's story but amplify it.
Hence, after the slap, Amrita decides to leave her in law's house and take divorce from her husband. On the other hand, her mother-in-law takes it very lightly in the very initial stage. Likewise, Amrita's mother always tells her to accept it and patch up with Vikram; because, it was just a slap. They want her to forget the humiliation and move on. They tell her that marriage is nothing but compromise and it is always the women who have to compromise.
Both of the mothers' rationality and argument are that they have learned from their mothers to sacrifice and tolerate everything for leading the relationship. Their mothers were taught by their mothers. It's like continuity from generation to generation.
Apparently, the film points out women have been conditioned for generations to support wrong practices for the sake of domestic peace. A prime example is Amrita's maid (Geetika Vidya Ohlyan), who is regularly beaten by her husband but she takes it as a normal matter. It is imperative that mother must teach their children how to respect women. Gender does not make anyone superior but respect does. Learning starts at home.
Debutant Pavail Gulati gives a terrific performance as Vikram although he is the embodiment of toxic masculinity which is disliked by most of the people onscreen. However, Thappad is not a film that is cut from the same fabric of #AllMenTrash. One of the most likeable characters, Amrita's father — a good husband, a good father, someone who makes tea for his wife every morning, supports his daughter with her decision making and teaches his son (Amrita's brother) how to respect a woman. He never interferes in anyone's decision and put respect in the first place.
Significantly, there are a few characters which come as one of the strongest grips. One is Nethra (Maya Sarao) as Amrita's high-profile lawyer. She was married to an elite family from where she gets huge recognition and establishes her law career in the top-tier. But she has to admit non-consensual physical relationship with his husband who thinks himself superior and does not appreciate the talent of Nethra.
It reminds Tapsee's another film Pink which buzzes the society about woman's consent at any physical relation. In fact, it should hammer everyone's brain that it is mandatory to have the consent of counterpart while having any physical relation. A no must be no.
Dia Mirza plays the role of Amrita's neighbour, a well-solvent single mother. Seeing her lavish lifestyle, Vikram once asks with insult what she does to earn money. It points our society how we see single mothers with such social stigma.
The movie has quietness in many occasions but it certainly represents the silence of our society and the hostility towards the women's dignity. Amrita has to go through a troublesome phase to get a divorce from Vikram and of course by fighting against the force of both men and women.
Evidently, consent and respect to one's decision and empathising must be assured at the first place for each gender.
Md Talebur Islam Rupom is a contributor with the New Age Youth.
Want stories like this in your inbox?
Sign up to exclusive daily email
More Stories from Art Culture