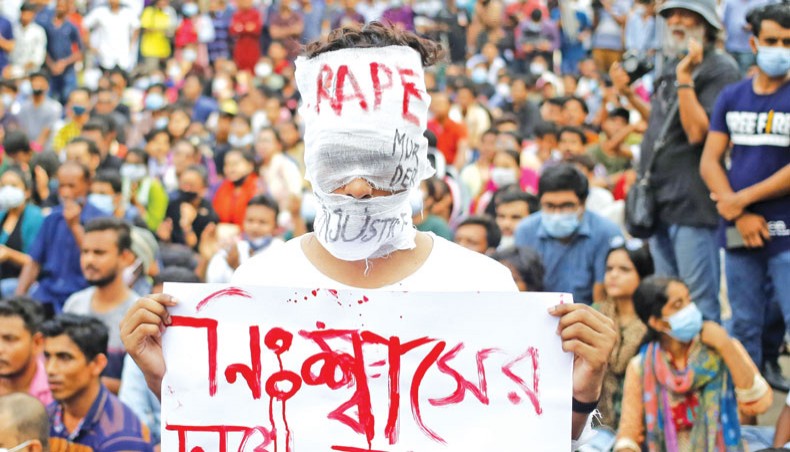 Protests rallies in Dhaka and elsewhere in the country continued on Friday to condemn all forms of sexual violence against women while the number of demonstrators swelled on the fifth consecutive day as more and more civil society groups as well as students and teachers joined in.
The protesters blamed government's inaction, the culture of impunity and involvement of activists of ruling Awami League and its front organisations in rapes and violence against women and not bringing the offenders to book for the rise in the number of such incidents.
Two recent incidents of assault fuelled the protest rallies across the country.
A video of a 37-year-old woman getting sexually assaulted and tortured by a group of youths in Begumganj upazila in Noakhali went viral on social media on October 4, nine days after a newly-wed woman was gang-raped in MC College Hostel in Sylhet by activists of AL's student wing Chhatra League on September 25.
Meanwhile, two more accused in the two cases lodged by the Noakhali victim gave confessional statement in the court of Noakhali senior judicial magistrate SM Mosleh Uddin after they were produced before the court on completion of their six-day remand, said the district public prosecutor Gulzar Ahmed Jewel.
With the latest two — Anwar Hossain Sohagh, 24, and Md Rasel, 29 — a total of four accused had given confessional statement in the cases.
On Friday, different political, student rights bodies and socio-cultural organisations staged anti-rape demonstrations and rallies in Shahbagh and in front of the National Press of the capital where they demanded resignation of the home minister, called for end of Awami League rule and declared week-long anti-rape programmes.
The rallies alleged that ruling party men, backed by the government and police, have been on a crime spree engaging in rapes, oppression and looting across the country.
Clockwise from top left: People from different walks of life bring out a procession from the National Press Club in Dhaka; Udichi Shilpi Goshthi members hold a demonstration at Chourasta in Thakurgaon; Bangladesh Chhatra League holds a rally at Raju Memorial on Dhaka University campus and Bangladesh Nezam-e-Islam Party brings out a procession in Dhaka on Friday in protest against rape and other form of sexual violence against women. — Star Mail and Focus Bangla Photo
We are now witness to a rising tide of rapes in Bangladesh, which is more alarming and worse than the COVID-19 epidemic, thanks to the ruling party men, alleged speakers at an anti-rape rally in front of the Press Club organised by Student-People Against Rape-Repression.
Addressing the programme in front of the National Press Club, Nagarik Oikya convener Mahmudur Rahman Manna said that the government is repeatedly claiming to have zero tolerance against rapes, but there are still numerous cases of rape and sexual assault surfacing on a daily basis while the perpetrators are mostly from the ruling party.
The government will not ensure justice in these rape incidents since their men, who were also involved in vote rigging in the last national election, are involved in such crimes, he argued.
Dhaka University law professor Asif Nazrul said, 'These rape incidents are simply a reflection of the perversion of power.'
Immediate-past vice-president of the Dhaka University Central Students' Union Nurul Haq Nur said that the country is no longer safe in the hands of the incumbent and its cohort.
He asked the Awami League government to relinquish power before people oust them.
Leaders and activists of Bangladesh Sadharan Chhatra Odhikar Sangrakkhan Parishad, left-leaning political parties and women rights organisations joined the rally.
Backed by mostly left-leaning student organisations, a newly-floated platform named Bangladesh Against Rape and Impunity staged a protest rally against rape and sexual harassment at Shahbagh.
The rally demanded resignation of the home minister for his failure to ensure safety for women and bringing the offenders to book.
Protesters in many places chanted slogans against the ruling Awami League and its front organisations for backing the rapists and offenders whose accesses have always been criticised by a number of social activists and academics.
In the rally, the platform announced week-long programmes against rape and for justice. The programmes include a two-day road march from Dhaka to Begamganj on October 16 and 17, if the demands are not fulfilled by October 15.
Chhatra Union general secretary Anik Roy announced the programmes at the rally, which also included holding a photography expedition on October 11, cultural programmes on October 12, a film show on October 13, a women's rally on October 14, a bicycle rally by women in Dhaka City on October 15.
The platform demanded end to all types of sexual and social repression against women, no matter where they are — in the hills or in plain lands.
The demands also included removing discriminatory texts and other study materials targeted against women from academic syllabus, stopping community arbitrations in rape charges and considering those arbitrations as crimes.
In the rally, DU professor Tanzimuddin Khan said that the people are victims of organised hypocrisy by the state.
Meanwhile, leaders and activists of Future of Bangladesh formed a human chain and brought out a procession protesting against rape and violence against women in front of the National Press Club in Dhaka in the morning.
They protested wearing masks and blamed the decay of moral values and the culture of impunity for this social menace called rape.
Jatiyatabadi Mohila Dal, the female wing of opposition Bangladesh Nationalist Party, formed a human chain in front of the National Press Club in the morning while BNP secretary general Mirza Fakhrul Islam Alamgir alleged that the government, assuming power illegally, turned the society into an uncivilised locality.
He alleged that the ruling party men, backed by the government, had been committing rapes, oppression and looting across the country.
Dhaka unit of Khelafat Majlish, Bangladesh Confederation of Labour, Noakhali Begumganj Oikya Parishad in Dhaka, Blaza, blood donor group Alinda, Sonaimuri Juba Kalyan Samity, Obhijan Club and Nirapad Khadya Chai also staged demonstrations in front of the National Press Club between 10:00am and noon on Thursday.
In Rajshahi, police obstructed the students from holding a protest rally at the city's zero point area and forced them to leave the spot at about 10:00am.
Boalia model police station officer-in-charge Nibaran Chandra Barman told New Age that the students did not take any permission from them to hold the rally.
Rajshahi University economics department associate professor Md Farid Uddin Khan held a march on bare foot from the university Shaheed Shamsuzzoha Chattar to Shaheb Bazar Zero Point area in the morning protesting against the ongoing rape and violence on women.
Professor Farid Uddin Khan urged people to break the silence and speak out against all forms of rape, sexual harassment and violence against women
The leaders and activists of Islami Andolon Bangladesh and Imam and Ulema Mashayekh held separate protest processions in the city demanding capital punishment of the rapists.
New Age correspondents reported protests in Sylhet, Khulna, Jashore, Mymensingh, Gazipur, Narayanganj, Sunamganj, Noakhali, Kishoreganj, Thakurgaon and Netrokona districts.
Want stories like this in your inbox?
Sign up to exclusive daily email
More Stories from Country