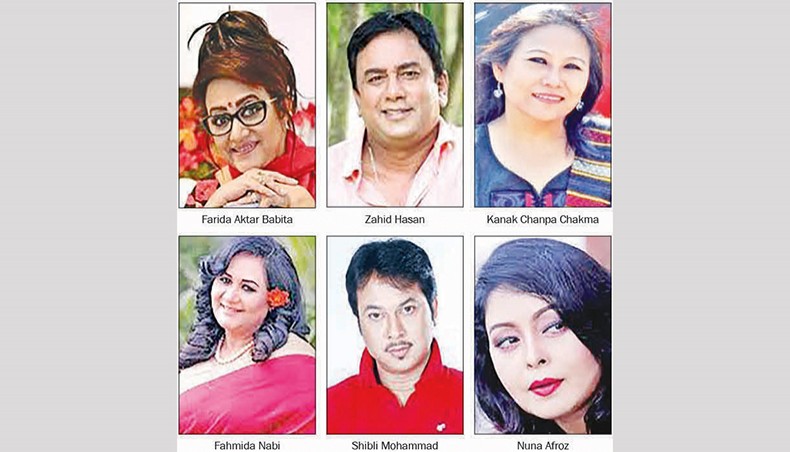 Artistes from different fraternities demanded exemplary punishment for those who are involved in rape and violence against women.
They said that rape incidents were increasing across the country due to deterioration of moral values in society. They also demanded exemplary punishment to all rapists so that others will be dissuaded to commit such crimes.
Acclaimed actress Farida Aktar Babita said, 'We should bring the rapists to justice so that others do not even think about committing rape and violence against women. I wonder what drives a man to commit such a heinous act. Are all rapists addicts or are they unable to differentiate between right or wrong? How can a man commit violence against women in his right mind?'
'Family can play an important role in instilling the moral values in children so that they do not grow up to be rapists,' added Babita.
Popular Actor Zahid Hasan said, 'Ethical and moral values are gradually diminishing in society as a result people are acting like animals. We have to ensure that rapists cannot get off the hook exploiting legal loopholes. If they are awarded exemplary punishments, others will be discouraged to commit similar crimes.'
Leading female painter Kanak Chanpa Chakma said, 'Though rapists get arrested after committing crime, but how many of them get punished? We have to make sure that rapists do not get bail until the trial is over. If they are able to come out of the jail easily, they will commit the same crime again.'
'I think that rapists often receive help from powerful quarters. Besides, the patriarchal society always blames the victim or her family instead of the criminals. All rapists should be awarded exemplary punishment and we also have to ensure women's right,' Kanak added.
Popular singer Fahmida Nabi said, 'We need to award capital punishment to culprits. We have seen that many educated people have been committing violence again women. Rapists should be hanged till death at public places so that no one dares to commit such a heinous act again. Parents should develop good relationship with their children and instil moral values in them.'
Renowned dancer Shibli Mohammad said, 'We must award capital punishment to rapists. I think that the rise of drug addiction, greed and tendency to flaunt power in society have contributed to the rise of violence against women. If the rapists aren't awarded exemplary punishment, they will commit the crime again and again. The law enforcement agencies should work harder to curb such crimes. Steps should be taken to resolve pending rape cases so that people don't have to wait for long to get justice.'
Theatre activist Nuna Afroz said, 'Nowadays moral values are deteriorating in society. Rape is a heinous crime and rapists have to be awarded exemplary punishment. I think drugs are a key reason behind the rise in rape incidents and violence against women. We need to create social awareness against drug abuse and violence against women.'
Want stories like this in your inbox?
Sign up to exclusive daily email
More Stories from Miscellany