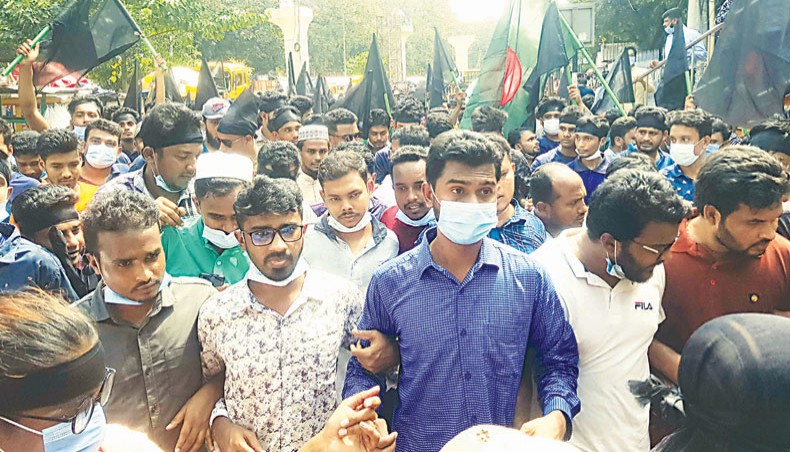 Different political and student organisations, socio-cultural, rights groups and students of different educational institutions across the country on Wednesday continued their protests against rape and violence against women for the third consecutive day.
The demonstrators protested against the government inaction and the failure of the law enforcement agencies to stop violence against women, involvement of leaders and activists of the ruling Awami League and its front organisations in such offences and the culture of impunity for which such incidents are continuing unabated.
Protesters at places demanded the resignation of the home minister for his failure to curb violence and demanded amendment to the law to include the provision of death sentence for rape.
Protests flared up across the country after the rape of a newly-wed woman on MC College premises by leaders and activists of AL's student organisation Bangladesh Chhatra League on September 25.
The protests spread further after a video of a 37-year-old woman getting sexually assaulted and tortured by a group of youths in Begumganj upazila in Noakhali went viral on social media on October 4.
The video showed that the offenders, aged between 20 and 30, stripped the housewife naked, molested her and started beating and dragging her as she kept begging for mercy holding on to one of the offender's legs in a village of Eklashpur union of the upazila.
Meanwhile, the Noakhali victim on Tuesday night filed a fresh case accusing detained Dalwar-gang ringleader Dalwar Hossain and his associate Abul Kalam for raping her about a year ago.
Noakhali superintendent of police Alamgir Hossain told New Age that the case was filed on the basis of the victim's complaint to the National Human Rights Commission on Tuesday.
NHRC director Al Mahmud Fayzul Kabir, who spoke to the victim on Tuesday, told reporters that Dalwar had raped the victim several times and captured videos of his assaults but the victim did not disclose it earlier as she felt insecure.
A team of the Rapid Action Battalion arrested Dalwar at Siddhirganj of Narayanganj on October 5.
Dalwar, on his Facebook page, identified himself as a Juba League man and uploaded several photos with leaders of AL and its front organisations.
A number of Begumganj AL leaders said that a section of local AL leaders backed Dalwar who was involved in committing crimes and drug peddling in his area.
On October 4, the Noakhali victim lodged two other cases, one under the Women and Child Repression Prevention Act and the other under the Pornography Control Act, naming nine people of Dalwar's gang and seven or eight unidentified others.
The police on early Wednesday arrested Md Sohag and Nur Hossain alias Russel, both of them members of Dalwar gang, in connection with the two cases, SP Alamgir said.
The RAB in a text message on Wednesday evening said that they arrested Kalam, accused in all three cases, from a location of Daudkandi upazila in Cumilla.
With the three, all nine suspects have now been arrested in the two cases.
On Wednesday, the police produced accused Saju, Sohag and Nur before the court of Noakhali Judicial Magistrate-3 judge Mashfiqul Haque who allowed police a six-day remand for Saju in two cases and a two-day remand for Sohag and Nur in the case under the Women and Children Repression Prevention Act, New Age correspondent in Noakhali reported.
With the three, a total of seven arrested suspects are now under police remand.
In Dhaka, Progressive Students' Alliance and other left-leaning student organisations began demonstration holding posters announcing their demands.
They were chanting slogans against rape and violence criticising the role of the police and government inaction in resisting such incidents.
Before ending their day's protest in the evening, Dhaka protesters gave voice to their anger by singing songs and reciting poems defying rain.
Leaders and activists of Chhatra Odhikar Parishad under the banner of 'Dharshan O Nipiran Birodhi Chhatra Janata' held a rally at Shahbagh in the capital at about 1:00pm when immediate past Dhaka University Central Students' Union vice-president Nurul Haque Nur alleged that the ruling party men were involved in rapes and violence against women and they were able to continue with their crimes due to a culture of impunity.
The protesters then brought out a precession carrying black flags to lay siege to the home ministry and as they reached Gulistan zero point, police obstructed their protest precession, forcing the protesters to hold a brief rally there.
Nur demanded the resignation of the home minister and announced holding a mass gathering on every Friday at Shahbagh protesting against the unending incidents of rape and violence against women.
Student protests were also reported from the capital's Uttara, City College intersection and Kakrail areas.
Bangladesh Nationalist Party held a protest rally in front of the National Press Club in the city in the morning.
Bangladesh Chhatra Mission, student organisation of Bangladesh Labour Party, staged a demo at the capital's Purana Paltan in the city.
Students of Dhaka University in the capital as well as Jahangirnagar University at Savar staged demonstration on their campuses.
In Chattogram, Greater Noakhali Lawyers Welfare Association formed the human chain in front of Chattogram deputy commissioner office and non-governmental organisations.
Young Power in Social Action, Ain O Salish Kendra and Dharshan Biradhi Chhatra-Janata staged demonstrations in front of Chattogram Press Club.
In Faridpur, 20 voluntary organisations formed a human chain in front of the Faridpur Press Club and took an oath of resisting rape and violence against women.
New Age correspondents reported similar protests in Gazipur, Barishal, Khulna, Sylhet, Rajshshi, Mymensingh, Noakhali, Jashore, Narayanganj, Manikganj, Rangpur, Kurigram, Jashore, Nilpharami, Jamalpur, Thakurgaon, Panchagarh, Narail, Jhenaidah, Netrokona and Naogaon districts.
As the protest against rape and violence against women spread, news of at least six incidents of rape surfaced at different places of the country on Wednesday.
Want stories like this in your inbox?
Sign up to exclusive daily email
More Stories from Country