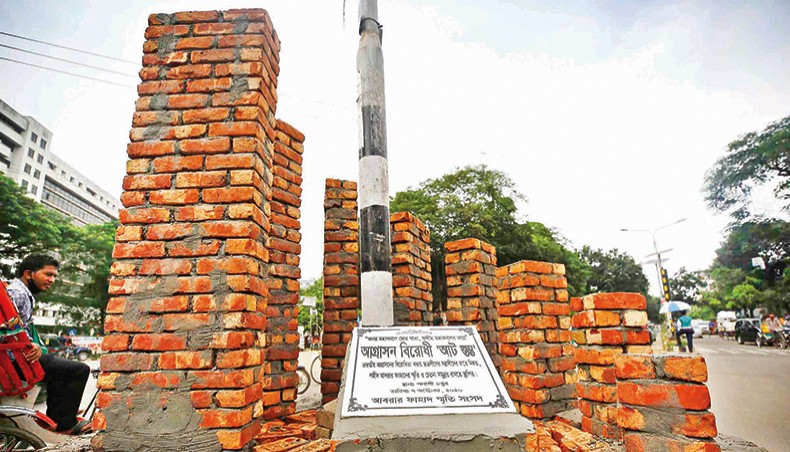 A memorial was erected in the Plassey crossing, adjacent to the Bangladesh University of Engineering and Technology, in memory of the university student Abrar Fahad marking his first death anniversary on Wednesday.
Abrar Fahad Smriti Sangsad built the memorial, Agrasan Birodhi Aat Stambha, having eight pillars, symbolising protests against aggression.
Abrar, 21, a second-year electrical and electronic engineering student of BUET, was beaten to death in the university's Sher-e-Bangla Hall by Chhatra League leaders and activists early October 7, 2019 apparently for his critical views of the government and Indian 'aggression' on Bangladesh posted on social media.
The brutal murder sparked countrywide street protests and condemnations in home and abroad.
The eight pillars symbolise sovereignty, democracy, mass protection, communal harmony, economic self-reliance, protection of local industries, agriculture, rivers, forests and ports, cultural independence and human dignity, said leaders and activists of Bangladesh Chhatra Odhikar Parishad who mainly formed the Abrar Fahad Smriti Sangsad.
'We paid tribute to Abrar by constructing the memorial. He is the symbol of protests against the Indian aggression,' said Dhaka University Central Students' Union's former social welfare secretary and Chhatra Odhikar Parishad leader Akhter Hossain.
The plaque of the memorial sports a quotation from Abrar Fahad's Facebook wall that reads, 'My journey towards eternal eternity, at the end of infinite space'.
The plaque further reads, 'Established to commemorate and uphold the spirit of Shaheed Abrar Fahad, killed by Chhatra League criminals for opposing Indian aggression.'
Marking his first death anniversary, Bangladesh Chhatra Odhikar Parishad also staged a protest against 'Indian aggression' on Dhaka University campus.
BUET registrar Mohammad Forkan Uddin in a statement on Wednesday expressed sympathy for Abrar's bereaved family members and prayed for eternal peace of his departed soul.
The trial of 25 BCL leaders and activists, of which 22 arrested, began in a court in Dhaka on October 5, two days before his first death anniversary.
Want stories like this in your inbox?
Sign up to exclusive daily email
More Stories from Country