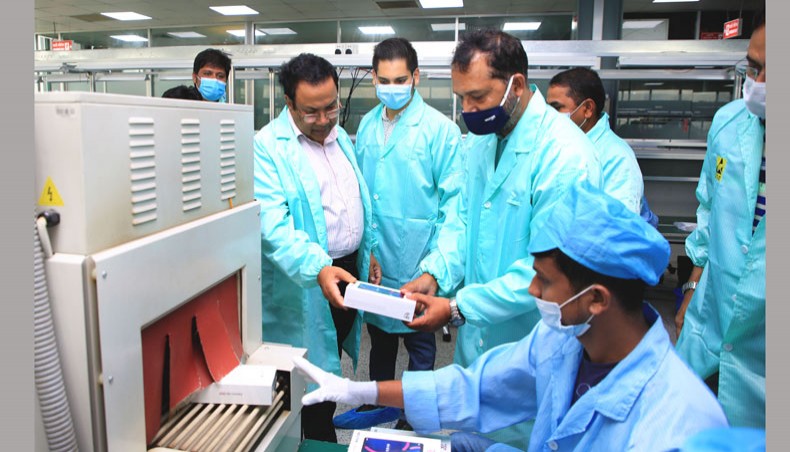 Bangladesh Telecommunication Regulatory Commission chairman Md Jahurul Haque praised Walton saying that the brand was one of the biggest local companies with a giant factory with cutting-edge technologies and machinery.
The BTRC chairman said this during a visit at the Walton factory in Gazipur's Chandra area on Monday.
'Walton factory is not only well-equipped with advanced machinery, it is well furnished with compliance and health-friendly working environment. Doing business maintaining the rules and regulation, Walton is greatly contributing to the national economic progress. Walton proved that we also produce high quality devices,' said Jahurul Haque.
The chairman led a 10-member BTRC delegation that consisted with BTRC vice chairman Subrata Roy Maitra, commissioner Aminul Hasan, secretary Md Jahirul Islam, director Lieutenant Colonel Mohammod Faisol, deputy director Md Sohel Rana, senior assistant director Sunjib Kumer Singha, personal secretary to chairman Md Shahidul Islam, assistant director Md Mintu Pk, and deputy assistant director Amina Parvin.
Walton Digi-Tech Industries managing director SM Monjurul Alam Ovee welcomed the BTRC chairman and his entourage.
Walton deputy managing director Alamgir Alam Sarker, executive directors Md Humayun Kabir, Yusuf Ali, SM Rejoan Alam, retired colonel SM Shahadat Alam, senior deputy executive director Firoj Alam, deputy executive director Adnan Afzal, senior operative director Fahim Rashid, first senior additional director Milton Ahmed and the company's other senior officials were present.
Want stories like this in your inbox?
Sign up to exclusive daily email
More Stories from Commodities