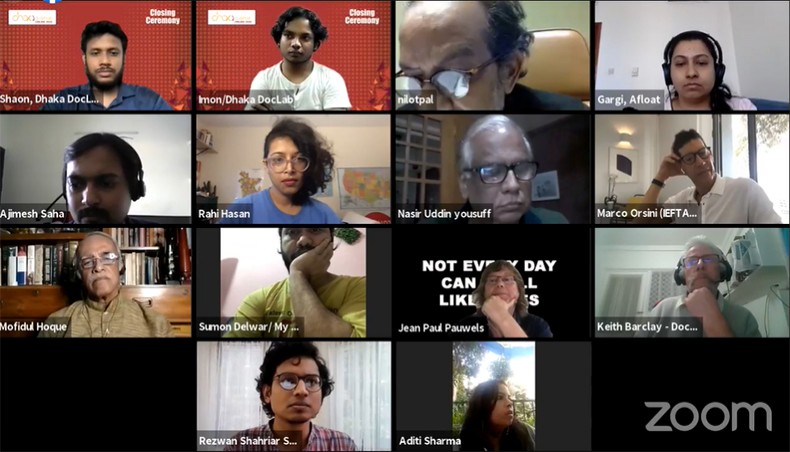 The fourth edition of Dhaka Doclab, an international workshop-cum-market pitching programme for promoting South Asian filmmakers in international market, ended on Saturday with an online closing ceremony.
Indian filmmaker Ajimesh Saha's 'An Insignia of a Forced Winter' received the Best Project award at this year's event which was arranged virtually due to COVID-19 crisis.
The event also presented six other awards this year.
'Munni' (Bangladesh), directed by Tahrima Khan, bagged Pitch Award and IEFTA showcase at Dok Leipzig Award while 'Jute Days of Our Life' (Bangladesh), directed by Istiak Mahmood Shaon, won IEFTA Mentorship Prize and DocEdge Kolkata Award.
Besides, 'Afloat' (South Asia), directed by Arkus, bagged Pitch Award and Centre for Documentary Studies at Duke University Award went to Rawyan Shayema directed film 'Chronicles of Pandemic!' (Bangladesh).
Dhaka DocLab-2020 commenced online on August 23. The mentoring session (South Asia & Asia Pacific) was held from August 24 to 27 and rough cut lab session was held from September 13 to 15. The pitching session took place from September 29 to 30. The one-to-one meeting session was held from September 29 to October 2.
Liberation War Museum trustee Mofidul Hoque, Dhaka DocLab chairman Nasir Uddin Yousuff, founder president of Documentary Resource Initiative (DRI) Kolkata and Indian director, editor and cinematographer Nilotpal Majumdar, industry producer at the Doc Edge New Zealand Keith Barclay, managing director of Congoo bvba, Belgium Paul Pouwels, programme coordinator of the Documentary Arts Continuing Education Programme at the Centre for Documentary Studies (CDS) at Duke University in the United States Rahi Hasan and others participated in the closing ceremony, which was presided over by Dhaka DocLab director Tareq Ahmed and held using Zoom.
Liberation War Museum trustee Mofidul Hoque said, 'I would like to congratulate all the winners and participants of this year's Dhaka DocLab. It is a great initiative which the LWM has hosted since its beginning except for this year's edition that was held online due to the ongoing pandemic situation. On behalf of the LWM, we also thank the mentors for making this event a success.'
'We have to give more space to the women according to our SDG goal, and it has been decided that the ratio of participation should be 30:70 but the goal is 50:50, and we hope that in next year's edition of Dhaka DocLab, it will be a 50:50 participation and more awards will go to the women filmmakers,' he added.
In his vote of thanks, Dhaka DocLab chairman Nasir Uddin Yousuff said, 'We have already congratulated the recipients of this year's Dhaka DocLab awards but the participants who didn't win awards have equally contributed to this year's Dhaka DocLab. We are grateful to our mentors who have given us their valuable time. We also thank the decision makers for making the important decisions and showing their interest in Dhaka DocLab.'
Expressing his gratitude to the Cosmos Foundation which has been the founding partner of the Dhaka DocLab, Nasir Uddin Yousuff mentioned, 'We want to thank our long-time partner for the last four years, Cosmos Foundation, which has always played a very important role, and they have been a great support to our event this year.' He also thanked the Bangladesh government for providing financial assistance.
Nasir Uddin Yousuff also thanked Dhaka DocLab director Tareq Ahmed, co-directors Samia Zaman and Syed Imran Hussain Kirmany and all the volunteers for their constant support to Dhaka DocLab-2020.
Want stories like this in your inbox?
Sign up to exclusive daily email