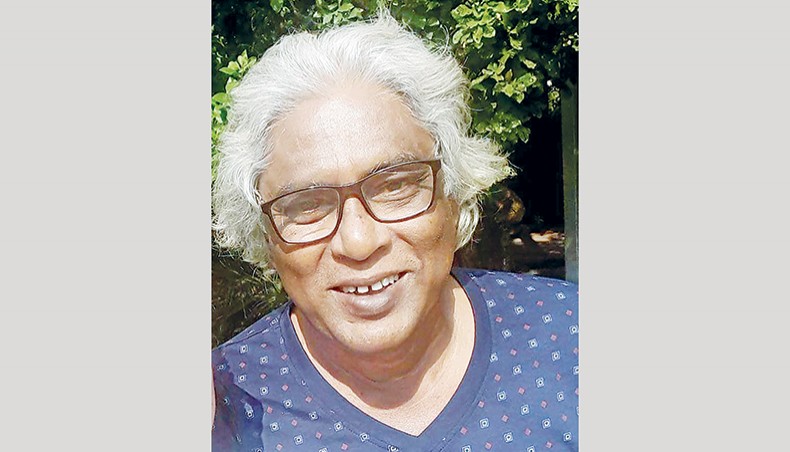 Ekushey Padak-winning artist Monsur Ul Karim died on Monday morning at the age of 70 while undergoing treatment at United Hospital in the capital.
He had been suffering from various diseases including heart disease and pneumonia.
'My father died at around 11:00am at United Hospital. We admitted him to the hospital on September 27 with heart disease. He was undergoing treatment for heart disease and pneumonia. He was tested COVID-19 negative', Monsur Ul Karim's daughter Shahida Mosur told New Age.
Monsur Ul Karim is survived by his two sons and only daughter. He was buried following a namaz-e-janaza after isha prayers at Natunbazar in Rajbari district.
Noted artists expressed their deep shock at the death of Monsur Ul Karim.
Acclaimed sculptor Hamiduzzaman Khan said, 'Though Monsur was junior to me, I had a good relation with him. He was an amazing artist who had created individual signature in his work. He always tried to portray memorable moments in his life through his works. He was a very talented artist of our time.'
'Few days ago, I heard he was ill. He created an art centre in Rajbari where he used to organise workshops and teach children art. He was not only a good artist but also fabulous teacher. He taught many students during his tenure as a teacher. He was a professor of the Institute of Fine Arts in Chittagong University,' said Hamiduzzaman and added, 'He will live on through his works. May his departed soul rest in peace.'
Founder of Mrinmoy Art Gallery in Chattogram artist Sameena M Karim said, 'My mother introduced me to Monsur sir when I got admitted to the Institute of Fine Arts, Chittagong University, in 1989. My mother said to him that I am leaving my daughter with you so that she would remain under your care and supervision.'
'He was like a father to me. He inspired me a lot. Without his inspiration, I won't be where I am today. When I established Mrinmoy Art Gallery in 1994, he gave me courage to move on. He gave me shelter like a banyan tree,' said Sameena.
'My gallery started organising art exhibitions of students and aspiring artists from 2014. He told me that he would do an exhibition at my gallery. I was astonished that an artist of his stature was thinking of exhibiting at my galley. "After exhibiting my works you would get courage," he told me. I cannot believe that he is no more,' Sameena added.
Acclaimed artist Hashem Khan said, 'He was a good student of mine. He had developed a unique style afterwards. He was not only a talented artist and teacher but also a good human being who never misbehaved with anyone. He was very popular among his students.'
'He set up an art centre in Rajbari with his entire life savings. I visited the place three times. When I visited the place, I found serenity. It was a wonderful place for any art enthusiast. His passing away has left a huge void in the country's art scene,' Hashem Khan added.
Monsur Ul Karim was born on March 1, 1950 in Rajbari. He completed his BFA from the then Institute of Fine Arts, University of Dhaka, in 1972 and obtained his master's degree from the University of Chittagong in 1974.
He was awarded Ekushey Padak in 2009. He also received the Grand Award in the 8th Indian Triennial International, New Delhi, 1994 and the Grand Award in the 6th Asian Art Biennale Bangladesh, Dhaka, 1993.
Monsur Ul Karim retired as a professor at the Institute of Fine Arts of Chittagong University. After his retirement, the artist had been living in Rainagar in Rajbari where he also set up an art space for students and young artists.
Want stories like this in your inbox?
Sign up to exclusive daily email
More Stories from Miscellany