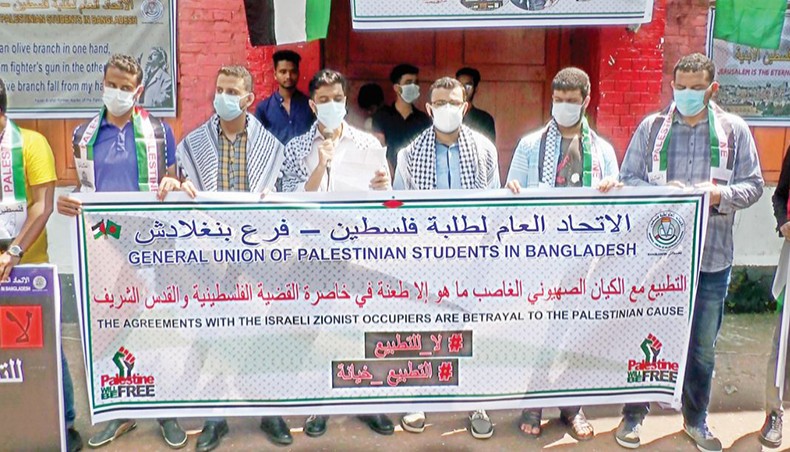 Palestinian students in the divisional headquarters on Saturday protested against establishing relationship with Israel by some Muslim states.
Palestinian Students Association, an organistion of the Palestinian students studying at Barishal, formed a human chain in front of Ashwini Kumar Hall at city centre.
They also thanked Bangladesh for continuing its friendly relationship Palestine and supporting its causes for long.
Bangladeshi classmates and friends of the Palestinians also joined the human chain holding banners and placards supporting them.
They demanded restoration of the Palestine's map which has been reduced gradually through the illegal Israeli aggression.
Student leaders Idris Fi, Hatim Raba, Md Murtaza, among others, studying at Barishal Sher-e-Bangla Medical College, spoke at the human chain.
They said that Palestine is not only their motherland but land of all Muslims where the third holy place Al Aqsa mosque is situated.
'Israel illegally and forcibly occupied our motherland. They torture us, kill us every day,' said a protester.
'Establishing relationship of some Muslim states with Israel is not only condemnable, but also against the humanity,' he said.
Want stories like this in your inbox?
Sign up to exclusive daily email
More Stories from Foreign affairs