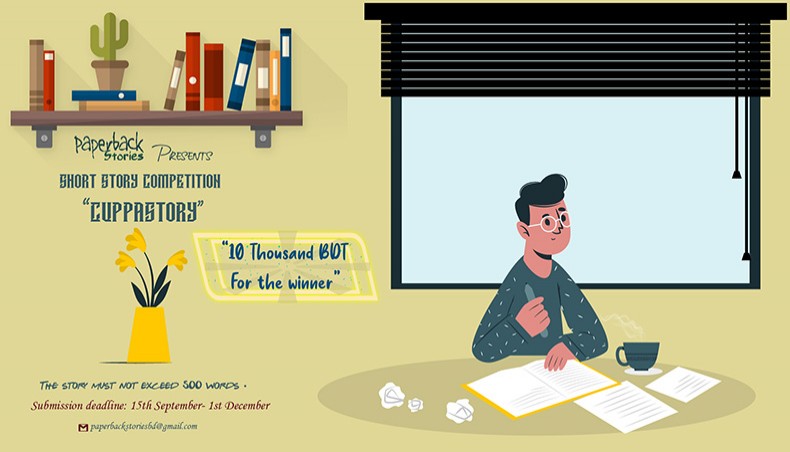 Paperback Stories is an online fiction writing platform with more than 80,000 people. Established in 2015, the platform has already become a hub of inspiration for many young writers. They have launched a story writing competition titled Cuppastory. Taiyeba Hossain Shifa writes about the competition
THE novel coronavirus has entrapped our lives into a real quandary. In this moment of uncertainty, our hearts are indeed heavy. There is no certain vaccination for the pandemic but sure there is a cure to the heart. For ages, writers have expressed their feelings regarding the uneasiness of their heart. We thought of something similar too.
So, wait no more because to take over when everything else fails to cure, your very own Paperback Stories, the largest online writing platform of Bangladesh is right here. Paperback Stories and MeataHolic has decided to host their first-ever online short story writing competition 'Cuppastory' to dodge the weariness of the quarantine.
The online short story writing something is not only for the youth but for people of every age, gender and ethnicity. Because we, at Paperback Stories, believe there is no age to write and no barrier to letting your creativity dip in words. And also equality and diversity policies reside at the heart of Paperback Stories. We also believe that we are liable for the impact of our activities on our community so it is of utmost importance for us to build up positivity among our writers and readers and with whom we work with.
Cuppastory comprises of three rounds of primary submissions; the first round commenced on September 15 and will conclude on November 15. The stories are allowed to be written in any format, either Bengali or English and are encouraged to be within 500 words. The competition is inclusive of a submission fee of 200BDT being paid into the Bkash account of Paperback Stories to complete the registration process.
Writers will be able to submit up to two write-ups however, writers are eligible to submit more than that with an additional submission fee. The second round will be a strict selection of the best ten writings and will be judged from both ends — social media outreach and the quality of the content.
We have tried to keep less percentage of marks to the contents' social media engagement because we believe media outreach is not a fair approach to judge the qualitative factors of a piece. So 25 per cent of the scores will be determined by the number of likes, comments and shares as provided by the audience. But 75 per cent of the score is reserved for creativity, originality, content diversity, writing style and overall appeal of the piece.
To be able to ensure a positive atmosphere for participants of Cuppastory and their write-ups, writer representatives are also being recruited to facilitate social engagement such as generating likes, shares and encouraging their friends to participate. They can also be a medium to boost courage among friends and family who are unable to express their interests in participating or too introvert to public appearances. Representative also can be an active participant in the competition.
The second round of the competition is a lot about heartbreaks but also excitement as after surpassing the required criteria, quantitatively ten best write-ups will be published on the Paperback Stories group for the second round will end on November 16.
The final round is about picking the winner among the best ten writers selected. The three best write-ups will be selected and rewarded accordingly. The final round updates will be announced later on the Paperback Stories official page and group on Facebook. And three of the winning write-ups will be published on the Facebook page declaring an end to Cuppastory. Further details regarding the second and the final round will be provided to the contestants with the progress of the competition.
The winner of Cuppastory will be rewarded with prize money of TK 10,000. While the second and third place holders will be presented with books and goodies. Further publications of final stories on mainstream media and its compilation into a book format are in talks and are subject to the availability of the terms of the publisher, meaning that it might be possible to become an acknowledged published writer of Bangladesh.
Writer representatives will receive e-certificates for their contribution and might be rewarded with tokens of appreciation on the contribution and dedication being fulfilled by them as promised. However, all of the participants of Cuppastory are going to receive virtual certificates from Paperback Stories.
Cuppastory is the result of the dedication of many writers and readers who makes Paperback Stories so big of a place. It is also due to the brilliant minds behind Paperback Stories working as editors, admins and officers who tirelessly work to provide their readers and writers with the utmost convenience and good services. We believe that everyone has a story and every story is unique. Therefore, it is encouraged that the world gets to read through those stories and experiences as writers continue to write anonymously.
So what is keeping you busy? Get your imagination do it for you as you are the craftsman of your words. Start drafting your masterpiece already.
Taiyeba Hossain Shifa is the chief executive officer of Paperback Stories.
Want stories like this in your inbox?
Sign up to exclusive daily email
More Stories from Initiative