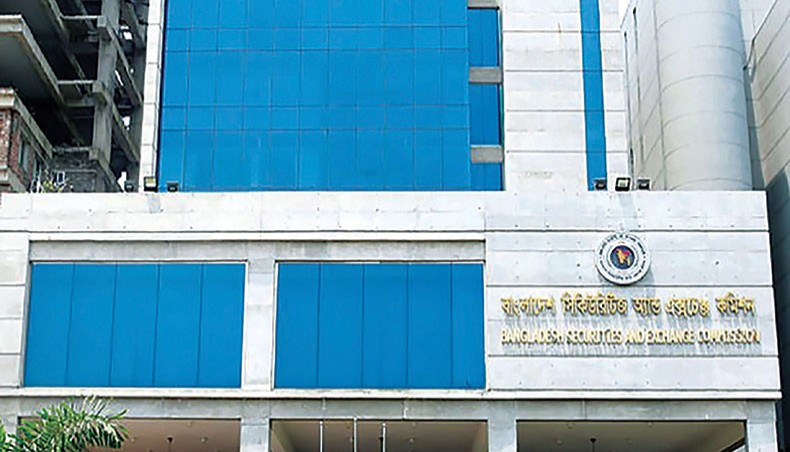 The Bangladesh Securities and Exchange Commission on Wednesday decided to delist four companies trading on the over-the-counter market and two debentures after repaying claims of the general investors.
The BSEC made the decision at a commission meeting presided over by its chairman Shibli Rubayat Ul Islam, a BSEC press release said.
The four OTC companies set to be delisted from the market are Bangladesh Chemical Industries, Bangladesh Dyeing & Finishing Industries, Bangladesh Luggage Industries and Bangladesh Zipper Industries Limited.
Two debentures issued by DOEL Group of Industries Limited are BD Zipper 14 per cent Debenture and BD Luggage 14 per cent Debenture.
Debenture is a debt instrument which lets the company to collect the face value of the debentures from the lenders.
The company is liable to pay a specific interest on the face value every year and also bound to pay the face value to the lenders after the validity expires.
Eight debentures were listed on the Dhaka Stock Exchange before 1998 but have not been traded for a decade.
The BSEC press release also said that the BSEC suspended trading of the securities in order to pay back investment of general and institutional investors in the companies and debentures.
Both of the stock exchanges will jointly operate an escrow account to pay the claims of debenture and shareholders at face value or issue price or negotiated price, the press release said.
The BSEC formally launched the OTC market on September 6, 2009 in an effort to facilitate the trading of de-listed companies.
Currently, there are 64 companies on the OTC market which started its journey with 51 companies in 2009.
Around 15 companies listed on the OTC market have no manufacturing or production activities while no shares of around 30 companied changed hands on the OTC trading floor in the last one year.
Market experts said that the OTC market must be reformed to save the interest of the general investors.
After inception of the OTC market, four companies were shifted to the main bourse following improvements in their business.
The BSEC at the meeting also decided to appoint two independent directors to the board of directors of Union Capital Limited, a listed company trading in the 'Z' category.
The commission observed anomalies in complying with corporate governance code and in submission of quarterly financial statements by the company.
As per a recent notification issued for ensuring governance in the 'Z' category companies, the BSEC decided to appoint two independent directors to the board of Union Capital Limited, the press release said.
According to the notification, the commission may appoint any official of the commission, or any person or assign any competent independent director as an observer to observe the affairs
of the company and in the meeting of the board of directors, for the purpose of reconstitution of its board.
Want stories like this in your inbox?
Sign up to exclusive daily email