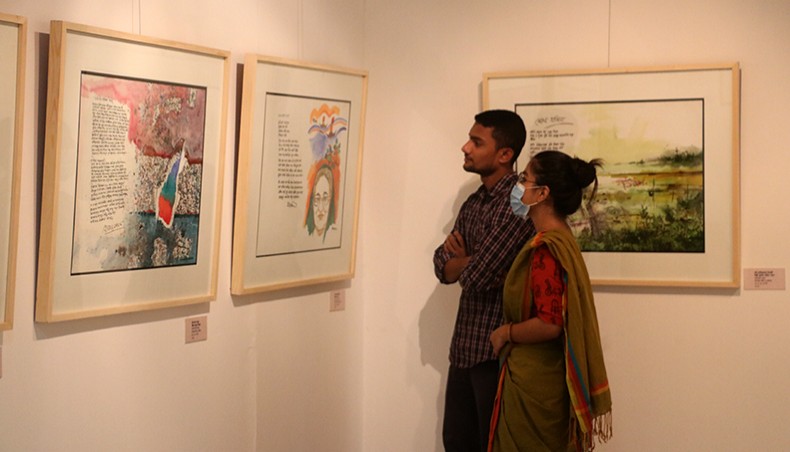 A month-long group art exhibition portraying the political, personal life and works of prime minister Sheikh Hasina titled 'Unnayaner Kabi, Manabatar Maa', is underway at the National Art Gallery of Bangladesh Shilpakala Academy.
Bangladesh Shilpakala Academy, in association with cultural affairs ministry, has organised the exhibition marking the 74th birthday of Sheikh Hasina.
State minister for cultural affairs KM Khalid, eminent novelist and writer Selina Hossain and secretary to the ministry Md Badrul Arefin attended the inaugural ceremony which was held at the auditorium of National Art Gallery on September 28.
BSA director general Liaquat Ali Lucky presided over the programme which was anchored by Nobonita Chowdhury.
The inaugural ceremony featured special cultural performances by renowned artistes and performers. Singers Fahmida Nabi, SI Tutul and Ibrar Tipu performed songs, BSA dance artistes presented special dance performances and poets Shahjadi Anjuman Ara and Golam Sarwar recited poems dedicated to Sheikh Hasina.
The exhibition features works by 144 artists. More than 200 artworks and an installation portraying Sheikh Hasina's personal, political life and contribution to the country have been created by both emerging and acclaimed artists. The works are on display at National Art Gallery 3, 4 and on the premises of the National Art Plaza of the BSA.
The artworks at gallery 4 have been divided into two segments one featuring a total of 43 portraits of Sheikh Hasina created by artists, namely Shahabuddin Ahmed, Sheikh Afzal, Julfikar, Sujon Mahabub, Manik Banik, Shrijani Das Apu, Kamal Pasha Chaudhury, Shahjahan Ahmed Bikash, Jamal Ahmed and others at BSA's special art camp titled 'Rekhachitre Janani'.
Another segment features a total of 14 artworks that have been created using paper, ink and watercolour by 14 prolific Bangladeshi artists based on 14 poems by leading poets of the country.
Each work is accompanied by the poem it is based on.
Artist Shamarjit Roy Chaudhury has displayed an artwork based on Nirmalendu Goon's poem titled 'Pathe Pathe Pathor'. The work depicts flora and fauna, scenic beauty along with ancient buildings.
Hashem Khan has created an artwork based on Tarik Sujat's poem 'Ajhor Brishtite'. It depicts Sheikh Hasina smiling while several hands are seen waving at her.
Abdul Mannan has displayed an artwork based on poet Akther Hosain's poem titled 'Tumi Chhara Keu Shune Na'. The work portrays broken violin and tanpura.
Alakesh Ghosh has created an artwork based on Mohammad Nurul Huda's poem titled 'Shanti Kanya Sheikh Hasina'. The work depicts country's founding president Sheikh Mujibur Rahman, white dove and a boat plying a river with its sail hoisted.
The artworks at gallery 3 comprise a total of 134 paintings made at another BSA-organised art camp titled 'Sheikh Hasina: Bangladesh-er Swapna-Sarathi'.
Shuvro Talukder's work titled 'Badhanhara', an acrylic on paper work, portrays Sheikh Hasina spending time with children.
Shurubhi Akter's 'Shaishab Smrity' is a portrait of Sheikh Hasina being held as a child by her grandparents.
Abdur Rob Khan's 'Shanskritir Bandhu' depicts Sheikh Hasina as an admirer of cultural activities. In the work, she is flanked by two children wearing colourful costumes.
Additionally, the event features an exclusive installation at the plaza of National Art Gallery, created by 12 renowned artists as a tribute to Sheikh Hasina. It was planned and executed by BSA director general Liaquat Ali Lucky and coordinated by artist Abhijit Chowdhury.
The exhibition will end on October 27.
Want stories like this in your inbox?
Sign up to exclusive daily email
More Stories from Exhibition