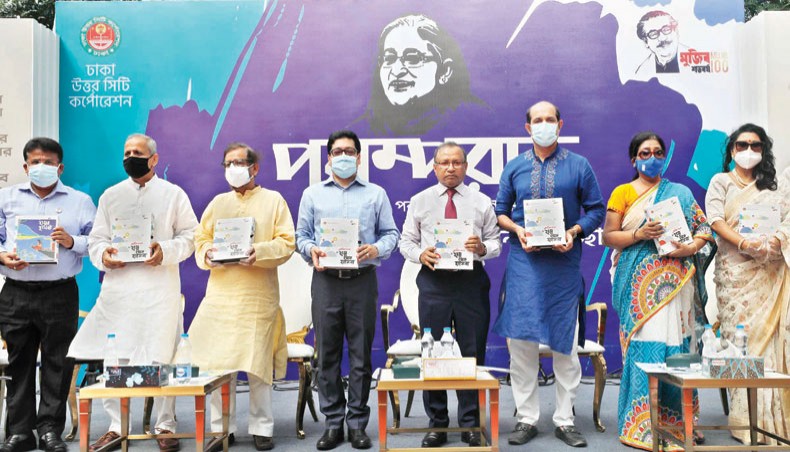 The 74th birthday of prime minister Sheikh Hasina, also president of ruling Awami League, was celebrated across the country on Monday.
The Awami League, its associate and front organisations and different government and private organisations held various programmes marking the day.
Hasina, the eldest daughter of the country's founding president Sheikh Mujibur Rahman, was born at Tungipara in Gopalganj on September 28, 1947.
Sheikh Mujib was assassinated along with all but two of his family members on August 15, 1975 at his Dhanmondi residence in Dhaka by a group of army personnel.
Sheikh Hasina and her sister Sheikh Rehana survived the killing as they were abroad at that time.
Hasina became prime minister of Bangladesh in 1996 for the first time, then in 2009 for the second time, in 2014 for the third time and in 2019 for the fourth time.
She is the longest-serving prime minister of Bangladesh.
Marking the day, AL organised a discussion at the Krishibid Institute of Bangladesh while special prayer sessions held at the Baitul Mukarram National Mosque and other mosques across the country, and at International Buddhist Bihar, Christian Association of Bangladesh's Baptist Church and the Dhakeshwari National Temple in the capital.
Extending birthday greetings to Sheikh Hasina in an online briefing from his official residence, Awami League general secretary Obaidul Quader said that prime minister Sheikh Hasina is the symbol of development as she brought a dignified status for the country in the entire world with glorious achievements.
Sheikh Hasina joined politics in her student life.
During her college life, Hasina was elected the vice‑president of Eden Girls' College Students Union.
Later, she enrolled in master's degree programme at Bengali department of Dhaka University.
After the assassination of her parents in 1975, Sheikh Hasina and her family received political asylum in India, where she stayed till 1981. That year, she was elected the AL president in absentia.
She returned home on May 17, 1981 and ever since has been leading the AL.
In her personal life, Hasina married physicist MA Wazed Miah in 1968. Her husband died on May 9, 2009.
Marking the day, Bangla Academy started three-day programmes, including discussions and book display.
Rupali Bank Ltd arranged a special prayer session after asr prayers in its head office.
Lawmaker Monzur Hossain and its managing director and CEO M Obayed Ullah Al Masud attended the programme, said a press release.
The Investment Corporation of Bangladesh held another prayer session at the head office on the occasion.
Chairman of ICB board of directors Mojib Uddin Ahmed, managing director Abul Hossain and deputy managing director Zakir Hossain were present.
Janata Bank organised a discussion and a prayer session seeking divine blessing for her good health and long life.
Janata Bank chairman SM Mahfuzur Rahman cut a cake on the occasion.
Janata Bank managing director M Abdus Salam Azad, CBA president Rafiqul Islam and CBA general secretary Anisur Rahman were present.
Want stories like this in your inbox?
Sign up to exclusive daily email
More Stories from Politics