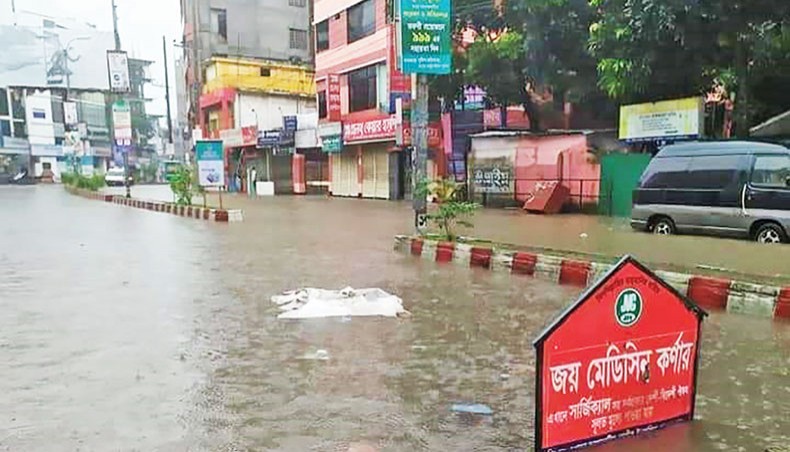 Flood turned severe in 10 northern districts as record-shattering rain battered the region in the last 24 hours until 9:00am on Sunday morning, causing major rivers to rapidly swell and flow with ferocious currents.
Over 1,700 houses and other establishments were washed away by floodwater, impacting nearly half a million people with forecasters warning that the situation might worsen further over the next two days.
Major northern city Rangpur and district towns in north such as Dinajpur, Kurigram, Panchagarh and Lalmonirhat remained almost entirely submerged in water until Sunday afternoon as their drainage systems overflowed.
The cities plunged into darkness due to power outage while people living in remote areas, especially in shoals, saw their agricultural fields and fish farms completely washed away by floodwater.
New Age correspondent in Rangpur reported that a record rain forced many families leave their rickety homes for shelter.
Most of the areas of 33 wards of the city went underwater due to the incessant rain lasting for about 14 hours and causing severe sufferings to the city dwellers.
The rain began at 8.00pm on Saturday night and ended at 10.00am on Sunday while the power supply remained shut for around ten hours.
Rangpur Met office assistant director Mostafizur Rahaman said some 433mm rainfall was recorded during the last fourteen hours.
Many families in the city have left their homes and had to look for alternative shelters while most ended up at their relatives' houses.
The Shyama Sundori canal in Rangpur, the heart of the city's drainage, was already badly silted and was now overflowing, inundating almost every road in the city.
Initially, the Rangpur divisional office of agricultural extension department estimated that the latest flood destroyed aman rice planted on 3,975 hectares.
The divisional fisheries office said that floodwater also washed away 1,326 ponds.
Low-lying areas in 654 shoals in the northern rivers are completely submerged in water and many of the inhabitants would have to leave looking for shelter elsewhere if heavy rain continued.
'I have never seen so much water to pass through the river at this time of the year,' Saiful, 52, a farmer at Gangachara of Rangpur, who lives by the Teesta, told New Age correspondent in Lalmonirhat.
Saiful said that his aman field in four-bigha land was completely under water.
'Flood has killed all our hopes. It has finished us this year,' said Saiful.
Water Development Board executive engineer Jyoti Prashad Ghosh said that the situation may remain more or less the same over the next seven days.
The rivers in north such as the Dharla in Kurigram and Gur in Natore have swelled on an off since September 16, when the parts of the northern region were hit by the fourth wave of flood since monsoon had begun in June.
The first three waves came in quick successions after late June because of excessive rain in upstream areas such as Assam and West Bengal and Sikkim.
The flood quickly spread affecting over five million people in nearly 40 per cent of Bangladesh.
Rivers overflowed over two dozen places at the peak of the flood that finally receded 64 days later in late-August with initial damage estimated at Tk5972 crore.
The latest deterioration in flood situation came overnight with many stations in the north recording unusual rain in the last 24 hours until 9:00am on Sunday.
Bangladesh Meteorological Department said that 449mm rain was recorded in the last 30 hours since 6:00am on Saturday at Rangpur.
The met office said that so much rain is very unusual as in 1979 the city experienced a record 290mm of rainfall in 24 hours.
Flood Forecasting and Warning Centre's daily flood report showed that 255mm rainfall was recorded at Dalia, Lalmonirhat in the last 24 hours while 315mm in Panchagarh and over 100mm rainfall recorded at Kurigram, Thakurgaon and Dinajpur.
The FFWC predicted that the Brahmaputra might swell over the next 24 hours while the Ganges might overflow over the next 72 hours.
The Padma might also rise through Monday, said the FFWC, also adding that rivers in north-eastern region were also swelling.
The FFWC daily flood bulletin showed that nine rivers were flowing above their danger marks in 10 northern and two coastal districts.
The rivers overflowing are Jamuna, Jamuneswari, Dharla, Atrai, Karatoa, Gur and Tangon.
Senior meteorologist Abdul Mannan said that the rain would continue at least for the next two days because the low under whose influence the rain occurred would likely to move inland and weaken gradually.
'Rain is likely to increase over Mymensingh and Sylhet over the next two days but decrease over Rangpur during the same time,' said Mannan.
The situation is likely to keep worsening for the next few days even if rain stopped with India opening more floodgates at Gojoldoba abd Chetnai barrages.
Executive engineer at Dalia station said that India opened 12 floodgates at Gojoldoba barrage with 42 of 54 gates allowing huge amount of water to pass towards Bangladesh following heavy rain in upstream areas.
Jyoti Prashad Ghosh said that the reason behind Jamuneswari rapidly swelling was opening of the floodgates at Deonai barrage.
New Age correspondent in Kurigram, quoting local agricultural extension office, said that 16,779 hectares of crop have been damaged by the flood.
Multiple monsoon floods are not rare in Bangladesh but the sudden release and withdrawal of water from upstream often put the country in a corner, struggling to deal with floods during monsoon and drought in some regions during dry season.
Although meteorologically monsoon expands from June to August, the post-monsoon months of September and October could also get significant precipitation.
Last year, monsoon lasted as late as until the third week of October.
Want stories like this in your inbox?
Sign up to exclusive daily email
More Stories from Country