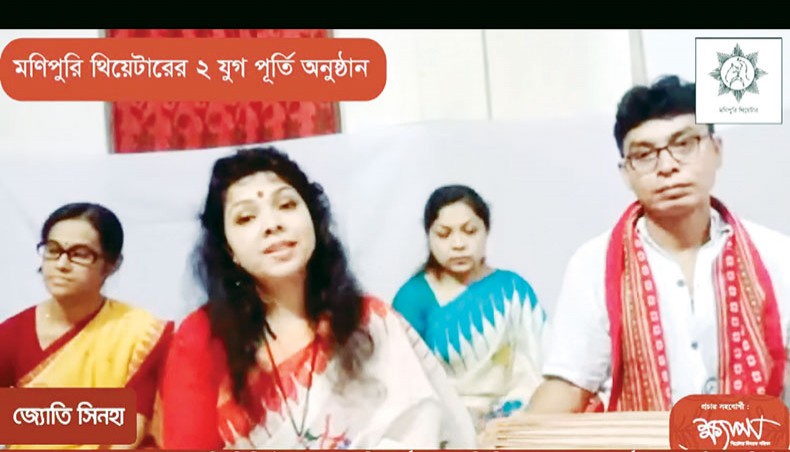 Moulvibazar-based Manipuri Theatre celebrated its 24th founding anniversary organising an online programme on Saturday.
The event, titled 'Manipuri Theatre-er 2 Jug Purti', featured music show, discussion, quiz competition and others. It was streamed live on the Facebook page of the troupe at 10:00pm.
Manipuri Theatre president Shuvashi Sinha along with troupe members Sharmila Sinha, instrumentalist Bidhan Chandra Sinha, Swarnali Singha, Somajit Singha, and others participated in the event.
Shuvashish Sinha delivered the welcome speech.
'First of all, I want to recall my father Lalmohan Singha who was the patron of Manipuri Theatre. I also thank all troupe members and audience for their support during our 24-year journey. We are working to promote Manipuri culture across the country. Though every year we celebrate the troupe's founding anniversary organising various colourful events, this year we have organised an online programme due to COVID-19 outbreak,' said Shuvashish Sinha.
Manipuri Theatre member Sushanta Singha recited a traditional pala titled 'Nandan Pala', Bidhan Singha rendered a song in Manipuri language Je ba galo nihi phirlo and Aruna Singha recited 'Shri Krishna Kirtan', Sharmila Sinha sang Oi asantaler matir and Ami je tomari and Bidhan Chandra Sinha presented an instrumental recital. Besides, singer Humayan Azad Rawaz rendered Bari Siddiki's popular song Aj nisite aste pare amar bondhu and a folk song Ananda bazar chol jai.
The troupe also streamed recorded videos of its 20th founding anniversary celebration programme, which was held at the National Theatre Hall of Bangladesh Shilpakala Academy in 2015.
Manipuri Theatre made its debut on September 26, 1996 at Kamalganj, Maulavibazar with the play 'Megh Brishti Roud'.
The troupe, recipient of 'Arju Smriti Natya Padak 2008' and 'SM Solaiman Pranodona 2013', has produced plays in both Bangla and Manipuri languages.
It has produced 35 plays till date including 'Kohe Birangana', 'Megh Brishthi Roud', 'Ajobpurer Barshaboron', 'Nai Razar Razdorbar', 'Kanailaler Shanai', 'Jatraya', 'Sur Besur', 'Kurkunti Sangbad', 'Durbhaga' and 'Shako', 'Debotar Grash' and others.
Want stories like this in your inbox?
Sign up to exclusive daily email
More Stories from Theatre