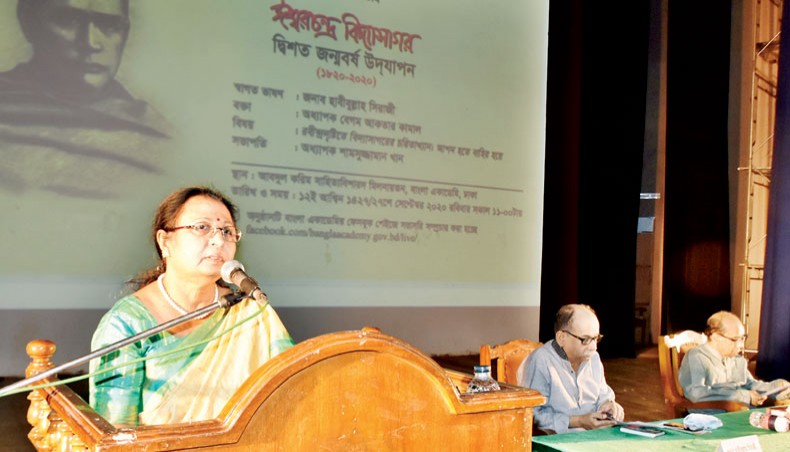 Bangla Academy paid tribute to the Sanskrit scholar, writer, educator, social reformer and philanthropist Ishwar Chandra Vidyasagar organising a solo-lecture at its Abdul Karim Sahityabisharad Milanayatan on Sunday.
The programme, titled 'Rabindradrishtite Vidyasagarer Charitakhyan: Apan Hote Bahir Hoye' was organised by the academy marking Ishwar Chandra Vidyasagar's 200th birth anniversary.
Bangla Academy director general Habibullah Siraj delivered the welcome speech at the programme where professor Begum Aktar Kamal was present as the discussant and professor Shamsuzzaman khan, president of Bangla Academy, presided over the programme. Sayera Habib hosted the event.
Habibullah Siraji said, 'Ishwar Chandra Vidyasagar was a multifaceted talent. He is considered the father of Bengali prose, and is revered for his pioneering role as an educator, social reformer and philanthropist. Bangla Academy has plans to publish a special magazine, souvenir, and an omnibus marking his 200th birth anniversary.'
Professor Begum Aktar Kamal said, 'According to Rabindranath, Ishwar Chandra Vidyasagar was an iconic social reformer. He is known for his unparalleled personality and an imperishable human wisdom. Humanism was present on his mind and in his works, and he was driven by the ethics tied to the concept of eternal humanity. The life of Vidyasagar attests to his commitment to responsibility towards humanity, empathy for the oppressed and for the women of his time. Only empathy can make it possible to feel the anguish of the others. Rabindranath's "Vidyasagarer Charitakhyan" says that the key to achieving free will is to remain free from self-centeredness.'
Shamsuzzaman Khan said, 'Vidyasagar was not indebted to the fragmentary concept of the renaissance. For, the Bengali renaissance was part and parcel of the elite of his time rather than class-neutral. His thoughts on language, literature, education or feminism cannot be taken as disjunctive narratives as they were grounded in pragmatic actions that sought to change the status quo. He is still remains pertinent even after two hundred years of his birth.'
Ishwar Chandra Vidyasagar was born on September 26, 1820 in the village of Birsingha, Medinipur district of West Bengal, India.
Vidyasagar's noted works are 'Betalpanchabingshati', 'Shakuntala', 'Sitar Banabas', 'Bhrantibilas', 'Brajabilas', 'Ratnapariksha', 'Prabhati Sambhashan', 'Jiban-Charita', 'Shabdamanjari', 'Bodhoday', 'Kathamala', 'Charitabali' and others.
Vidyasagar passed away on July 29, 1891 at the age of 70 in Kolkata.
Want stories like this in your inbox?
Sign up to exclusive daily email
More Stories from Literature