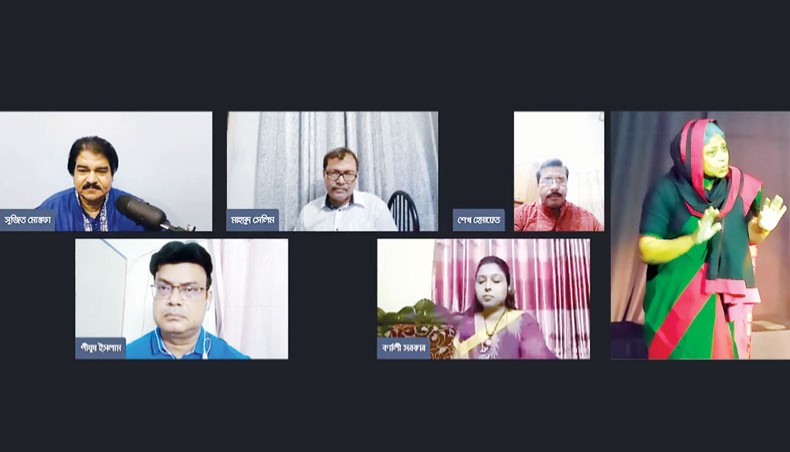 Different organisations observed the 4th death anniversary of the late Independence Award and Ekushey Padak-winning poet, playwright and writer Syed Shamsul Haq on Sunday organising various programmes, including book launch, cultural shows and online events.
Kurigram district administration organised different programmes marking the occasion. The district administration along with different cultural and educational institutions arranged procession, doah mahfil and placed floral wreaths on Syed Shamsul Haq's grave at Kurigram Government College campus.
However, a cultural programme and children's art competition which were scheduled to be held at district collectorate office were postponed due to excessive rain.
'We were not able to organise the cultural programme due to heavy rain. The people of Kurigram demand a university named after Syed Shamsul Haq along with the beautification his grave,' SM Abraham Lincoln, Founder of Uttarbanga Museum, told New Age.
Publishing house Prothoma Prokashon published Syed Shamsul Haq's 'Je Kono Dorja' in book form. The novel, which Haq penned at the age of 26, was previously published in Swachitra Sandhani paper in 1961.
Bangladesh Sangeet Sangathan Samannay Parishad organised an online programme featuring discussion and music show on its Facebook page at 7:30 pm.
Singers namely Mahmud Selim, Pijush Islam, Barnali Sarkar and Sheikh Hemayet rendered songs at the event, which was anchored by Sujit Mustafa.
Mahmud Selim rendered Ami janmechhi banglay and Shuvra satyer pathey.
Pijush Islam sang Hayre manush rangin phanush, Tora dekh dekhre chahiya and chander sathe ami debo na.
Barnali Sarkar rendered Jar chhaya porechhe, Nadi banka jani and Phuler mala poriye dilam.
Sheikh Hemayet sang songs like Ei je akash ei je batas, Murshid tomar prem nadite and Tomar soboi chhilo.
Besides, Maitri Theatre and Soukhin Theatre jointly opened a theatre hall named after Syed Shamsul Haq in the capital's Lakshmibazar area.
The inaugural ceremony was held in a hybrid format on Friday. Former cultural affairs minister Asaduzzaman Noor virtually inaugurated the hall. Sammilita Sangskritik Jote vice president Jhuna Chowdhury, Bangladesh Patha Natak Parishad general secretary Ahmed Gias and others were present at the inaugural ceremony.
Soukhin Theatre chief executive Hamidur Rahman Pappu gave the welcome speech at the event.
Soukhin Theatre staged a play titled 'Prabhat Phire Eso' at the hall on Friday. It has been written by Manoj Mitra and directed by Hamidur Rahman Pappu.
'We opened a theatre hall named after Syed Shamsul Haq in Laxmibazar. The hall is adjacent to the house of the late poet. When we approached his widow Anwara Syed Haq regarding opening the hall, she agreed right away,' Hamidur Rahman Pappu told New Age.
'We established the hall to provide theatre artistes a platform. If any troupes want to stage a play at Bangladesh Shilpakala Academy or Bangladesh Mahila Samity, they have to pay taka 3,000 and 5,000 respectively. We are providing the hall at taka 1,200 without light and it can accommodate 50 spectators,' added Hamidur Rahman.
Besides, Maitri Theatre staged the play titled 'Cha Athoba Coffee' at the hall on Saturday. The play has been written by Ramanath Roy and directed by Niaz Ahmed.
Following which, Shabda Natya Charcha Kendra staged 'Biranganar Bayan' at the venue. It has been written by Rawshan Jannat Rushmi and directed by Debashish Ghosh.
'We were not able to oraginse programmes widely marking the day due to COVID-19 crisis. We organised a milad mahfil at the mosque and a dua mahfil was held at our home. My brother-in-law distributed food among the children at an orphanage in Kurigram,' Anwara Syed Haq told New Age.
'I am very happy that his novel was published on the day of his death anniversary. The book will give the readers a glimpse into the adverse impact of dog killing in a city,' added Anwara Syed Haq.
Want stories like this in your inbox?
Sign up to exclusive daily email
More Stories from Literature