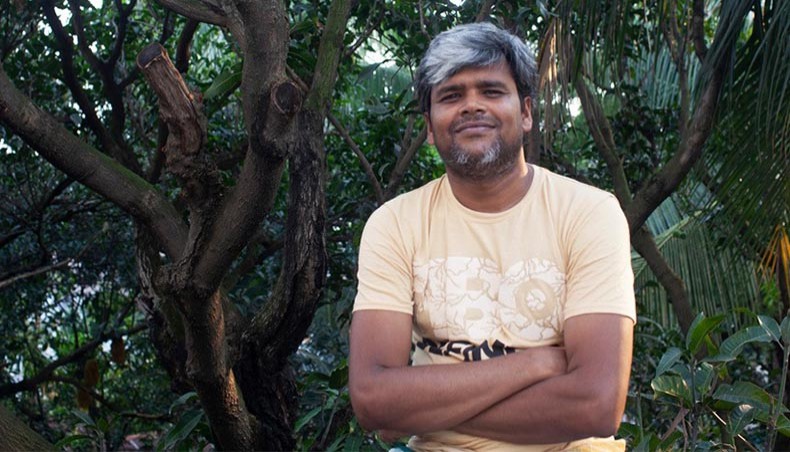 Aminul Islam Shama, a young labour leader died an untimely death on August 17, 2020. Nahid Riyasad writes commemorating his life
Workers don't plot when they organise; they merely protest to protect their rights to their basic needs. We took to the streets by accepting death as the ultimate truth.
— Aminul Islam Shama
THE excerpt is taken from a speech by Bangladesh Garment Workers' Solidarity's organising secretary Aminul Islam Shama, 36, who died an untimely death on August 17, 2020. In his last days, he was eager to visit his ancestral home just across the river Yamuna, in Sirajganj. Little did he know that visit was very near but it had to be in a coffin.
His funeral prayer at his village Rajbari under Khashrajbari union, at the wee hours, was participated by thousands of people. From his friends, New Age Youth learnt that people stood in knee-deep water from heavy rain and waited to bid him the farewell that he deserved. Mourners ignored the health risk of a pandemic.
In Ashulia, one of the apparel industrial hubs in Bangladesh, workers wailed and held tight his coffin. After a long day of work at factories about a thousand workers gathered in front of the Workers Solidarity's Ashulia unit office. A young woman, wiping her tears said, 'It's [his death] unfair. At a time when the maliks (factory owning class) even infiltrated the labour movement, the loss of Shama bhai is unimaginable.'
His life
AMINUL Islam Shama was borne in 1984 in Sirajganj and was the elder among three siblings. Being borne in a politically active family, Shama harboured the dream of being involved in politics from an early age.
Shama studied till class nine. When his father died at the age of 40, the family faced serious economic hardship which forced Shama to take a job at a garment factory in Dhaka. He was only 16. His two younger sisters eventually followed his footsteps.
He has spent the last two decades of his life in Ashulia. In these two decades, he has proved himself as a stronghold of workers' politics. However, his ties with his village grew tighter as he continued to aspire to be involved in electoral politics.
In 2011, Shama was diagnosed with a kind of heart valve defect and had to undergo major surgery to replace two of his heart valves with artificial ones. After recovering from the surgery, he left his job at apparel factories and became a full time labour organiser of Bangladesh Garments Workers Solidarity. He has been fighting with his health condition for the last decade and undergone a second heart surgery on June 7, 2020.
While recovering from the surgery at his home, he caught an infection and endocarditis. Despite his infectious smile and strong will to live he breathed his last on August 17 at the National Heart Foundation in Dhaka.
He is survived by his wife Ruby Akhter, son Rakib Hasan (13) and daughter Jannatia Akhter Omi (3).
His works
SHAMA has been involved in labour movement since early 2000. He had a very low threshold to tolerate the kind of injustices and inequalities practiced in the sector. However, the movement for living wage for apparel workers in 2006 brought close to his comrade at Bangladesh Garments Workers Solidarity, his voice against injustice found a formal political platform. With the spirit of that movement, Bangladesh Garment Worker's Solidarity was formally formed in 2008 and Shama was a founding member.
In the first council of the organisation in 2015, Shama was elected as the central organising secretary. By that time, Shama has been a familiar face among the workers in the industrial settlements as a young promising leader.
Not only protecting the rights of the workers, but Shama has also been the go-to person for a lot of people. His organising power helped him achieve peoples' trust. He was also active in organising students and forming the Ashulia chapter of Ganasamhati Andolon.
Shama's health started to deteriorate from early March and he was confined inside his home due to the pandemic. His passion to communicate with people and organise was halted because of the lockdown and he was becoming impatient to go out and do his work. Nonetheless, from his home, he continued his political career online.
Among his important online involvements in the last few months — May Day, marking the seventh year of Rana Plaza collapse, protests against job cuts in apparel industries — were prominent.
Commemorating Shama

ON SEPTEMBER 4, Bangladesh Garment Worker's Solidarity organised an online discussion session. On September 11, programmes were observed in Ashulia, Mirpur and Narayanganj to pay tribute to the life and works of Shama. Different apparel worker's organisations co-hosted the programmes in Ashulia and Mirpur.
On September 18, Bangladesh Garment Workers' Solidarity centrally organised a programme in Dhaka to commemorate Shama. The programme in Dhaka was attended by people from all walks of life. The Garment Workers' Rights Front's convener Shamim Reza said, 'What separated him from all the others was his sharp political sense. Shama believed that to secure the rights of the workers, there is no alternative to organising and participating in active politics.'
Professor Anu Muhammad was not present at the event, but in a video message he said, 'it is not an ordinary event when a garment worker becomes a labour leader. It is even harder in Bangladesh. However, we need labour leaders from among the workers for labour movement, for Bangladesh. Aminul Islam Shama walked miles, sacrificed so much to become that leader. Nothing could ever shake his commitment and conviction for labour rights. He worked for the greater cause even from his hospital bed. His death is an immeasurable loss, but his struggling life and commitment will inspire others to walk the same path. And, it is our responsibility, as part of the movement, to carry his legacy, tell his story.'
Nahid Riyasad is a member of the New Age Youth team.
Want stories like this in your inbox?
Sign up to exclusive daily email