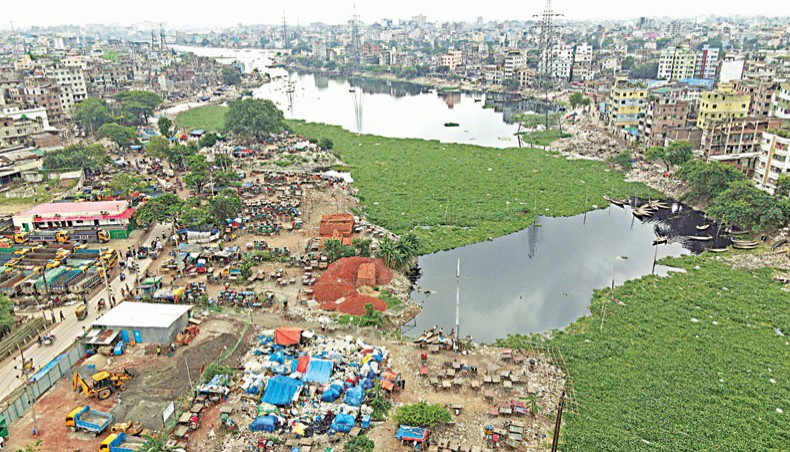 All the estimated 500 rivers across the country are facing grabbing, pollution and navigation problems despite dozens of plans formulated for their conservation and several thousand crore taka spent on their restoration.
Even after the Bangladesh Inland Water Transport Authority ran eviction drives for 78 days and spent about two crore taka last year, parts of the land along the Buriganga, Turag, Balu, Sitalakhya and Dhaleshwari remain in the hands of grabbers.
Against this backdrop, as elsewhere, World Rivers Day is being celebrated in Bangladesh today with the country theme: 'Pollution-free rivers for a virus-free world.'
Navigation remains a major problem even in the monsoon though the BIWTA has spent Tk 4,880 crore in the past five years on capital dredging and maintenance of waterways, officials said.
The Bangladesh Water Development Board, under separate dredging projects, has also spent Tk 2,040 crore for the purpose over the past five years, officials said.
The BWDB further spent Tk 10,975 crore on development, repair and protection of river banks during the same period.
Still, many areas of Gaibandha, Shariatpur, Faridpur, Chandpur and other districts faced erosion and properties worth several thousand crore taka were destroyed in the prolonged flood a couple of months ago.
Besides, locals say, pollution in the Buriganga, Turag, Balu, Sitalakhya, Surma, Karnaphuli and other major rivers in the country have become a great public health concern for them as they are struggling to live near the odorous rivers.
Untreated industrial effluents and domestic sewage at 577 spots mix with the four rivers flowing around the capital city, reveals a study carried out by Riverine Bangladesh last year.
The water of these rivers around the capital is no longer suitable for treatment for supply to the city residents, for which WASA is now developing plants near the Padma and Meghna increasing the cost of water.
Still, the donors demanded a confirmation from the government that the Meghna would remain free from encroachment and pollution, for which the Tk 8,151-crore Gandharbpur treatment plant project was delayed for six years, Dhaka WASA managing director Taqsem A Khan said.
National River Conservation Commission chairman Muzibur Rahman Howlader said that lands of the Padma, Meghna, Jamuna, Brahmaputra, Surma, Pashur, Karnaphuli, Buriganga, Sitalakhya and other rivers were still under occupation of influential people, including politicians and businesspeople.
'Even the last week we saw Turag lands under occupation of many grabbers though the BIWTA had carried out eviction drives,' Howlader said.
'Being ordered by the High Court we are now disposing of 12 cases, including one involving ruling party lawmaker Md Aslamul Haque's petition against the BIWTA for eviction,' Howlader said, adding that the disputed land was still in the MP's possession.
The BIWTA did not even evict occupiers like Sikder Real State, Matador, Panna Group, Bashundhara Group, Meghna Group and others which were illegally occupying lands of the Buriganga, Turag, Balu, Meghna and other rivers, he said.
Visiting different rivers and taking reports from the deputy commissioners of the country's 64 districts, the river commission last year published the names of about 50,000 river land grabbers, Howlader said.
The commission's directive to the authorities concerned for the immediate eviction of the grabbers of lands of the Padma, Meghna, Jamuna, Surma, Buriganga, Turag, Sitalakhya, Karnaphuli and other major rivers is yet to be carried out completely, Howlader added.
'Besides, state-run and private factories are discharging untreated effluents to the rivers while local government bodies and individuals are dumping solid wastes into them,' he lamented.
The constitution's Article 18(A), however, states that the state shall endeavour to protect and conserve the rivers, wetlands and forests.
Acts and rules like the State Acquisition and Tenancy Act 1950, Bangladesh Water Act 2013, National River Protection Commission Act 2013, Environment Conservation Act 1995, Environment Conservation Rules 1997 and Water Bodies Conservation Act 2,000, too, could not protect the rivers, greens lamented.
Each of the laws and rules has provisions for slapping fines and imprisonments treating grabbing and polluting as criminal offences but hardly anybody was sent to jail for grabbing or polluting the rivers, they said.
As a result, they viewed, grabbing and polluting still continue although the High Court in February 2019 declared rivers as living and legal entities and issued an order to free them from grabbers and the verdict was upheld by the Appellate Division, they said.
Human Rights and Peace for Bangladesh president Manzil Morshed said that grabbing and pollution could continue despite enactment of various laws as some officials gave advantages to grabbers and polluters, mostly politicians and businesses, taking benefits from them or surrendering to their influence.
Bangladesh Paribesh Andolan general secretary Sharif Jamil said that the government's intention to make the rivers free from pollution and grabbing earned little result for taking piecemeal programmes and lack of coordination among the agencies.
'The engagement of 23 agencies under six ministries wasted public money for taking uncoordinated piecemeal programmes that could not tackle grabbing and pollution. Rivers are now facing ecological and morphological threats,' he said.
After the formulation of the River Conservation Commission, Sharif said, there is no reason for continuing activities of the river-saving task force or forming another master-plan execution committee under the leadership of the local government minister.
'And why should the BIWTA and BWDB separately take dredging projects?' he asked.
BIWTA additional chief engineer Rokibul Islam Talukder said that the agency spent an average of Tk 130 crore a year on dredging to maintain 6,500 km waterways.
'Most of this money is spent on keeping the Paturia–Daulatdia and Shimulia–Kathalbari ferry routes as the mighty Padma is shifting its routes for the Padma Bridge,' he said.
The agency, he said, last year finished a Tk 4,230-crore project under which it dredged 900 kilometres of the Brahmaputra, Dharala, Punarbhaba and 19 other rivers.
Another Tk 1,923-crore dredging project for 24 small rivers was also running, he said.
BIWTA joint director AKM Arifuddin claimed that the agency last year recoverd 243.95 acres of land of the Buriganga, Turag, Balu, Shitalakshya and Dhaleswari by demolishing over 9,200 buildings, factories and other establishments illegally developed by some MPs, politicians and business tycoons.
BWDB dredged 1,515 kilometres of different rivers at a cost of Tk 2,040 crore in the past five years, deputy water resource minister Enamul Haque Shamim said.
Tk 10,975 crore was spent on development, repair and protection of river banks, he said.
'Being a lower-riparian country, the rivers of Bangladesh, with just seven per cent area of the region, discharge 93 per cent waters of the whole region. The nature of the rivers is another major problem for their maintenance,' Enamul said.
He refuted the criticism about the lack of coordination among the agencies.
'The water resources ministry and the shipping ministry are working in coordination. We have also recently decided to take expert opinion while taking any new project,' Enamul added.
The government, he said, has conceived the Delta Plan to be implemented by the year 2100, in which special attention has been paid to creating a river-based economy.
State minister for shipping Khalid Mahmud Chowhury at a programme on Thursday claimed that zero tolerance had been shown while conducting the eviction drives and taking actions against river grabbers and polluters would continue without considering their political colour.
LGRD minister Md Tajul Islam said that the government prepared a 10-year master plan to make the Buriganga, Shitalakshya, Turag, Balu, Dhaleswari, Meghna and Karnaphuli free from pollution and occupation.
Ruling party lawmaker for Dhaka 14 constituency, Aslamul Haque, claimed that the disputed land along the Turag was his purchased property.
Want stories like this in your inbox?
Sign up to exclusive daily email
More Stories from Country