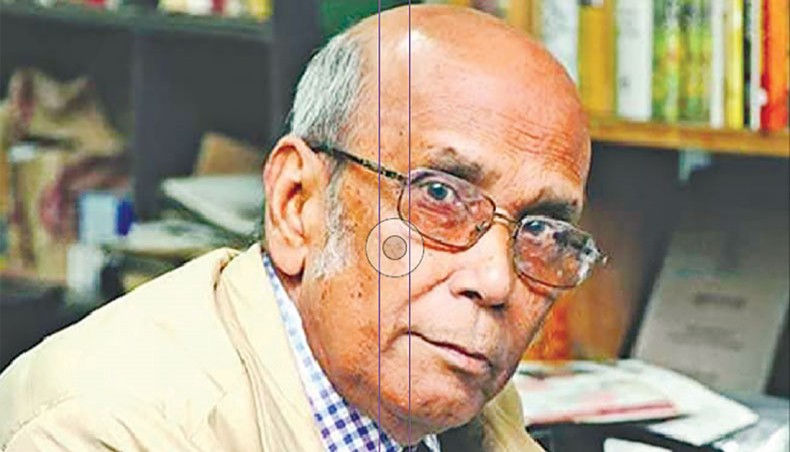 Today is the 4th death anniversary of Independence Award and Ekushey Padak-winning poet-playwright Syed Shamsul Haq.
Different organisations will observe the occasion arranging various programmes, including book launch, cultural shows and online events.
Publishing house Prothoma Prokashon will publish Haq's novel Je Kono Dorja in book form. The novel, which Haq penned at the age of 26, was previously published in Swachitra Sandhani paper in 1961.
Bangladesh Sangeet Sangathan Samannay Parishad will organise an online programme featuring discussion and music show on its Facebook page at 7:30 pm.
Kurigram district administration will organise different programmes marking the occasion. The district administration along with different cultural and educational institutions will organise procession, doa mahfil and place floral wreaths on Haq's grave on Kurigram Government College campus. Besides, children's art competition, discussion and cultural show will be held at district collectorate office.
Syed Shamsul Haq was born in Kurigram on December 27, 1935. He started writing at an early age and penned over 200 poems before completing his matriculation. He enrolled at Dhaka University's English department but did not complete the degree.
His first story titled 'Udayasta' was published in Fazle Lohani edited literary magazine named Agatya in 1951. He went to Mumbai, India in the same year to become a film director but returned to Dhaka within a few days and concentrated on writing.
Haq received the prestigious Bangla Academy Award at the age of 29 in 1964. He had penned several collections of poems including 'Ekoda Ek Rajje' (1961), 'Baishekhe Rachita Panktimala' (1969), 'Biratihin Utsab' (1969), 'Protidhonigon' (1976), 'Apar Purush' (1978), 'Kabita Samagra' in three volumes (2007), 'Ek Ashcharja Sangamer Smriti' and others.
Haq was also a very popular novelist with 40 novels including 'Stabdhatar Anubad', 'Baro Diner Jiban', 'Tumi Sei Tarobari', 'Simana Chhariye', 'Neel Dangshan', 'Nishiddho Loban', 'Koyekti Manusher Sonali Jouban', 'Nirbasita', 'Khelaram Khele Ja', 'Megh O Machine', 'Anya Ek Alingan' and others to his credit.
He also created a new trend in contemporary Bangla drama. He penned popular verse plays such as 'Payer Awaj Paoa Jay', 'Nuruldiner Sara Jiban', 'Ekhane Ekhon', 'Eersha', 'Narigon', 'Khatta Tamasha', 'Judhha Ebong Judhha', 'Banglar Mati Banglar Jal' and others.
He wrote short stories, many screenplays for mainstream films and hundreds of playbacks including Hayre manush rangin phanush, Tumi ashbe boley kachhe dakbe boley, Chander shathey ami dibona tomar tulana and others.
He also translated a number of western classics including Shakespear's 'Macbeth', 'Hamlet', 'The Tempest' and 'Troilus and Cresida' and Ibsen's 'Pyr Gynt'.
Haq received Ekushey Padak in 1984 and Independence Award in 2000 for his contribution to Bangla literature. He passed away on September 27, 2016 at the age of 81.
Want stories like this in your inbox?
Sign up to exclusive daily email
More Stories from Literature