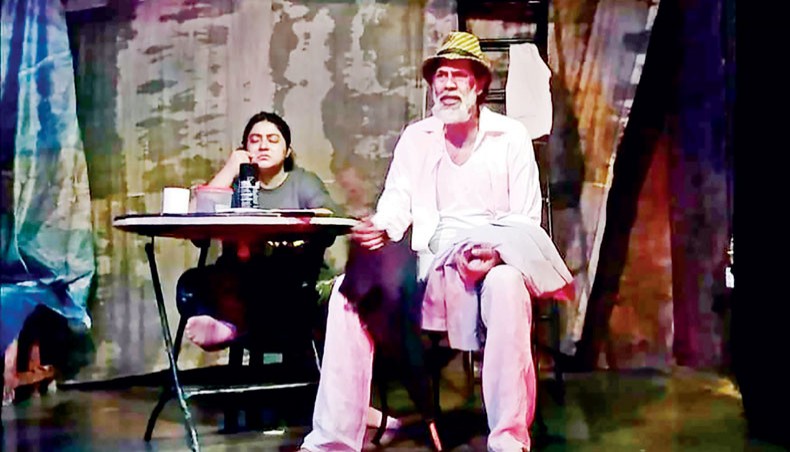 Theatre troupe Prachyanaut premiered 'Cornel Ke Keu Chithi Lekhe Na', a theatrical adaptation of Colombian writer Gabriel Garcia Marquez's novella 'No One Writes to the Colonel', at its rehearsal room at Katabon in the capital on Friday, and a second show of the play was staged on Saturday.
Cornel Ke Keu Chithi Lekhe Na gives the audience a glimpse into the Thousand Days' War, a civil war fought in Colombia from October 17, 1899 to November 21, 1902. It revolves around a colonel who fought in the war. He has been waiting for fifteen years to receive a pension check.
The colonel lives with his asthmatic wife in a small village under martial law. He walks to the post office every Friday and asks for his pension check, which never arrives, and the postmaster tells him cynically 'No one writes to the colonel.'
The colonel's wife, too, realises that the pension will never come and after years of disappointment and near-starvation, tells her husband to give up.
Agustin, the son of the colonel, was murdered by soldiers for distributing subversive literature. The colonel inherits a rooster from Agustin but the colonel and his wife struggle to feed the rooster and themselves. The colonel's wife calls the rooster an expensive illusion but the colonel holds on to it hoping that it will win cockfights in the future. He also keeps visiting the post office and the story of the play moves forward.
The play has been translated into Bangla by Md Shawkat Hossain Sajib and directed by Kazi Taufiqul Islam Emon.
Progga Tasnuva Rubaiyat and Kazi Taufiqul Islam Emon have acted in the play. Prachyanaut premiered Cornel Ke Keu Chithi Lekhe Na in the fourth week of its month-long theatre festival, titled 'Mahala Magan', which commenced on September 4 with the play 'The Zoo Story'.
The theatre festival is featuring a total of five plays. The troupe stages plays twice a week on Friday and Saturday at 7:15 pm, and not more than 20 spectators are allowed per show. The ticket price per person is Tk 200.
'I feel lucky to be selected for this play which is an adaptation of Gabriel Garcia Marquez's novella. This is my first theatre performance in a long time. I took a break due to the COVID-19 outbreak,' Progga Tasnuva Rubaiyat told New Age.
'The audience can relate this play to their personal experience. Many of us have lost jobs amid COVID-19 crisis, and the authorities are showing no concern towards the people suffering from financial crisis,' Kazi Taufiqul Islam Emon, director of the play, told New Age.
'I have enjoyed watching the show. Cornel Ke Keu Chithi Lekhe Na metaphorically addresses many important issues. The artistes deserve kudos for their wonderful performances,' Sahin Saidur, an audience, told New Age.
Want stories like this in your inbox?
Sign up to exclusive daily email
More Stories from Theatre