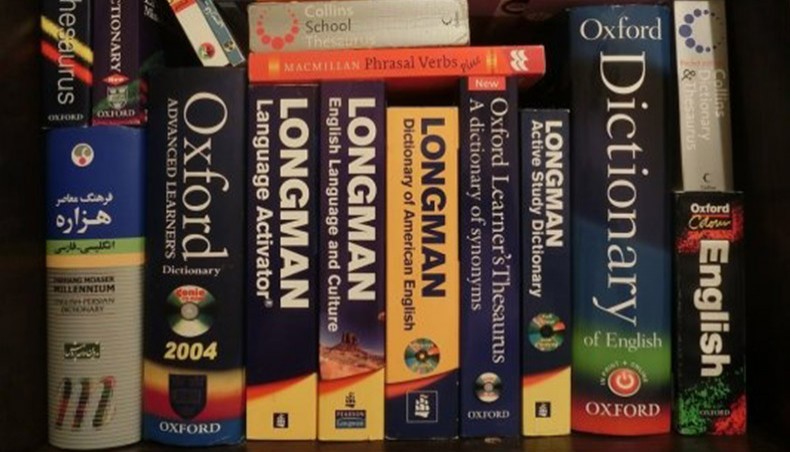 Printed dictionaries are becoming less popular because of the overpowering reign of gadgets and technologies. Md Shamshul Arafin talks how Bangladeshi youth are adopting digital version of dictionaries to replace the physical ones
THE question for the readers of this article is that when did you last open a printed dictionary? Many will say, 'I do not remember'. Yes, it is true that in this age of social media and digital devices, the numbers of printed book lovers are shrinking day by day.
The dictionary which was once popular among the students of all classes now is on the verge of extinction. Sadly, from the epicentre of the reading table, now it has been shelved in the corner of any bookshelf or a library without being touched. Comparing to the students or adults a decade ago, nowadays, people have no interest in using dictionaries at all, particularly, the printed dictionaries. These days, students are happy with using Google.
Dictionary can easily be found in almost every house with a student. Whether it is small, medium, or standard size, the dictionaries of Cambridge, Oxford, or Bangla Academy are mostly available everywhere around Bangladesh.
As Bangladeshi, we tend to use English to Bangla dictionary than English to English. The number of Bangla to Bangla printed dictionary users is quite low. On top of that, the Oxford Student Learner's Dictionary is one of the most commonly used dictionaries of all time here in Bangladesh.
Sadly, due to the mass availability of mobile dictionary apps, Google search option, Google Translator, people tend to use less printed dictionaries. Saad Khan, an English medium student explains, 'Carrying a small or medium size dictionary to search for the right meaning of words is out-dated nowadays and rather time-consuming. I use online and offline mobile dictionary apps. These are very handy, comfortable, and less time-consuming.'
There is no denying that the abundance of gadgets and their uses are changing the mindset of the younger generation as they are becoming more habituated to read in online versions, mobiles, or on the laptop screens.
Almost all of the giant dictionary companies like Oxford, Cambridge, Collins and Merriam Webster have their own online and offline dictionary apps available in both Google Play Store and the Apple App Store. Gradually the famous publishers are lowering the number of printed dictionaries and shifting towards tech-friendly digital forms. In their official websites, they also provide online based dictionary facilities.
Unlike printed books, internet-based dictionary websites carry more than just word meaning. It has features like synonym, antonym, pronunciation, epistemology, and so on. At the same time, some of the renowned dictionary mobile apps are free of cost too. Thus, it has become an obvious choice for teenagers and youths to use the mobile dictionary or online-based platforms rather than a printed one.
Many people who grew up before the 2000s, used a printed dictionary extensively as a part of their study and also passion which has become uncommon now. Many popular stories were there, a person from a particular area has memorised a full dictionary and if not then at least half of it. Today, we hardly hear that someone has memorised a full dictionary, people will rather laugh at her/him. Many will use the quote, 'Study smartly, not hard.'
It takes time to obtain information from a printed dictionary, whereas one can get the meaning of any unknown words with the help of search option in their mobile phone, laptop, or personal computer more quickly and easily than a printed dictionary. Dependency on gadgets and the internet are also responsible for opting to use mobile dictionary apps.
Arif Mahmud, teacher of a Bangla medium school says, 'If I need to look for the meaning of an unknown English word, I use my mobile dictionary app installed years ago. It is indeed quite impossible for me to remember when for the last time I used my Oxford Student Learner's Dictionary. It is in my bookshelf for years.'
Internet and software are constantly changing the lives of the common people. Mobile dictionary apps and Google, Yahoo search engines have played a role to reduce the importance of printed dictionaries. People nowadays do not feel the urge of using printed dictionaries anymore. Today's young generation will not use printed versions of dictionaries unless they are forced too.
Ramzan Ali, a bookstore owner in Nilkhet book market narrates, 'More than 10 years back, dictionaries were in great demand but now I can sell only a handful of dictionaries throughout the year.
'Students of the English department from various universities come here to buy dictionaries which have pronunciation symbols. Other than English department students, job seekers come here to buy a dictionary too. But they are very few in numbers. Job seekers mainly buy a customised version of a printed dictionary which is only suitable for getting jobs. Besides, students from medical science departments also buy their background related to medical dictionaries.'
In a printed basic dictionary, one only gets basic information about the particular word. Whereas, from the Google search engine, one can get more information about the word easily. Illustrations, epistemology, background or history, the origin of the word, pronunciation and related videos are also available in just one click in the Google.
Also, the sentences that one can make with those words are available which is very useful for the junior or middle section school students. Parents can also help their children with their home works by using online dictionaries which is not possible through using normal dictionaries that only give the meaning not the sentences.
For these reasons, many people are opting to use various search engines to obtain the meaning of particular information. Online and offline dictionary apps are very fast, user-friendly, weightless, lucrative, and customised design and they constantly update the database and offer many options. Besides, it also offers pronunciation options which are very important to correctly pronounce the words.
For the alternative of printed books, we have eBooks, audiobooks but still, most of the people prefer to read printed books. Printed books, whether it is for academic purposes or acquiring knowledge, have kept its appeal and people are buying it every year and billions of copies are sold worldwide. Sadly, unlike printed books, printed dictionaries are losing their demand nowadays. People tend to keep mobile apps to get the meaning of unknown words. As a result, printed dictionaries slowly becoming extinct from everyday use.
Many students even adults do not know how to use a dictionary perfectly to search for the meaning of the unknown word. Parents nowadays once buy a dictionary on the children's school life and that's all. On top of that, students hardly use printed dictionaries and also their parents do not bother to tell them about it. Students are being provided with the word meaning from their school teachers or home tutors. Sometimes, children who are matured enough themselves use their parents' phones where mobile apps of dictionaries are already installed. With the rise of the internet and gadgets — sadly but true, the printed dictionaries are becoming extinct in Bangladesh. It has been shelved in the corner of the bookshelf or a reading table without any proper use of it.
Md Shamshul Arafin graduated from University of Liberal Arts Bangladesh.
Want stories like this in your inbox?
Sign up to exclusive daily email
More Stories from Mindspeak