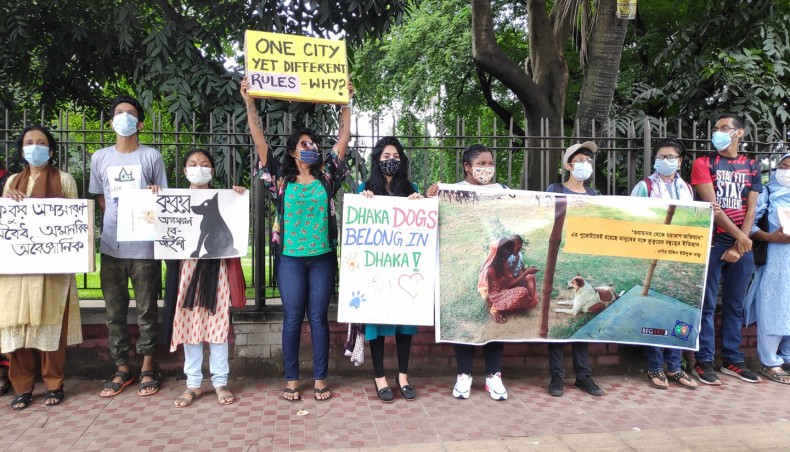 Some citizen groups on Saturday formed human chains at Dhanmondi and Tikatoli demanding continuation of the city authorities' stray dog relocation drive while some animal rights groups protested against the relocation from a human chain in front of the Dhaka Club.
The duelling programmes were held amid the Dhaka South City Corporation's drive to relocate stray dogs from the city centre to the periphery as dog population in the city has increased.
'The city is not for human only. Make it safe for all animals, including dogs,' said Sourav Shamim, chairman of Care for Paws, an animal rights organisation, at a human chain in front of the Dhaka Club.
Activists from People for Animal Welfare, Care for Paws, and Obhoyaronno, among others, formed the human chain.
Sourav said that the dog relocation was not a solution and it was inhuman.
He said that the DSCC should sterilise and vaccinate stray dogs for better management of dog population.
Rakibul Haq Emil, chairman of the People for Animal Welfare, said that a study should be conducted on dog population for a sustainable solution.
One of the protesters, Sobia, alleged that the DSCC had also relocated many sterilised and vaccinated dogs from Dhanmondi to the Matuail landfill.
She said that dogs were not the only problem for pedestrians in Dhaka while the DSCC was not addressing concerns like waste management and rundown roads and footpaths.
Another protester, Jennifer, said that dogs did not bite people rather they reacted when they were tortured or disturbed.
Several hundred residents formed a human chain, organised by the Dhanmondi Society and Jhoraful Samaj Kollayan Foundation, at Satmasjid Road demanding end to 'stray dog menace'.
Dhanmondi Society coordinator Chowdhury Sajjad Murshed Murad said that dog population and dog biting incidents in the area had increased alarmingly.
He said that dog population control was a 'heartiest' demand of the city people.
Faisal Mahmud, general secretary of Jhoraful Samajkollayan Foundation, said that they had organised the event on public pressure and urged the mayor to take necessary actions against the dogs.
At Tikatuli, some local people from a human chain demanding a city free from dog menace.
Ahsan Habib Jewel, a resident of the area, said that the animal rights activists should take some of the dogs to their houses.
The residents said that stray dogs had been creating public nuisance at the area and repeatedly biting people, including children and women.
They said that public health should be given priority over the 'dog rights'.
Want stories like this in your inbox?
Sign up to exclusive daily email
More Stories from Country