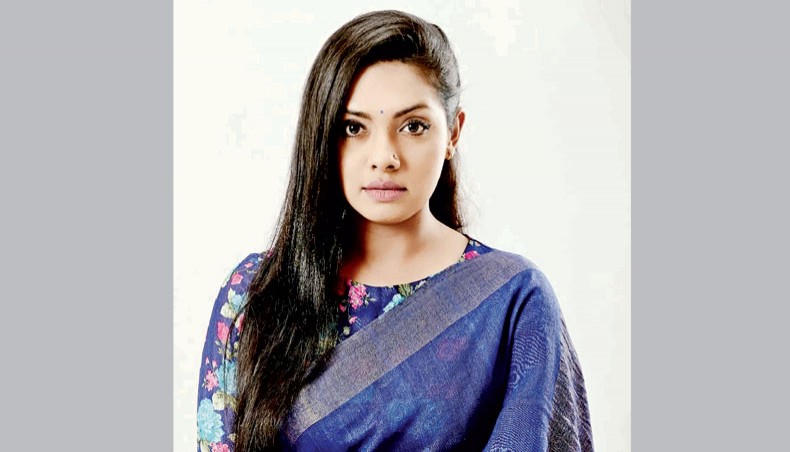 Two-time National Film Award-winning actress Nusrat Imrose Tisha said that portraying a historic character requires a lot of preparations, including close attention to appearance and expressions relating to the psychological makeup of that person.
Tisha will play the character of Pritilata Waddedar in Pradip Ghosh's government grant-winning film 'Bhalobasa Pritilata', an adaptation of Selina Hossain's novel of the same name.
'We have been doing zoom meetings with the writer Selina Hossain and director Pradip Ghosh. We are trying to execute the character properly in front of the camera. I have been focusing on her mental strength, how she struggled and the costume and gait too are important as well,' Tisha told New Age.
'I went through a look test and I am not satisfied with it. I wouldn't be able to manage a carbon copy of Pritilata, but I am trying to catch as much as I can. We are yet to produce any such make-up artiste who would do the magic of transformation,' Tisha added.
The actress didn't attend any shootings during the general holiday, which was announced by the government on March 26 to contain the spread of new coronavirus. She returned on the shooting floor after six months.
'I returned on the shooting floor with Sokal Ahmed-directed teleplay where I acted opposite Mosharraf Karim. Before the outbreak, we used to attend shootings amid a festive atmosphere and used to gossip a lot with fellow artistes during breaks but nowadays, we have to wear masks and maintain hygiene and social distancing on shooting floor,' mentioned Tisha.
'When I am delivering dialogues in front of the camera, I cannot wear a mask and that sometimes makes me worried. I have been trying my best not to let fear disrupt the quality of my work,' she added.
She didn't venture outside during the government declared general holiday unless it was absolutely necessary.
'I went outside only for five times in the last six months. I had to venture outside a few times this month because my mother and father-in-law were unwell. I had to go outdoors for their treatment purpose. Whenever I step outside, I always wear a mask. I only take off the mask when I am on the shooting floor as there is no way to deliver dialogues wearing a mask,' said Tisha.
'When I was at home, I did a lot of work. I have painted 50 per cent walls of my house, took care of my flower pots while spending time gardening and it has been new experience for me,' said Tisha.
Asked about the recent controversial contents on a web series and how those will impact our online market in the coming days, she replied, 'Director and producers could give better answers to this question. As an artiste, I can only say that online platform is giving us an opportunity and we should utilise it properly. We should keep in mind that the content should be made targeting the local audience, so that people from all walks of life could watch those works.'
Tisha also lamented that 'Shonibar Bikel' (Saturday Afternoon), the unreleased film of Mostafa Sarwar Farooki, has bagged many awards in various international film festivals but the people in Bangladesh can't watch it.
'We have made this film targeting the local audience. If the local film lovers cannot watch the film, it really makes you feel sad. We are trying our level best to release the film in Bangladesh in future so that the film lovers could enjoy the film,' said Tisha.
Tisha ended the conversation urging her fans to stay safe and wear masks when out in the streets.
'We have to go outside as we have to make a living. But we need to try our best to protect ourselves for the sake of our family members. I urge all to maintain social distancing and wear masks when outdoors,' she ended.
Want stories like this in your inbox?
Sign up to exclusive daily email