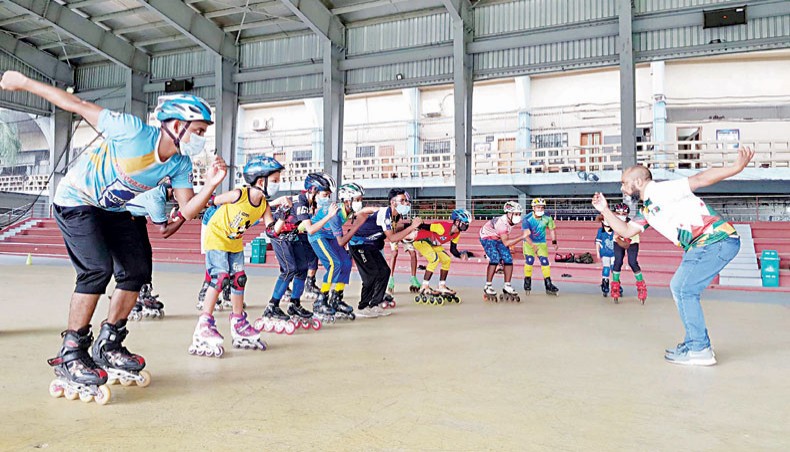 At its inception, Sheikh Russel Roller Skating Complex showed promise of becoming a busy hub for international skating competition but it has now been downgraded to mainly a domestic venue which regularly accommodates non-skate based sporting events.
The complex, which is situated adjacent to the Bangabandhu National Stadium, was built on an emergency basis in order to host the fourth edition of the Roll Ball World Cup in February, 2017.
The construction work had begun in November, 2016 and finished within 70 days, four months before the expected time of completion, and it cost National Sports Council Tk 11.62 crore.
But since hosting that tournament, where Bangladesh men's team came in fourth out of 40 teams, the venue has not hosted a single international skating event.
Instead, it has only hosted a number of domestic roller skating competitions and has also been used to host domestic competitions for other sports such as handball, dueball, wrestling, kabaddi, wushu, karate, fencing etc.
The complex has so far hosted 11 domestic competitions – three Victory Day Championships, three National Roller Skating Championships, Federation Cup in 2018 and 2019, Inter-School Rope Skipping Championship in 2019, Sheikh Russell Roller Skating Championship in 2019 and the first edition of the President Cup Roller Skating Championship in January 2020.
Bangladesh Roller Skating Federation's general secretary Ahmed Asiful Hasan acknowledged the drought of international competitions at the venue in the past three years.
'It created a hype in the country when we organised the Roll Ball World Cup in 2017 and later on we participated at international level competitions but did not organise any international tournament here,' Asiful told New Age.
Asiful said that BSRF was planning to end the drought by hosting Bangabandhu Gold Cup in October this year but they had to cancel the event due to the COVID-19 pandemic.
'We got the permission to hold Bangabandhu Gold Cup in this year's October but pandemic halted the tournament. Now we are aiming to host the next World Cup here in 2021. We will apply to the World Roll Ball Federation,' Asiful said.
Asiful claimed that BRSF had NSC's permission to use the complex for non-skating based sports and other events; however, NSC director of planning and development Sukumar Saha said that they had not given any written permission to the skating federation.
Ashiful also informed that the complex is being used to organise talent hunt programmes to search for new talents in roll ball, roller skating and roller-speed skating competitions.
A total number of 34 skating clubs, 21 of which are in Dhaka, enlisted under the federation took part in those talent hunt programmes and the selected players have been put in several residential training camps at the venue, said Asiful.
'We hunt talent from district level and train them here… 90 per cent of our national players come from district level. We have got 72 players, including 22 female, from district level through talent hunts,' he said.
The venue was also used as a residential training camp for both men's and women's national team before the 2018 South Asian Roll Ball Championship and 2019 Roll Ball World Cup.
Bangladesh's men's and women's team had to settle for silver in the SA Roll Ball Championship, as their Indian counterparts won gold in both categories and the men's team placed third in the Roll Ball World Cup while India, where the game originated in 2003, at the top winning their fourth straight title.
Despite not being used exclusively for skaters, the Sheikh Russel Roller Skating Complex was playing an important part in the country's roller skating, claimed Bangladesh national roll ball team's head coach Ashraful Alam Masum.
'We started a roller-speed skating team from 2017 and currently rank 10th in Asia. We rank third in the current World Roll Ball Ranking,' said Masum, who is also the assistant general secretary of BSRF.
'Our achievements at international level came after we got the venue. It would be difficult to run talent hut programmes and training without it. So I think, infrastructure is important for nurturing player for a sporting discipline.
'We have around 1000 players at beginner, intermediate and advanced levels. We divide time slots for coaching at the venue for them. We select players to form national team before any international competition. Now our target is to win the next World Cup,' Masum added.
Shohag Sikder, a 24-year old skater from Shariatpur district who has been part of the Bangladesh roll ball team since 2017, also credited the complex to the country's rise in the game.
'If we did not have the venue, we might have not seen the success in the 2019 World Cup.'
After initially closing its doors due to the pandemic, the complex has once again opened its gates after ministry of youth and sports allowed training activities to resume, much to the delight of the skaters.
'I used to skate at Abahani club ground before we had the current venue. Now we can practice four to five days in a week but in the pandemic situation we practice only on Friday and Saturday in each week,' said Hridoy Hossain, who scored 31 goals in the fourth Roll Ball World Cup for Bangladesh.
Want stories like this in your inbox?
Sign up to exclusive daily email
More Stories from Miscellany