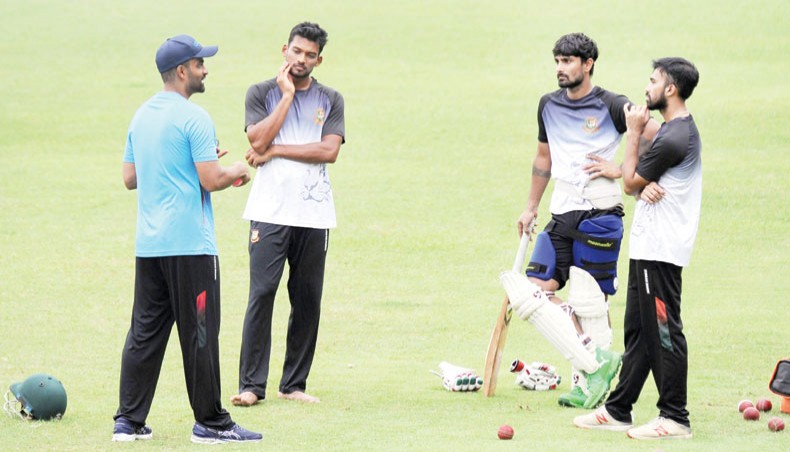 Bangladesh opener Nazmul Hossain Shanto said that he is finding it difficult to cope with the strict restrictions of living inside a bio-bubble but is trying his best to gradually adapt to the 'New Normal'.
Nazmul is one of the 16 cricketers who are taking part in the skill training camp at the Sher-e-Bangla National Cricket Stadium and he completed his fifth day's training with the group on Thursday.
Nazmul has been living in a bio-security bubble along with other trainees since Sunday, which has been a difficult adjustment for the young batsman.
'It's very difficult. Specially giving samples for corona testing every two-three days is very uncomfortable. Inserting the kit inside the nose, giving swab makes me uncomfortable. And who would want to be in quarantine!' said the 22-year old.
'I don't feel good staying inside such security. But there is nothing we can do about it. So I am trying to slowly adapt to the situation because we have to train and play like this,' he added.
Nazmul was considered as an exciting batting prospect at a young age and was nurtured through every step by the Bangladesh Cricket Board but he is yet to prove his ability in the international arena.
The forced sabbatical from cricket gave Nazmul a chance to be retrospective about his career and he is hoping to make amends.
'The only positive thing from the lockdown period is it allowed me to look back and analyse my game. I think if I can learn from my past and I can rectify myself in the future,' Nazmul said.
Nazmul was training individually in Rajshahi before joining the skill training camp in Dhaka and was glad to train in a group after a long time.
'All of us are coming to the field which feels good. We are batting at the nets, training together. Everyone is in a positive mode; I am also in a positive mode. So if everything goes on like this, I think we will recover our momentum,' he said.
Nazmul has been in and out of the national side since making his debut in 2017 but was slowly finding his footing in international cricket with improved performances in Bangladesh's last two Tests before the pandemic.
Nazmul, who was handed a grade `D' national contract for both red and white-ball cricket in 2020, hoped to continue that momentum when cricket finally resumes.
'I think the last few innings went well for me. What I want most is to bat for a long time and perform consistently. For me, getting set in the wicket is very important so that I can play long innings.'
Want stories like this in your inbox?
Sign up to exclusive daily email
More Stories from Cricket