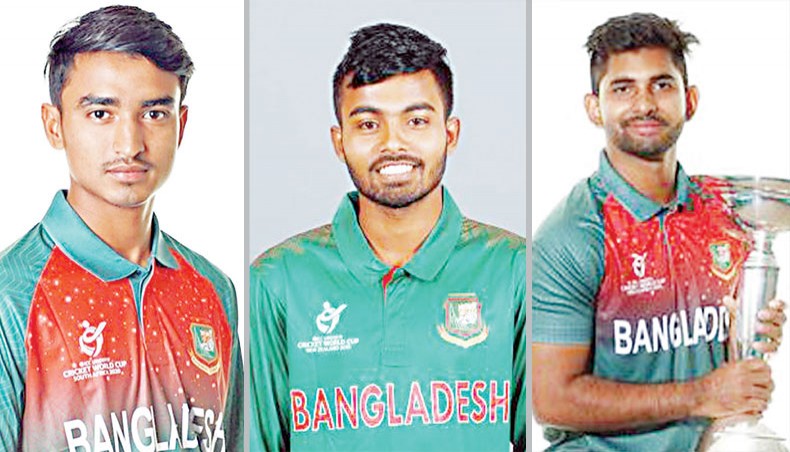 Bangladesh's World Cup winning junior Tigers were getting increasingly frustrated by the sight of several players from the runners-up Indian Under-19 team playing in the Indian Premier League while they remain sidelined from the game.
Left-handed opener Yashasvi Jaiswal, batsman Priyam Garg and leg-spinner Ravi Bishnoi, who were part of the team which Akbar Ali and his boys defeated in the final on February 9, have already made their IPL debuts while the World Champions are sitting idle.
Pacer Tanzim Hasan Sakib, who picked two wickets in the final against India, did not hide his frustration while talking to New Age.
'Those who were beaten by us are now playing in the IPL and we are sitting idle at home,' Tanzim said.
'I feel sad when I turn on the TV and see them playing. But what else we can do. With this long sabbatical, we are losing our rhythm. Physically and mentally, we are falling behind,' said the former BKSP student who is currently staying at his home in Sylhet.
Middle-order batsman Towhid Hridoy also expressed his disappointment on losing out on an important period of his career due to the pandemic.
'After winning the World Cup, we thought things will get better for us but now we are falling behind. Right now, every single day is very precious for us but we still can't play cricket,' said Hridoy, who became the first cricketer to score three consecutive centuries in Youth one-day internationals last year.
Bangladesh Cricket Board's game development committee chairman Khaled Mahmud echoed the players' frustrations and said that Bangladesh's young cricketers hardly get the similar exposure that India's young prospects get in their franchise Twenty20 league.
'Jaiswal is opening the innings with Steven Smith, one of the best batsmen of the world at this moment. This is a great opportunity for a young player... Young players sharing the dressing room with the bests, taking inputs from them, gaining experience; this is how a player grows up,' Mahmud told New Age.
'India promotes their players through tournaments like IPL, so they are giving chances to their young talents. In BPL [Bangladesh Premier League], I think a good number of Bangladesh's Under-19 players will get picked but they might not get to play too many matches,' he added.
BCB had made a number of plans for the World Champion Under-19 cricketers to help them develop into future national team stars but due to the pandemic the plans could not be implemented and because of that the players are falling behind, feared Mahmud.
'We have some big plans with them as we established an Under-21 squad and we were almost in the final phase of arranging a long camp in England but the pandemic put everything on hold. Yes, of course it frustrates us; we know that after a long break everything will not be like before. But with the present situation, we really can't do much.'
Akbar, Mahmudul Hasan Joy, Shamim Hossain and a few other members of the World Cup winning team are currently at their alma mater BKSP to train during the COVID-19 break but have only played one match in their training so far.
'We played a match against a team picked from the next Under-19 team's selection camp. We had eight or nine members, so we had to include other players to form the team,' Shamim said.
Want stories like this in your inbox?
Sign up to exclusive daily email
More Stories from Cricket