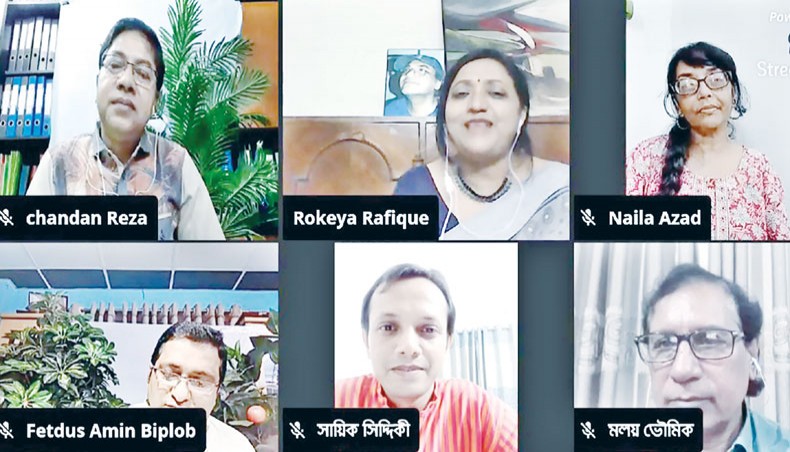 The late Ekushey Padak-winning eminent theatre activist and playwright SM Solaiman was remembered in an online programme organised by theatre troupe Theatre Art Unit on Tuesday.
The programme, titled 'Natyajagge Drohe Manabikatay S M Solaiman', was organised marking the 67th birth and 19th death anniversaries of SM Solaiman, who was born on September 29, 1953 and passed away on September 22, 2001.
The event was streamed live on the Facebook page of Theatre Art Unit, which was founded by SM Solaiman.
Theatre activist and playwright Malay Bhowmick and actress Naila Azad Nupur were present as discussants at the programme, which featured a discussion and awards ceremony.
Theatre Art Unit leader Rokeya Rafiq Baby, widow of SM Solaiman, presided over the programme, and senior member of the troupe Chandan Raza delivered the welcome speech. The programme was hosted by Ferdous Amin Biplob.
'SM Solaiman dedicated his life to theatre. He made significant contribution to country's theatre scene between 1975 and 2001. He penned plays criticising religious bigotry, military rule, social anomalies and others,' said Malay Bhowmick.
'SM Solaiman incorporated cultural elements including songs, dance and others to theatre productions. He also included elements from western cultures in his plays,' added Malay Bhowmick.
Naila Azad Nupur said,'The characteristics of both total theatre and traditional performing art are present in Solaiman's plays. He combined songs, dance and folk elements in his plays like "Amina Sundori", "Sunai Koinyar Pala" and others.'
'He (SM Solaiman) dedicated his life to theatre. He will always be an inspiration to me. It is our responsibility to promote his works and ideology among the upcoming generation. Every year we celebrate birth and death anniversaries of SM Solaiman organising a theatre festival and an awards ceremony where we honour a theatre activist with SM Solaiman Pronodona. This year due to COVID-19 crisis we were forced to arrange an online programme. We also introduced the Manab Hitaishee Sammanana this year to honour a theatre activist for his contribution to society during the crisis,' said Rokeya Rafiq Baby.
Following the discussion, Theatre Art Unit presented SM Solaiman Pronodona 2020 and newly introduced Manab Hitaishee Sammanana 2020.
SM Solaiman Pronodona was introduced by Theatre Art Unit in 2005. The award is presented annually to a young theatre activist or a theatre troupe.
Theatre Art Unit named Gaibandha-based theatre activist Sayek Siddiqui winner of SM Solaiman Pronodona along with Tk 20,000 cash prize at the programmme for his contribution in theatre.
Besides, five theatre activists including Alok Mahmud of Chattogram-based Samikaron Theatre, Kamar Ullah Sarkar of Rajshahi-based Rajshahi Theatre, Shaheen Ahmed of Dhaka-based Kheyali Natyagosthi, Sanwar Alam Khan Dulu of Jashore-based Bibartan and Rajat Kanti Gupta of Sylhet-based Natyamancha were named winners of Manab Hitaishee Sammanana 2020. Theatre Art Unit will send the awards to the recipients soon.
SM Solaiman was the founder of the theatre troupes namely Theatre Art Unit, Padatik, Dhaka Padatik and others. He was elected the general secretary of Bangladesh Group Theatre Federation twice.
He wrote, translated and adapted 29 plays including 'Court Martial', 'Amina Sundori', 'Khyapa Paglar Pya(n)chal', 'Ingit', 'Sunai Koinyar Pala' and others. He was awarded Ekushey Padak (posthumously) in 2014.
Want stories like this in your inbox?
Sign up to exclusive daily email
More Stories from Theatre