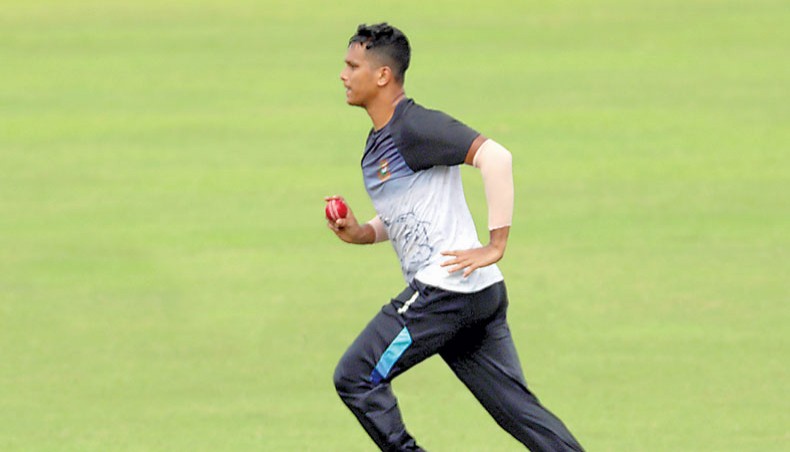 All-rounder Mohammad Saifuddin is delighted to get a call in the preliminary squad for the Sri Lanka tour and is dreaming of a Test debut if he can make the cut in the final selection.
After the training session on Wednesday, the young all-rounder told the media that he worked hard to maintain his fitness during the COVID-19 break and now he is ready to take the challenge of longer version cricket.
'Every cricketer has a dream of playing Test cricket, I am no exception. I will try to do my best if I get selected. I am delighted because for the first time I have been called up for the Test squad. I will try to learn as much possible and give my best shot,' Saifuddin said.
Saifuddin was sidelined for a long time due to a back injury before he made his comeback in the Zimbabwe series, the last international series Bangladesh played before all sporting activities got put on hold for the pandemic.
Saifuddin was once again forced into a dormant period right after coming back from an injury and it made the all-rounder anxious about his current skill level.
'I am a little worried about my skill level because for the past six-seven months, I could not bat or bowl in a way which is necessary to meet international standard,' said the 23-year old.
'I batted quite a lot on cement wickets but could not bowl as much. I am lagging behind other cricketers in skill level. I bowled today [Wednesday] and the previous days also, but haven't found my rhythm. I am not feeling comfortable; hopefully I can get back to shape after bowling a few more days,' he added.
Saifuddin also believes that the crisis time made him stronger, both physically and mentally.
'As I was the only [national] cricketer in Feni, I got much time to engage myself in fitness training. I am also physically stronger because sometimes I did not feel like working but I pushed myself, boosted up myself. After doing that by myself, I think I have grown stronger mentally.'
Want stories like this in your inbox?
Sign up to exclusive daily email
More Stories from Cricket