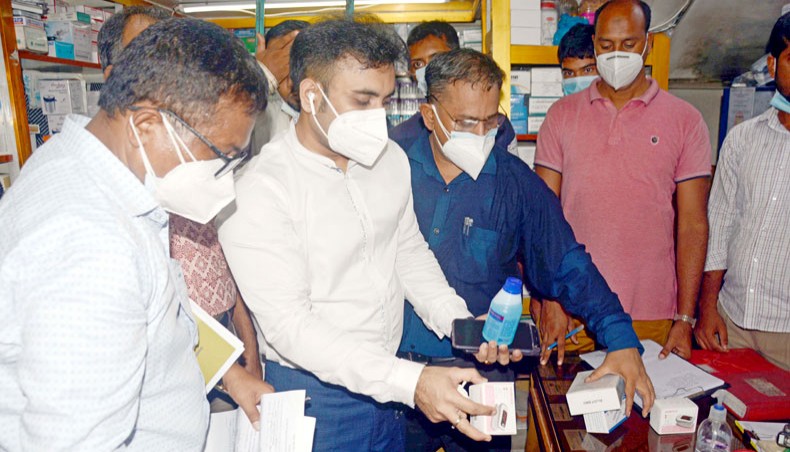 Rapid Action Battalion mobile court fined Tk 15.5 lakh to 14 medical equipment stores in the capital's Topkhana Road on Wednesday for selling unlicensed and substandard oximeter and dengue testing kits.
RAB executive magistrate Palash Kumar Bosu, who led the mobile court, said that oximeter, used to monitoring a person's oxygen saturation, and sphygmomanometer, blood pressure monitor, are sophisticated and registered machines.
There have been complaints that some medical equipment stores in Gafur Tower of Topkhana Road have been selling unregistered, substandard medical equipment for months.
RAB raided the market in the afternoon and traced out poor quality equipment in many stores, said Palash.
The magistrate then fined 14 stores a total of Tk 15.5 lakh.
The stores were fined between Tk 50,000 to three lakh and huge numbers of unlicensed and substandard oximeter, dengue testing kits and pressure measuring machines were seized, said Palash.
RAB-3 Moghbazar camp commander Major Emad Uddin said that the most of the products were not licensed from Directorate General of Drug Administrations and the traders import poor quality medical equipment mainly from China.
He said that they tested some products and found that some oximeters were showing wrong results.
RAB officer said that they were receiving complaints from many customers for days about substandard equipment.
Many customers were even cheated with dysfunctional equipment from those stores.
Want stories like this in your inbox?
Sign up to exclusive daily email
More Stories from Country