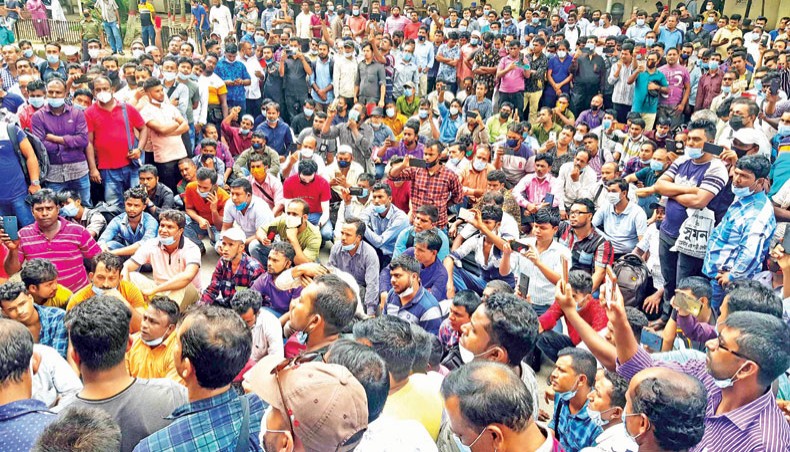 The fate of about 60,000 Bangladeshi expatriate workers trying to get air tickets to return to their workplaces in Saudi Arab remain uncertain due to shortage of flights from Dhaka as Saudia Airlines and Biman Bangladesh Airlines were finalising their return tickets to the Middle Eastern country amid the COVID-19 pandemic.
On the fourth consecutive day, several hundreds of the passengers who arrived in Bangladesh by March were seen scrambling to get their return tickets at the Saudi Arabian Airlines office in the Dhaka city as they said visas of 90 per cent of them would expire on September 30 followed by their work permits.
Many of them were seen worried and exhausted sleeping or laying on the ground floor of the Saudia Airlines office at Karwanbazar with their baggage as they wanted to leave the place with their return tickets confirmed.
Even after four days, the Saudi Airlines executives in Dhaka said on Wednesday afternoon that they were trying to confirm the tickets for over 30,000 to 40,000 stranded Bangladeshis who had arrived on leave from Saudi Arab to Bangladesh before the COVID-19 restrictions were imposed.
The executives of the Saudi national flag carrier said that they needed 115 flights to ferry all the stranded passengers but they have only three weekly flights carrying around 260 passengers on each of them.
'We are trying fix the problem. We are in constant communications with the office in Saudi Arabia to find a solution to the problem,' said the Saudia Airlines manager (sales) Zahidul Abiden.
He said that the visa of 90 per cent of the stranded workers would expire on September 30, which posed a problem as it would be impossible to send them to Saudi Arab in such a short time.
Zahidul Abiden said that the Civil Aviation Authority of Bangladesh officials allowed additional flights but it was too late to manage to ferry those people who are stuck in the home country.
Bangladesh foreign minister AK Abdul Momen said that the Saudi Arabian authorities allowed Biman Bangladesh Airlines to carry passengers to the Middle Eastern country while the extension of visas would also be ensured by the Saudi Arabian Embassy in Dhaka starting from Sunday.
He, however, did not mention the length of the visa extension period.
'We have also allowed all Saudi flights to operate to and from Bangladesh so that they can carry people and they allowed our Biman to join hands,' Momen told media in the evening.
The minister also said that none would face problem for their work permits as it would also be extended throughout the Arabic month of Safar.
The CAAB officials said that Biman initially got the approval of operating two chartered flights to bring back those willing to return home from Saudi Arabia while Bangladesh has approved two commercial flights of Saudi Arabian Airlines a week.
Civil aviation and tourism ministry's senior secretary Mohibul Haque told New Age on Wednesday evening that now they only got the permission to operate four special chartered flights — two each to Riyadh and Jeddah — in this September, allowing to carry passengers from both ends.
Out of the four flights, he said that they would ferry the passengers of return flights of March 16 and 17 to Jeddah and Riyadh on September 26 and September 27, respectively.
All passengers of those flights were asked to appear at Biman sales office today to collect their non-COVID-19 certificates within 48 hours, the Biman officials said.
The Biman and Saudi would operate a total five flights in a week carrying about 1,300 weekly from Dhaka while both the airlines said they have about 60,000 stranded passengers to return Saudi cities, according to officials.
On Wednesday morning, several hundreds of Saudi-bound expatriates gathered at the Saudia airlines office in the capital's Karwanbazar to secure their tickets.
Huge gathering were seen in front of the office leading authorities to deploy police to manage the crowd.
Of the people waiting in front of the Saudia Airlines office, Fakhrul Islam, who owns a restaurant in Saudi city Makkah over three decades, said he was supposed to return on March 27, but could not go due to the COVID-19 restrictions.
Saudi Arabia reopened international flight operations on Tuesday while a flight carrying about 260 passengers left Dhaka on early Wednesday.
The Bangladesh government suspended regular flight operations with all countries, except China, from mid-March to contain COVID-19 spread.
Want stories like this in your inbox?
Sign up to exclusive daily email
More Stories from Foreign affairs