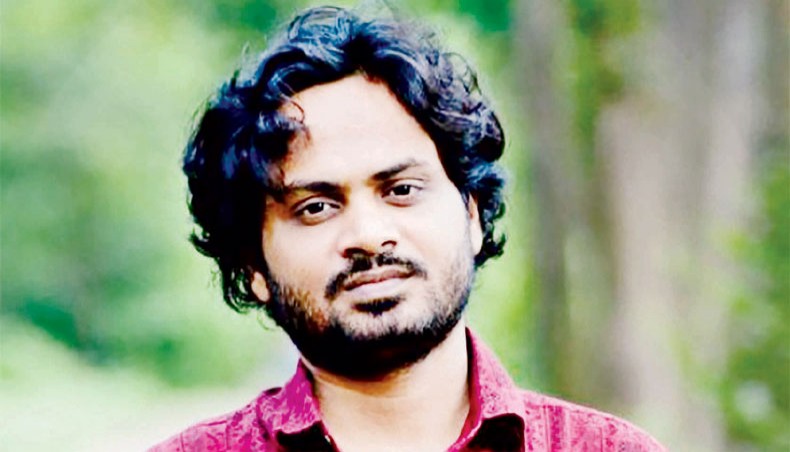 Nirzhar Noishabdya has made a name for himself as a designer of book covers. There is hardly any reader of contemporary literature out there who has not come across a book designed by him at the Ekushey Book Fair.
A fine art graduate of Chittagong University, Nirzhar started his journey as a writer and was later drawn to book designing around 20 years ago.
In a recent interview with New Age, Nirzhar spoke about the challenges faced by book designers, state of the publishing industry and more.
New Age: Has book designing developed as a profession in Bangladesh? Or is it a seasonal employment centring on Ekushey Book Fair?
Nirzhar Noishabdya: Designing book covers is not yet a profession in Bangladesh. Most of the publishers are focused on the book fair, an annual event, while only a few among them put out books throughout the year. In latter's case the number is negligible.
New Age: Tell us about the impact of COVID-19 on the publishing industry and book designers.
Nirzhar Noishabdya: The impact is significant. As book designing and publishing are related, the impact was inevitable. The epidemic has also forced the closure of many publishing houses. The larger publishing houses that used to put out a minimum of 100 to 150 books annually would not be publishing more than 40 to 50 books this year.
New Age: How long do you think book designers will take to recover from the COVID-19-induced crisis?
Nirzhar Noishabdya: Professionals across the world have been affected by the coronavirus outbreak. Most cover artists did not take cover designing as a profession. That is why cover designers are not likely to get hurt. Yet, they would have to face some losses. The losses incurred can only be compensated if the honorarium for designing books is duly paid.
New Age: How have you been spending your days amid the COVID-19 epidemic?
Nirzhar Noishabdya: My office has been shut down on March 15. I have been staying at home spending my time reading books, watching movies and writing. I have worked on a good number of paintings. In the meantime I have also done around 120 book covers for different authors and publishing houses.
New Age: Would you please shed some light on the problems prevailing in the publishing industry from the point of view of a book designer.
Nirzhar Noishabdya: In this sector there are a number of difficulties because of the fact that most of the books are published centring on Ekushey Book Fair and a cover designer has to design more than 10 to 12 covers within a short time. So, it becomes difficult to maintain the quality of the works. The number of cover design artists in the country is very few. It would not be more than 10 to 12. Whereas, more than five thousand books are published every year and each of them need a cover. I think it poses a major problem to artists as well as the publishing business. Now, it is seen that those who are not professionals, including authors and publishers, are also delving into cover designing. Computer generated cover is also an issue. The standard of a cover is thus lowered. There are authors and publishers who engage artists but do not pay them properly. They even keep delaying payment. When all this keep bothering the artist, it is not easy for him or her to produce good works. One of the dreadful aspects of working for publishers and writers is that sometimes artists are compelled to design cover based a horrible theme imposed on them. These factors have affected the cover designing in Bangladesh, making it look substandard over the years.
Want stories like this in your inbox?
Sign up to exclusive daily email
More Stories from Literature