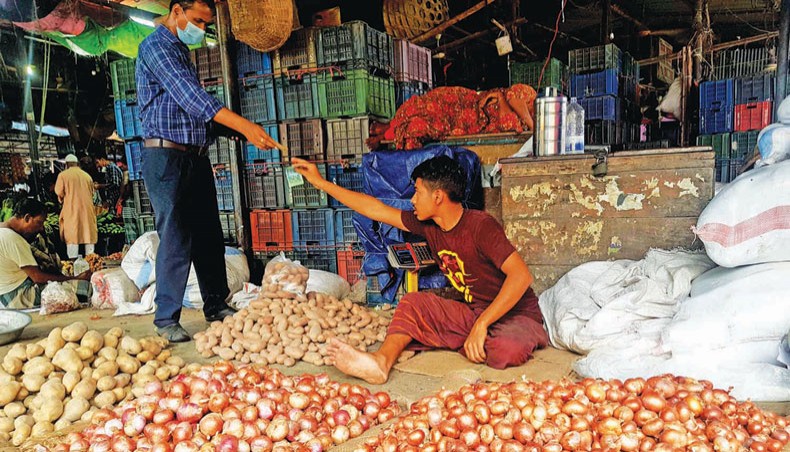 The price of onions on the wholesale market increased again on Monday as India stopped releasing the onions stuck in land ports between Bangladesh and India for the last two days.
Although the government officials said that India allowed 25,000 tonnes of onions to be exported to Bangladesh for which the letters of credit were opened before the imposition of an export ban on the product on September 14, the Indian authorities did not issue any order allowing the export of the item.
The wholesale price of onions increased by Tk 5 a kilogram in the city on Monday as India stopped releasing trucks with the commodity stranded in the land ports, traders said.
They said that both the wholesale and retail prices of onions had decreased by Tk 10-15 a kg as the Indian authorities released few tracks with the product on Saturday.
But the price of the item started increasing again on Monday as the Indian customs did not allow any onion-laden truck to Bangladesh for the last two days, traders said.
The wholesale price of local onions increased by Tk 5 a kg and was selling for Tk 75 a kg at Shyambazar in Dhaka on Monday.
Traders said that the price of imported onions remained high as the onions which entered Bangladesh from India on Saturday were mostly rotten.
The imported onions sold for Tk 55-60 a kg at Shyambazar wholesale market on Monday.
The retail price of onions remained high and the local variety was retailing at Tk 80-90 a kg while the imported onions were retailing at Tk 60-70 a kg on the day.
In a notification on September 14 the Directorate General of Foreign Trade, under the commerce
ministry of India prohibited the export of all varieties of onions until further notice.
The price of onions shot up to Tk 120 a kg from Tk 70 a kg on the kitchen markets in the capital, Dhaka, on September 15.
Importers said that the onion prices might increase if India did not allow the promised consignments which remained stranded in several land ports.
'We came to know that India would release all the onion-laden trucks stranded in land ports but they allowed only few consignments which were received "Let Export Order" for September 14,' Mostafizur Rahman Nasim, general secretary of Bhomra Land Port Clearing and Forwarding Agents Association, told New Age on Monday.
He said that after imposing the export ban on September 14 a total of 36 trucks with onions entered the Bhomra land port.
Nasim said that a truck carrying onions entered the Bhomra land port on Monday and passed the Indian customs for the consignment was issued on September 14.
Want stories like this in your inbox?
Sign up to exclusive daily email
More Stories from Commodities