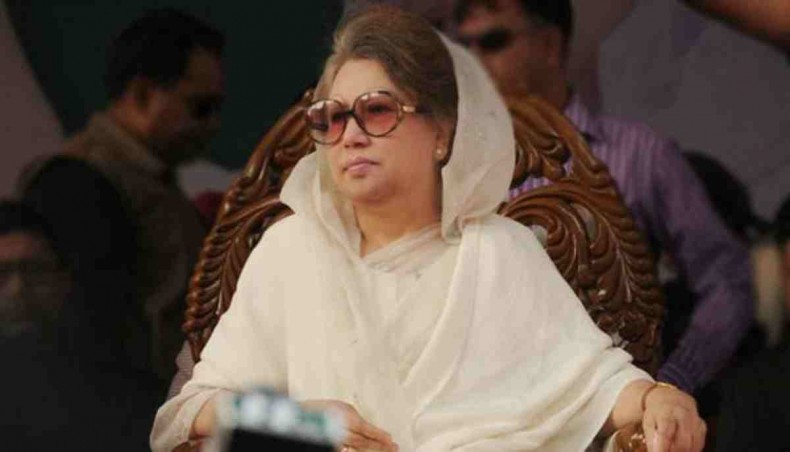 Opposition Bangladesh Nationalist Party on Monday called on the government to relax conditions on Khaleda Zia's suspension of sentences so that she could go abroad for advanced treatment.
BNP standing committee member Nazrul Islam Khan, after placing wreaths at the graveyard of party founder Ziaur Rahman at capital's Sher-e-Bangla Nagar, said that Khaleda Zia was seriously ill and needed to be taken abroad as her advanced treatment was not possible in the country.
He went there along with the newly announced central committee of Jatiyatabadi Swechchhasebak Dal in the morning. BNP on Sunday gave recognition to the 189-member central committee of the voluntary wing.
Nazrul said that Khaleda's advanced treatment was a demand of the people and that ensuring her advanced treatment was not only humane but also a moral demand. The government had, responding to an application submitted by the BNP chief's family, extended the tenure of her suspension of sentences for another six months since September 25.
Kahleda has been staying in her Gulshan residence after her conditional release on executive order on March 25.
Meanwhile, another standing committee member of the party Gayeshwar Chandra Roy, after placing wreaths on the grave along with Jatiyatabadi Tarun Dal leaders, to mark the its 25th founding anniversary, welcomed the party decision to relax bar on the open political programmes of the party.
He said that it was a part of preparations for the party's national council that was already overdue.
Want stories like this in your inbox?
Sign up to exclusive daily email
More Stories from Country